The Cadillac CT4-V Blackwing was first seen in a teaser aired during the Rolex 24 At Daytona endurance race, and was officially unveiled on February 1st, 2021. The range-topping model is set to enter the market during the summer of 2021 as a 2022 model year vehicle.
Cadillac CT4-V Blackwing Quick Facts

| | |
| --- | --- |
| Model years: | 2022 – Present |
| Assembly Location: | Lansing Grand River Plant, Michigan, USA |
| Layout: | Front-Engined, Longitudinal |
| Engine: | Twin-turbocharged 3.6L V-6 LF4 |
| Horsepower: | 472 |
| Torque: | 445 |
| Transmission: | 6-Speed Manual, Hydra-Matic 10-Speed Auto |
| Driven Wheels: | Rear-Wheel |
| Confirmed Availability: | U.S.A. |
| Predecessor: | – |
| Successor: | – |

First-Generation
The first-gen CT4-V Blackwing sedan is equipped with the torquey twin-turbocharged 3.6-liter LFY V6 under the hood, with a boosted output rating of about 10 more horsepower compared to its in indirect predecessor, the beloved ATS-V. The CT4-V Blackwing rides on the Alpha 2 platform, which is an upgraded iteration of the first-generation Alpha platform used by the aforementioned ATS-V.
As such, the all-new model was designed and engineered to compete directly against the following vehicles:
BMW M2 Coupe
Mercedes-Benz A45 AMG and CLA45 AMG
Audi RS3
Additionally, thanks to its larger size, the CT4-V Blackwing will also indirectly compete with the BMW M3, Mercedes-Benz C63 AMG / C63 AMG S, and Audi RS5 Sportback.
From a positioning standpoint, the CT4-V Blackwing will represent an all-new entry for Cadillac, which has never had an ultra-high-performance vehicle in the C-sedan segment. From a mechanical standpoint, the CT4-V Blackwing will be more closely related to the first-generation ATS-V Sedan.
The 2022 CT4-V Blackwing model has only been confirmed for the U.S. market so far. We expect the high-performance variant to also make its way to Canada, Mexico, the Middle East, and possibly Russia.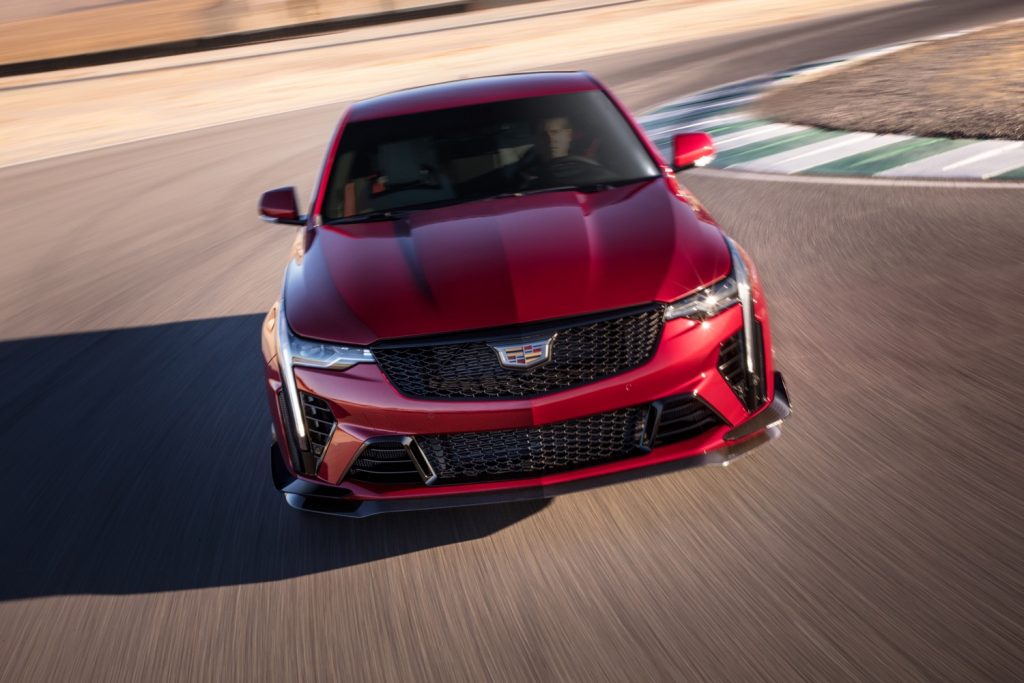 Timeline
June 2019: "Next-level Cadillac CT4-V" prototype shown at the 2019 Detroit Grand Prix
June: Cadillac performance variants manager, Mirza Grebovic, says that Cadillac V-Series models will "go out with a bang" before EVs take over
June: "next-level" Cadillac CT4-V spied running laps
July 2019: Reports indicate that next-level Cadillac CT4-V will be called "Blackwing"
July: CT4-V Blackwing rumored to use twin-turbo 3.6L V6 LF4 engine from ATS-V
August 2019: new spy video shows CT4-V Blackwing prototype, seemingly with twin-turbo V6 engine note and manual transmission
August: Cadillac President, Steve Carlisle, says that GM is committed to V-Series performance products
December 2019: Cadillac CT4-V Blackwing spied undergoing testing, revealing more about high-performance sedan
January 2020: Sources that confirm CT4-V Blackwing will, in fact, use the LF4 engine from ATS-V
April 2020: COVID-19 pandemic delays various GM vehicle launches, including CT4- Blackwing
May 2020: Reports indicate that CT4-V Blackwing will not be made available in China
June 2020: CT4-V Blackwing caught testing at proving grounds
August 2020: GM teases CT4-V Blackwing steering wheel
October 2020: CT4-V Blackwing prototype spied undergoing testing, giving us our best look yet at the upcoming super sedan
October: Cadillac announces that the CT5-V Blackwing and CT4-V Blackwing will offer magnesium wheels as an option
October: Sources confirm that CT4-V Blackwing will go on sale in the summer of 2021 as a 2022 model year vehicle
December 2020: GM announces that the CT4-V Blackwing (and CT5-V Blackwing) will come standard with a manual transmission that utilizes 3D printed parts
Sales
See Cadillac CT4 sales numbers for all markets, including the United States, Canada, Russia, and South Korea.
Notes:
Cadillac CT4 sales are comprised of all CT4 variants, including CT4, CT4-V and CT4-V Blackwing.
Information for market (country) specified.
Sales information compiled from various sources by Motrolix.
2022 Cadillac CT4-V Blackwing Photos
Want to stay up to date on all things Cadillac? Then be sure to subscribe to Cadillac Society for more Cadillac CT4 news and around-the-clock Cadillac news coverage. We also invite you to join the latest discussions in our Cadillac forums.