If you've been aching for some Cadillac Blackwing updates, then we've got just the remedy, as the automaker just released a teaser image showing off the upcoming super sedans' steering wheel.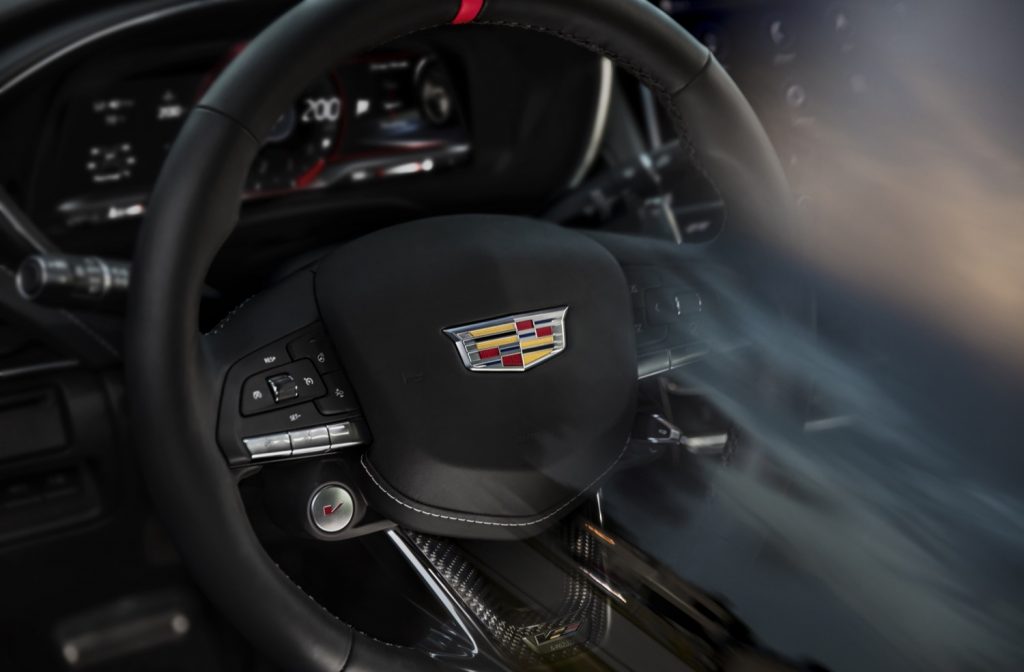 The shapely wheel design will be used on both the 2022 Cadillac CT5-V Blackwing and the 2022 Cadillac CT4-V Blackwing, and features leather and cut-and-sewn stitching, a prominent 12 o'clock racing stripe in red, carbon fiber trim, and a V-Series emblem. The Blackwing steering wheel also comes with buttons for V-Mode and the Performance Traction Management system.
The V-Mode button will activate the vehicles' hardcore performance settings. On the standard CT4-V and CT5-V, this means more aggressive transmission shifts, steering settings, suspension settings, brake settings, exhaust sound, and for models with AWD, front-to-rear torque split. The standard sedans also get driving modes tailored for specific driving conditions, such as Tour, Sport, Snow/Ice, and Track.
Performance Traction Management controls the traction control for more or less tire slip, with customizability based on specific conditions, including wet, dry, sport, and race.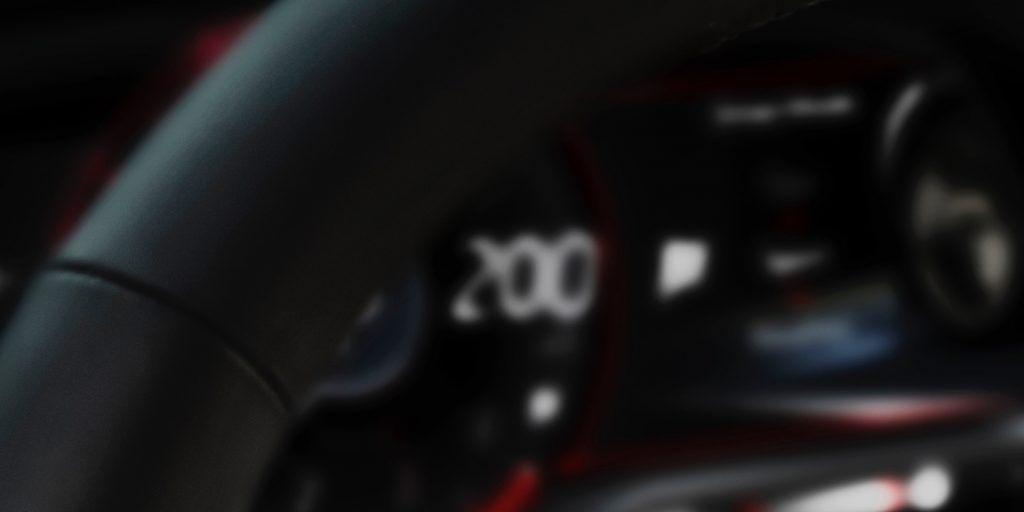 Perhaps most enticing is the blurry image of the gauge cluster, which seems to indicate 200 mph. The new Blackwing models certainly wouldn't be the first Caddy V-Series to reach the 200-mph mark – the third-generation CTS-V certainly comes to mind.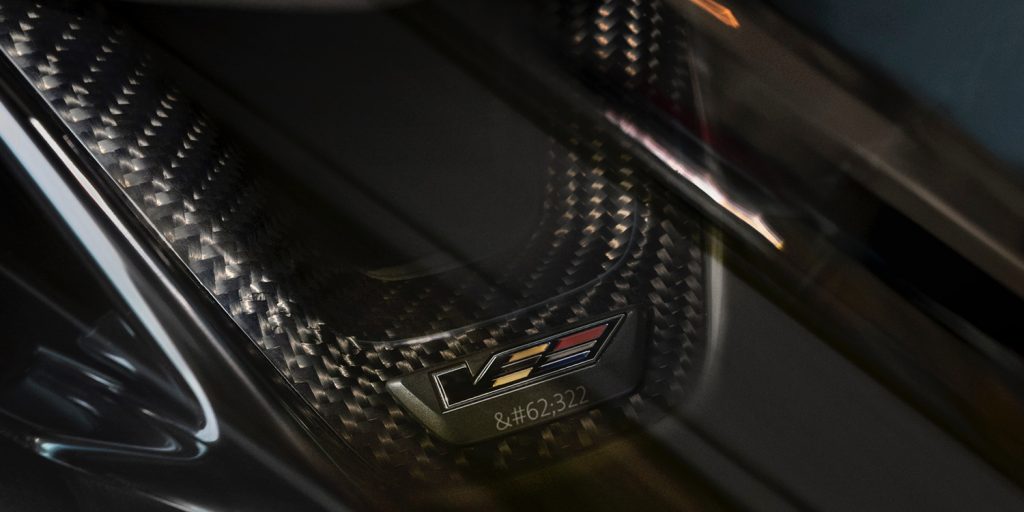 Further hints of what these new performers are capable can be found in an easter egg located at the bottom of the steering wheel. On top of the the carbon trim, there's a V-Series plaque, at the bottom of which is a small inscription that reads ">322." As it turns out, that series of symbols and numbers is actually unicode for ">322," or greater than 322. This is likely another reference to speed, as 322 km/h is 200 mph, indicating that the upcoming Cadillac Blackwing models will be capable of exceeding 200 mph in the top end.
As a reminder, the CT4-V Blackwing will come equipped with the twin-turbocharged 3.6L V6 (production code LF4) previously equipped in the Cadillac ATS-V, where it produced 464 horsepower and 445 pound-feet of torque. Meanwhile, the CT5-V Blackwing will come with the supercharged 6.2L V8 (production code LT4) previously used in the Cadillac CTS-V, where it made 640 horsepower and 630 pound-feet of torque.
Either a six-speed manual or optional 10-speed automatic will harness the muscle. The new Cadillac Blackwing models will also rock more aggressive styling and aero, sharper suspension, wider wheels and tires, more aggressive brakes, and other go-faster upgrades.
The Cadillac Blackwing variants of the CT4-V and CT5-V will be available next summer.
Subscribe to Cadillac Society for more Cadillac CT4 news, Cadillac CT5 news, and around-the-clock Cadillac news coverage.
Cadillac CT4-V Blackwing Photos
Cadillac CT5-V Blackwing Photos