Recently, we reported that the upcoming Cadillac CT4-V Blackwing, the "next-level" version of the CT4-V, will likely be powered by the same twin-turbo 3.6 V6 engine that was used in the now-discontinued ATS-V, albeit potentially with a few updates that allow it to make more power. And now, new video footage shows the upcoming CT4-V Blackwing undergoing testing, seemingly confirming that a boosted six-banger is exactly what's under the hood.
Perhaps even more exciting is the idea that the CT4-V Blackwing will offer something that will surely make driving enthusiasts happy: a third pedal. That's because, at the tail-end of the video, we noticed that the blue-and-black camo'd CT4-V Blackwing's nose dips as the driver shifts from first to second gear. What's more, the shifts seem much slower and spaced further apart compared to the CT4-V Blackwing with the white-and-black camo, which we believe features an automatic transmission.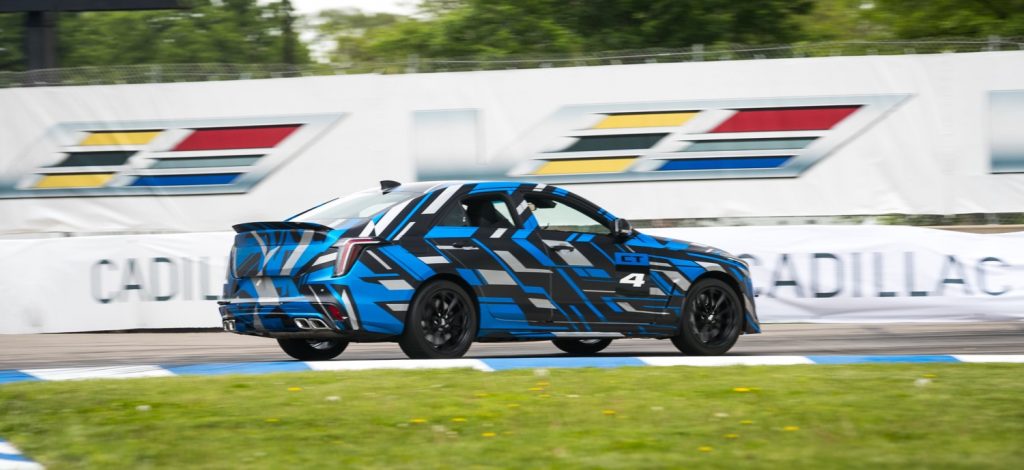 We also managed to peep the tire setup for the upcoming C-segment super sedan, discovering that the prototype is equipped with Michelin Pilot Sport 4 S tires with 255/35/R18 up front and 275/35/R18 for the rear. Interestingly, these sizes are the exact same as what was offered on a stock ATS-V.
We would also like to clarify that, while we have reported that next-level Cadillac CT4-V and CT5-V as Blackwing models, the Blackwing name has not yet been confirmed, and Cadillac could end up changing the name last-minute.
In any case, we'll keep our eyes peeled for any new Cadillac CT4-V details, so be sure to subscribe to Cadillac Society for more Cadillac CT4 news and around-the-clock Cadillac news coverage.
2020 Cadillac CT4-V Photos
2020 Cadillac CT4-V Blackwing Photos