We've already spied the upcoming Cadillac CT4-V Blackwing undergoing testing a multitude of times, both on the street as well as on the track. But today, we managed to capture shots of a prototype with minimal camo, giving us our best look yet at the upcoming CT4 range topper.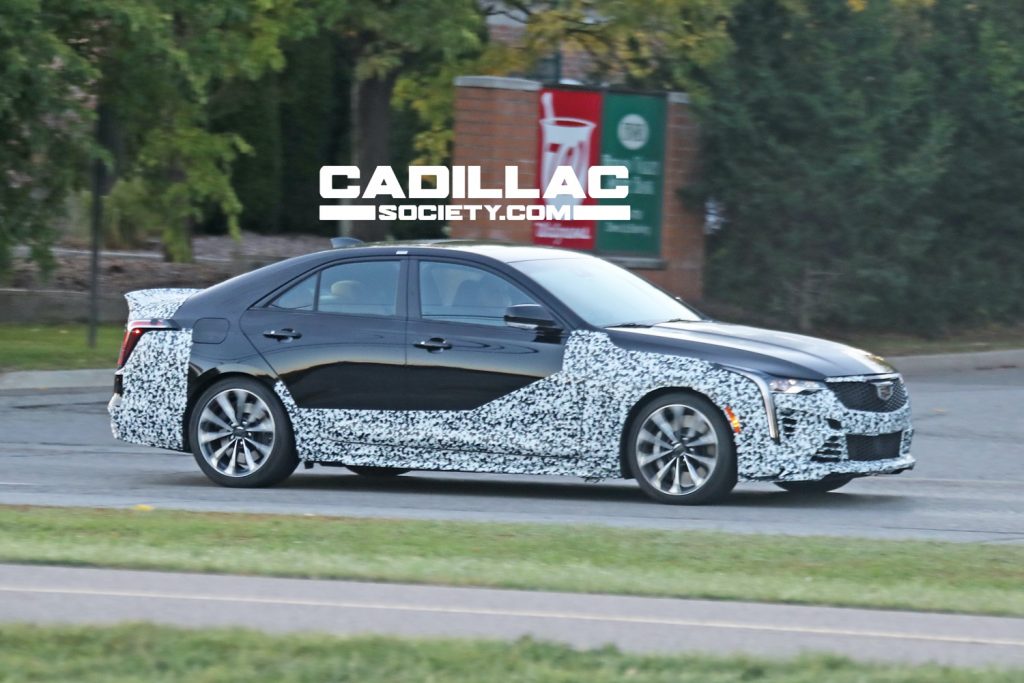 The new shots don't particularly show anything that we haven't seen before, including an aggressive front fascia that appears to be wearing a smaller upper grille and a larger lower grille when compared to the "regular", non-Blackwing CT4-V currently in production. Additionally, the lower grille has horizontal "slats" on each side, and the front fascia in general also appears to be lower, extending further towards the asphalt compared to the CT4-V.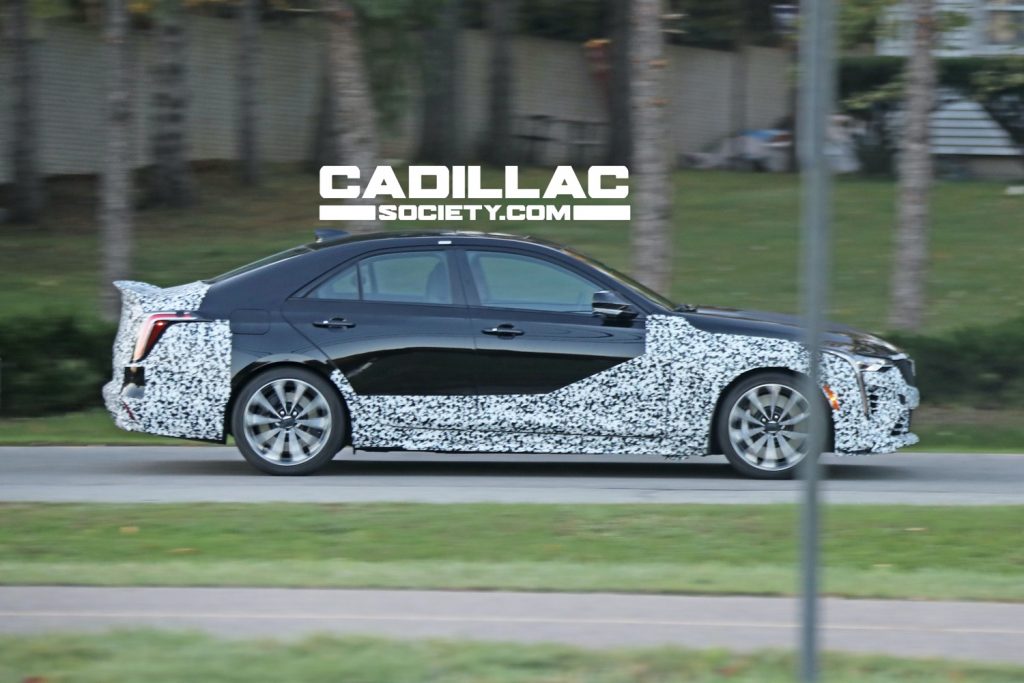 Though the camouflage makes it difficult to spot, the front fenders of the CT4-V Blackwing prototype are wider and feature a set of heat/air extractors on the front wheel arches just behind the front wheels. A hood-mounted heat/air extractor that was used on the ATS-V will not make it to the CT4-V Blackwing, as we've previously reported.
A large spoiler extending from the edge of the trunk is clearly seen at the rear. It's followed by four exhaust tips, with the setup consisting of twin-tipped dual exhaust.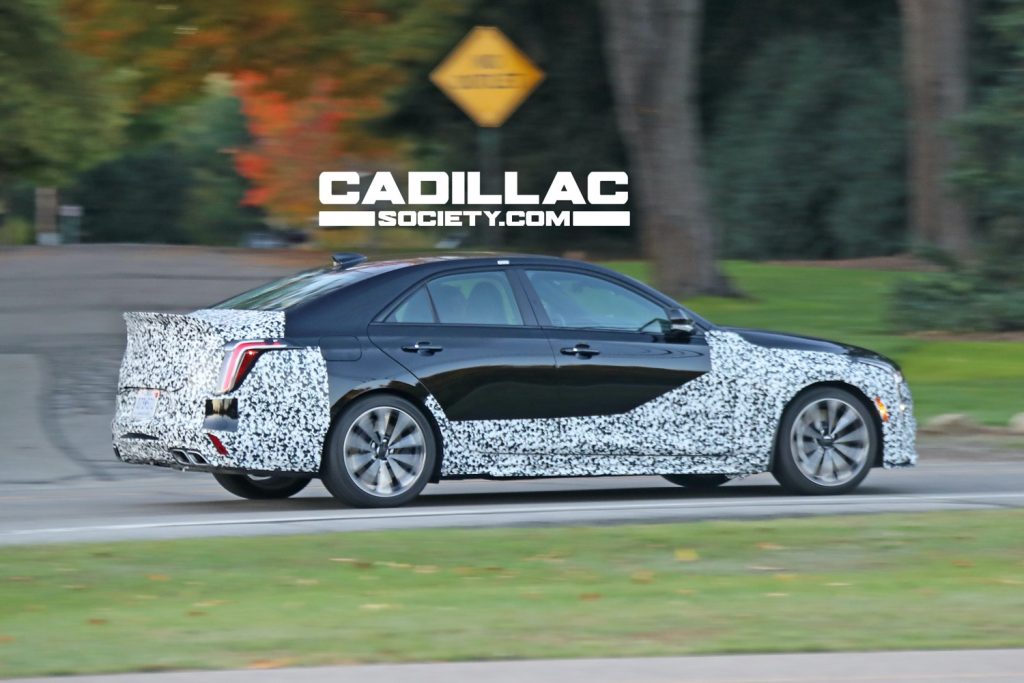 The CT4-V Blackwing prototype rides on a set of the same ten-spoke (or dual five-spoke) wheels with black accents. Prior prototypes have also featured these wheels, which appear to be identical or very similar to those used on the ATS-V. Both the front and rear tires will be wider than on the regular CT4-V.
Earlier this year, we reported that the Cadillac CT4-V Blackwing will be powered by the 3.6L twin-turbo V6 engine carried over from the ATS-V, where it made 464 horsepower and 445 pound-feet of torque. Output in the CT4-V Blackwing will be roughly the same. A ten-speed automatic transmission will replace the eight-speed auto previously offered in the ATS-V. A six-speed manual will also be offered.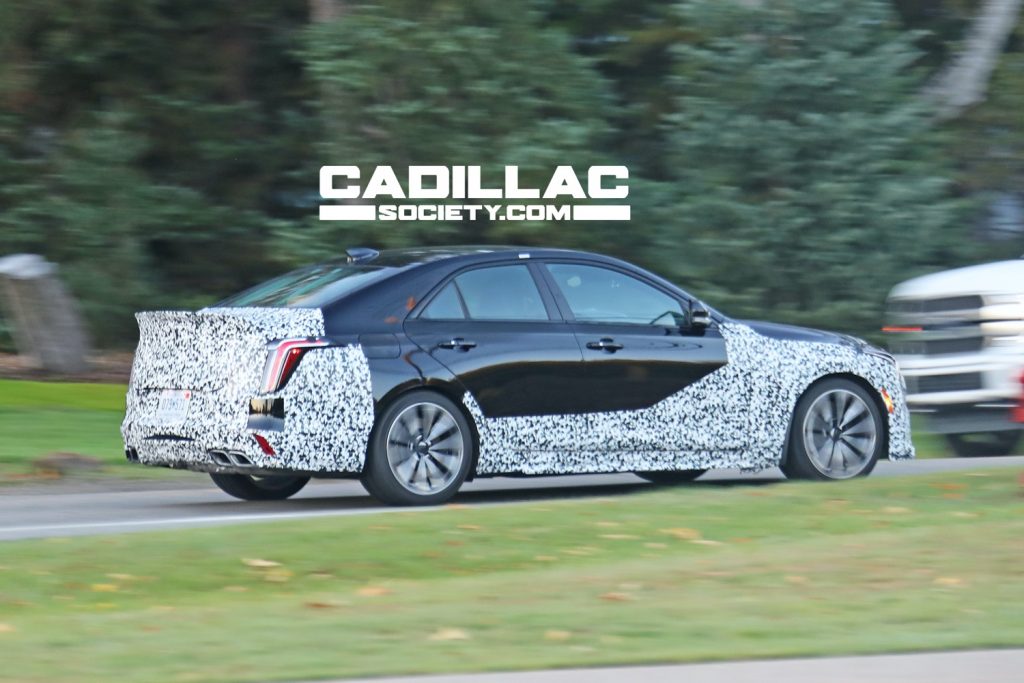 Unfortunately, the debut for the upcoming Cadillac CT4-V Blackwing has been delayed as a result of the ongoing COVID-19 pandemic. We're currently expecting a debut later in 2020 or in early 2021, and and on-sale date in the second half of the 2021 calendar year.
We'll be here to cover everything there is to know about this high-performing compact sedan, so stay tuned and subscribe to Cadillac Society for more Cadillac CT4 news and around-the-clock Cadillac news coverage.
Cadillac CT4-V Blackwing Photos