The Cadillac CT4 is a four-door sedan that was developed for a new generation of sedan customers, blending nimble handling and the automaker's signature technology.
Cadillac CT4 Quick Facts

| | |
| --- | --- |
| Model Years | 2020 – Present |
| Assembly location | Lansing Grand River Plant,Michigan, USA |
| Layout | Front-Engined, Longitudinal |
| Engine(s) | Turbo 2.0L I-4 LSY, Turbo 2.7L I-4 L3B, Twin Turbo 3.6L V-6 LGY, |
| Horsepower | 237 @ 5000, 325 @ 5500 |
| Torque | 258 @ 1500-4000, 380 @ 2000-4000 |
| Transmission | Tremac 6-Speed Manual, Hydra-Matic 10-Speed Auto |
| Drive wheels | Rear-Wheel or All-Wheel Drive |
| Availability | U.S.A., Canada, China, Middle East |
| Predecessor | ATS Sedan (indirect predecessor) |
| Successor | None at the moment |
| Segment: | Luxury B Sedan |

First Generation
The first-gen CT4 is a traditional sedan with a regular trunklid, yet it has a fastback-like profile. Notably, the four-door sedan styling is the only available body configuration at this time. The sleek design rides on the Alpha 2 platform, which is an updated version of the first-generation Alpha platform that underpinned the Cadillac ATS and CTS.
"We developed CT4 to appeal to youthful buyers in the luxury market who may be new to the Cadillac brand," said Andrew Smith, executive director of global Cadillac design. "The vehicle was intended to draw attention, using a combination of great proportions, taut surfacing and Cadillac family details that hint at the athletic driving experience this vehicle offers."
The CT4 also incorporates the latest Cadillac technologies, including Super Cruise, the world's first true hands-free driver assistance feature for more than 200,000 miles of compatible highways in the U.S. and Canada. Other technological highlights for the first-generation CT4 include:
Active Thermal Management

Uses targeted engine heating and cooling to improve performance in hot and cold ambient temperatures

Integrated exhaust manifold

Recovers heat for faster engine and transmission warm-up
Quicker turbo response

Electric water pump

Increases efficiency and enables continual cabin heating, even when the engine is off during stop/start events

Tandem solenoid starter

Enables a faster response from a stop/start event and enables a smoother take-off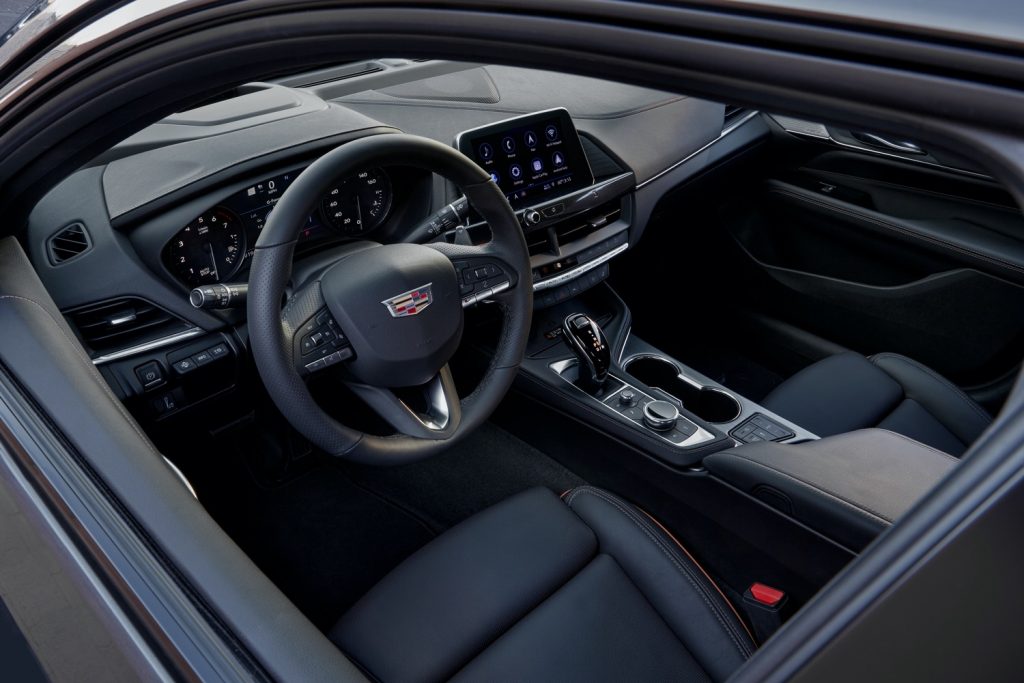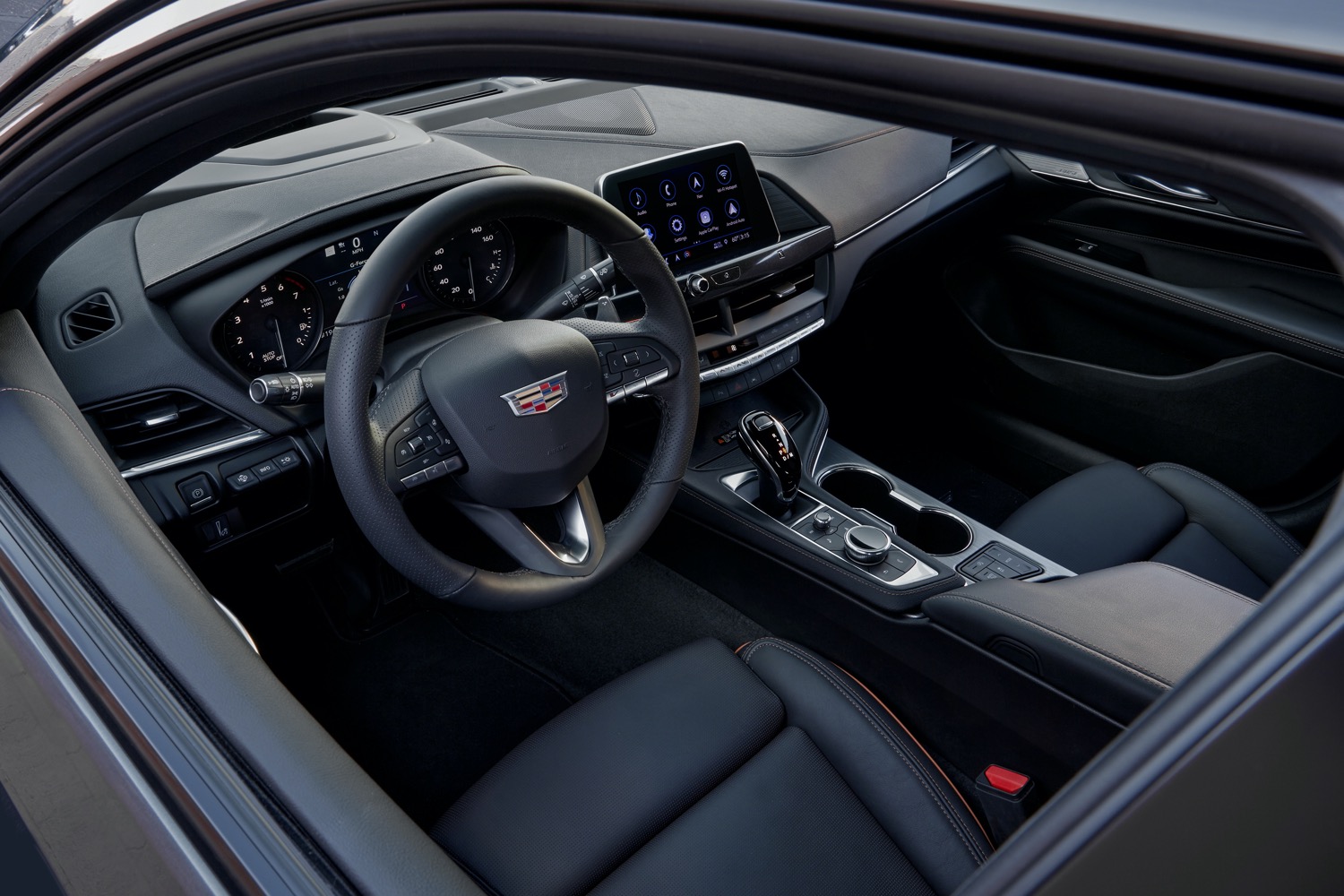 As for the CT4 moniker, the name is the result of Cadillac's new naming scheme, wherein the brand names all sedans and coupes as CT followed by a number designating its order in the lineup. Similarly, Cadillac crossovers and SUVS are named XT followed by a number identifying its order in the vehicle hierarchy.
General Motors filed a trademark application for the CT4 name with the Untied States Patent and Trademark Office on November 7th, 2014. The 2020 CT4 made its debut in the third quarter of 2019, and went on sale early in the 2020 calendar year in the United States with a starting price of $33,990 for the Luxury trim with rear-wheel drive.
Competition
The Cadillac CT4 was designed and engineered to compete with other compact sport-luxury sedans in the C segment, including:
BMW 1/2 Series
Mercedes-Benz A-Class
Audi A3 range
Acura ILX
Volvo S40/V40
Powertrain
First-Gen Cadillac CT4 Powertrain
Engine
Model(s)
Fuel
Aspiration
Driven Wheels
Transmission
Power (hp / kW @ RPM)
Torque (lb-ft / Nm @ RPM)
Axle Ratio
2.0L LSY I4
350T (Luxury, Premium Luxury, Sport)
Gasoline
Turbocharged
Rear or All-Wheel Drive
8-Speed Auto (M5N)
237 / 177 @ 5000
258 / 350 @ 1500-4000
2.85
2.7L L3B I4
500T (Premium Luxury)
Gasoline
Turbocharged
Rear or All-Wheel Drive
10-Speed Auto (MQA)
310 / 231 @ 5500
350 / 475 @ 1500-4000
2.85
2.7L L3B I4
CT4-V
Gasoline
Turbocharged
Rear or All-Wheel Drive
10-Speed Auto (MQA)
325 / 242 @ 5500
380 / 515 @ 2000-4000
2.85
Pictures
Forums
Discuss the Cadillac CT4 in our Cadillac CT4 forum.
News
Follow our coverage of Cadillac CT4 news.