The release of the all-new 2021 Cadillac Escalade is rapidly approaching, as Cadillac's flagship utility enters its fifth generation. If you haven't been up on the latest, then you should know that the Escalade will be completely overhauled with revamped exterior styling, new bones and powertrains for the 2021 model year. And while we've seen the new Escalade in camo-clad prototype form, we have yet to spot it in the buff. As such, we took it upon ourselves to produce exclusive renderings of what the 2021 Cadillac Escalade will look like.
From a styling standpoint, the 2021 Escalade will bring the nameplate in line with the rest of the recently-revamped Cadillac stable, drawing from recent design studies like the Cadillac Escala Concept introduced in 2016. The new Escalade's design will undoubtedly be influenced by Cadillac's new model range, including the 2019 CT6, 2020 XT6, and 2020 CT5.
With that in mind, we took inspiration from the new XT6 when rendering the front end of the 2021 Cadillac Escalade. The headlamps are now horizontally oriented, drawing back into the fenders along character lines established by vertical LED lighting signatures found lower on in the fascia. We also reworked the upper and lower grilles and side trim.
Polished metal adds the requisite bling, offsetting the dark grille insert for the Escalade Sport model – as per Cadillac's new Y trim level strategy. Also note the new pedestal-mounted sideview mirrors – another touch that we've already seen on prototype models of the 2021 Escalade.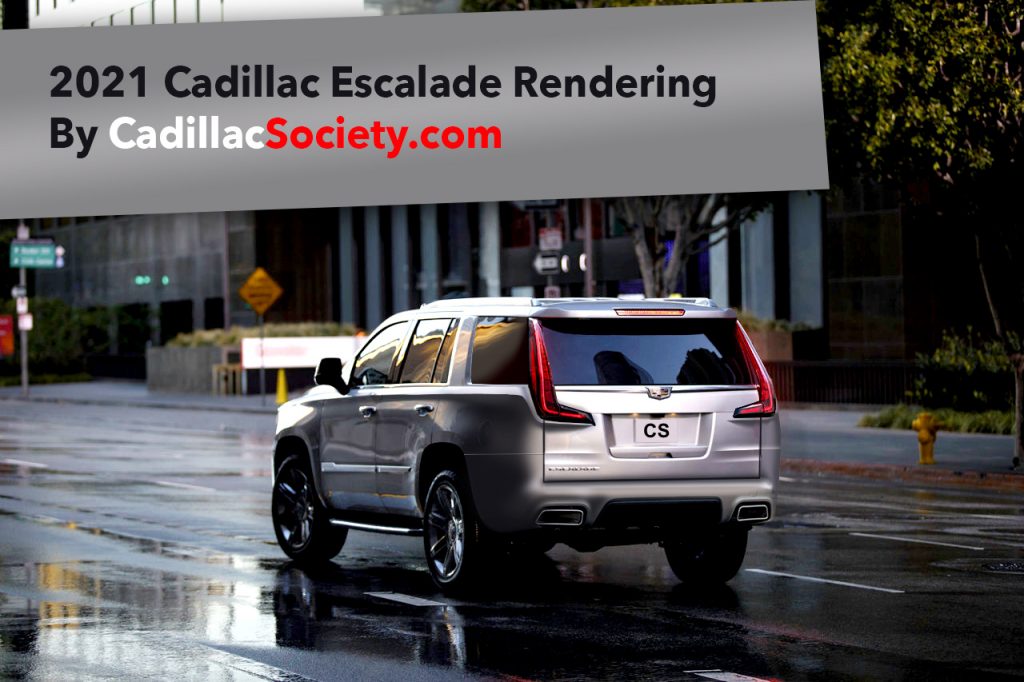 For the rear of the Cadillac range-topper, we took inspiration from Caddy's existing line of crossovers, this time the XT4. The Escalade's elongated vertical tail lamp design, which has become a hallmark characteristic of the current model, is augmented with XT4-esque horizontal flairs at the bottom of the housings, which draw inward to the rear liftgate. Meanwhile, the all-new lower fascia and bumper section house a pair of trapezoidal exhaust pipes. A long polished metal character line in the liftgate bookends the trim bits in front and in the sides.
As we covered last month, the 2021 Cadillac Escalade will launch during the first quarter of 2020. The lineup will include a completely new interior design, highlighted by a large infotainment screen in the dash. Cadillac is also planning an all-electric Escalade variant said to pack 400 miles of range, plus a new high-performance variant to boot.
Subscribe to Cadillac Society for more Cadillac Escalade news and around-the-clock Cadillac news coverage.
2021 Cadillac Escalade Photos