Cadillac Society has been bringing you the latest news about the planned refresh for the Cadillac CT5, reporting exclusive details on what's in store for not only the "regular" CT5 and CT5-V, but also the CT5-V Blackwing super sedan. In addition, we also brought you spy shots of the interior that revealed the luxury sedan's redesigned cockpit, while a prototype sporting light camo showed off a good amount of the luxury sedan's refreshed front end. Now, leaked photos from China give us a clear look at what's on the way for the CT5.
The most jarring change for the refreshed Cadillac CT5 is that of its front end design. Most notably, the forward-facing LED clusters are no longer arranged in a horizontal configuration, as they do on the current, pre-refresh CT5. Instead, they are now stakced in a vertical orientation. These new units are joined by a horizontal lighting strip at the top of the headlight cluster, accentuating the luxury sedan's hood while leading the eye toward the grille and the Cadillac Crest logo in its center.
Meanwhile, a single, uninterrupted vertical LED accent light extends down the sides of the headlight cluster, as opposed to the current model's split design. Below the new headlights is a set of closeout fascia panels, while aggressive boomerang-shaped accents extend toward the lower edges of the bumper cover. Neither element was present on the pre-refresh model.
The front grille has also received a modest reshaping as a result of the new headlights. There's also a crosshatched mesh pattern that's also reflected in the lower air intake opening. The leaked photos also show the differences between the CT5 Luxury, which features brighter accents and body color elements in the grille, as well as the Sport trim, which boasts more sinister, dark-themed accents.
While the front end has been revamped, the side profile and rear end of the refreshed CT5 will remain the same. We do, however, expect new wheel options to join the lineup. Inside, the entire cockpit will be revamped, gaining the curved 33-inch LED display from the Cadillac Lyriq and refreshed 2024 Cadillac XT4.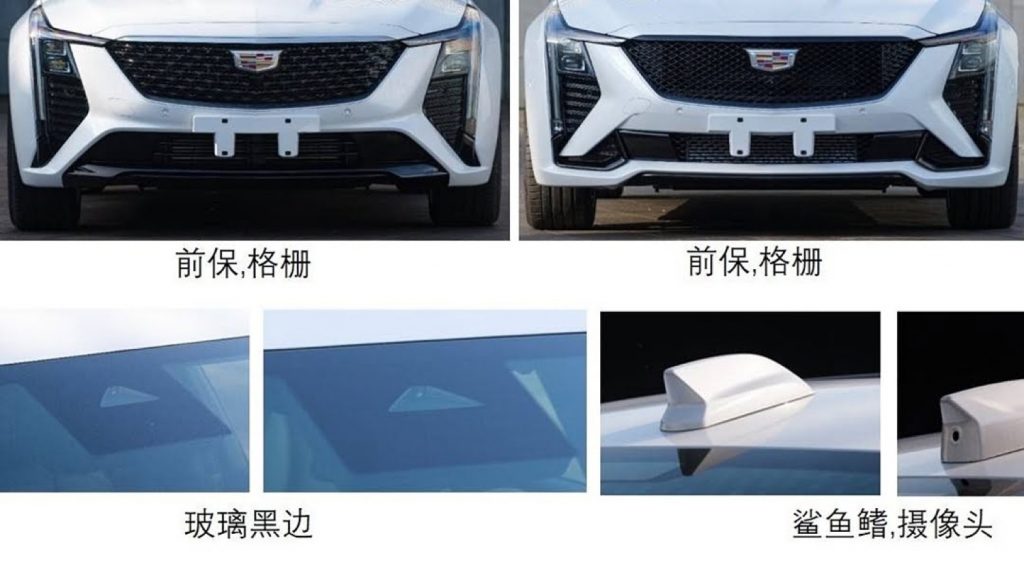 While we initially expected the Cadillac CT5 midcycle refresh to drop for the 2025model year, this has since been postponed and will now arrive either for the 2024.5 or 2025 model years instead.
Production of the pre-refresh 2024 CT5 range, which continues to ride on the luxury marque's Alpha 2 platform, commenced at the Lansing Grand River plant in the summer of 2023. The Cadillac Jinqiao plant in Shanghai assembles the CT5 for the Chinese domestic market.
Subscribe to Cadillac Society to stay in the know on the latest Cadillac CT5 news, Cadillac CT5-V news and a lot more Cadillac news coverage. We also invite you to join the latest discussions in our Cadillac forums and Cadillac CT5-V forum.
Refreshed Cadillac CT5 Photos