A midcycle refresh is on deck for the Cadillac CT5 range, and while it won't drop as soon as originally expected, the development of the updated luxury sedan is well underway. Already, Cadillac Society has spotted several iterations of the refreshed CT5, including an early prototype of a "regular" Cadillac CT5, arefreshed Cadillac CT5-V, and the ultra-high-performance Cadillac CT5-V Blackwing. Now, we've spied a different CT5-V refresh, albeit in a different exterior color.
This refreshed Cadillac CT5-V is dressed in Argent Silver Metallic (paint code GXD), giving us a good look at its lines. As with the previous CT5-V we spotted, this prototype is mostly devoid of camouflage aside from its front end, which is clad in a body-hugging, checkered-style wrap. Its Cadillac emblems are also concealed, both on the grille, front quarter panels and on the rear decklid.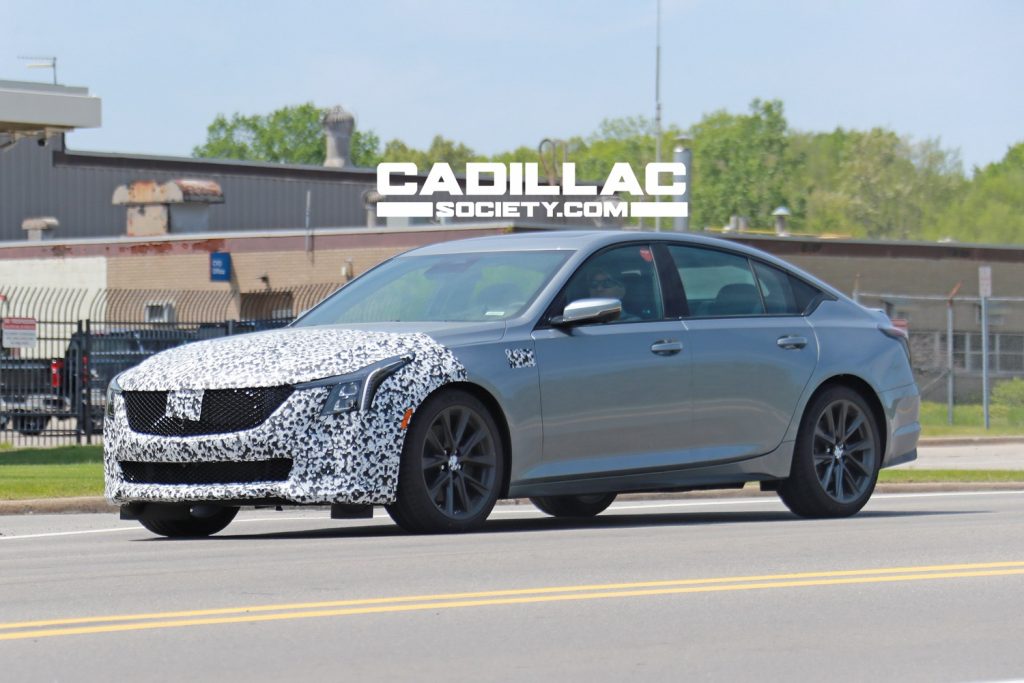 However, despite the luxury marque's attempt to conceal the finer details of the CT5-V, its restyled front fascia is on full display, highlighted by a set of redesigned headlights. These are now vertically oriented, rather than horizontally, as was the case on the pre-refresh model. Also visible are the vertical lighting signatures that flow with the curvature of the front fender. These vertical signatures are now arranged in a single light strip rather than being broken into two sections, like the current model. The vertical DRLs lead the eye down into the lower part of the bumper, which features new diagonally oriented trim pieces extending from the corner of the lower grille to the outer edges of the front bumper cover.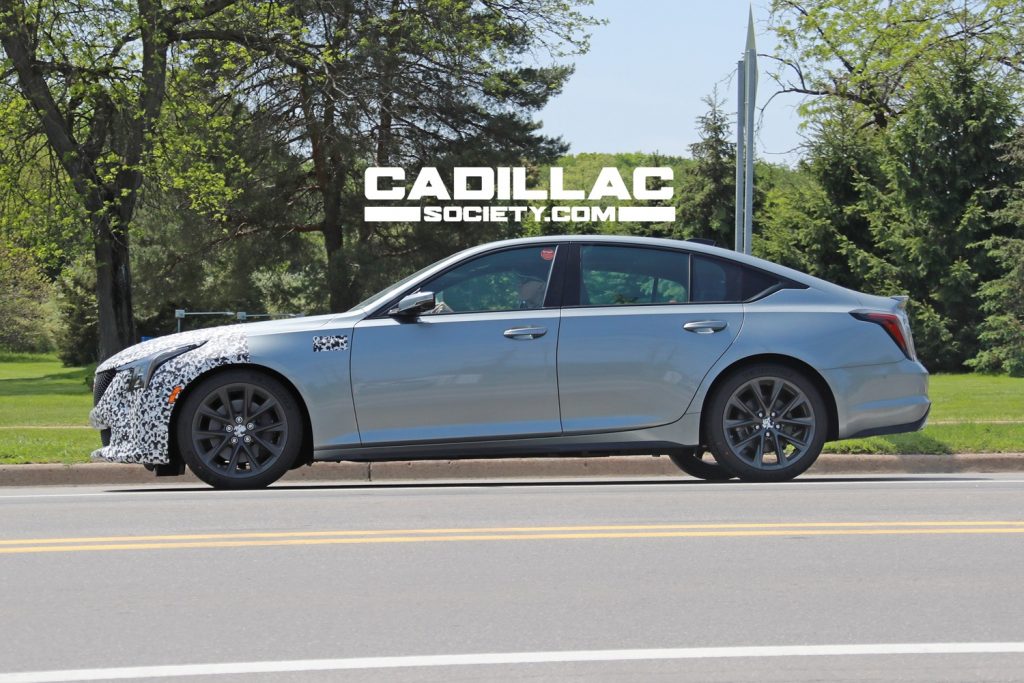 The Cadillac CT5-V prototype features no changes from the front quarter panels back. Its profile, greenhouse, belt line and surface development through the rest of the body remain identical to those of the pre-refresh model. The same goes for the rear fascia and exhaust outlets.
The wheels here are 19-inch rollers with a Satin Graphite finish (production code 57M).
Though not visible in these photos, the Cadillac CT5-V will be treated to an overhauled cockpit, alongside the rest of the CT5 range. This new cockpit will include a large, curved screen spanning both the instrument cluster and infotainment display. In fact, this screen will be very similar, if not identical, to the one used on the Cadillac Lyriq and refreshed 2024 Cadillac XT4.