Since its introduction as a 2020 model year vehicle, the Cadillac CT5 luxury sedan has remained largely unchanged in terms of exterior and interior design, but that will soon change thanks to its impending midcycle refresh. Cadillac Society recently spotted another prototype of the updated luxury sedan undergoing testing, revealing more critical details about what's in store for the CT5 refresh.
We should note that we initially expected the Cadillac CT5 to receive its midcycle refresh at the start of the 2024 model year. However, we have since learned that the refreshed CT5 will likely be introduced midway through the 2024 model year, potentially for the 2024.5 model year. Whatever the case, these latest spy shots give the best look yet at what's on the way.
The body-hugging camo on this Cadillac CT5 prototype really shows off its front fascia. Note the slimmer grille than the current CT5, as well as a front bumper cover that now extends outward from the lower corners of the grille all the way to the splitter on either side of the lower intakes. More notable, however, is the headlight design that incorporates vertically stacked headlamps and a vertical lighting signature that is not split. The narrow horizontal lighting elements nestled above the vertical headlamps serve as the vehicle's turn signals.
Interestingly, this particular prototype wears larger side mirrors than the current, pre-refresh CT5. Additionally, this tester has camo from its C-pillar rearward, something that was not included on a previous prototype of the Cadillac CT5-V that we spied. This could signal revisions to the somewhat controversial "stepped" design fore of the C-pillar. The design feature has been criticized by some for its "cheap" appearance since the CT5 was introduced. However, looking closely at the area in question, we don't see any actual changes here.
Additionally, this particular prototype is outfitted with odd additions to its exhaust tips. These are part of the Environmental Protection Agency (EPA) Portable Emissions Measurement Systems (PEMS), which indicates changes to the vehicle's powertrain.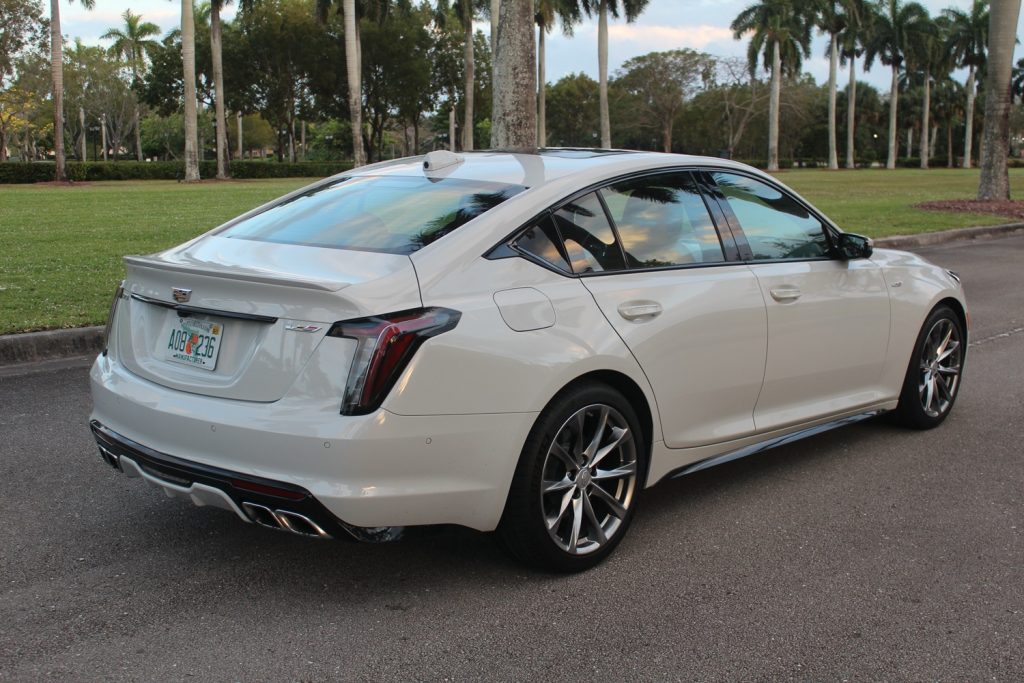 Production of the 2024 CT5 range, which will continue to ride on the luxury marque's Alpha 2 platform, is expected to kick off at the Lansing Grand River plant in the summer of 2023. The refreshed model will likely go into production thereafter.
Subscribe to Cadillac Society to stay in the know on the latest Cadillac CT5 news and a lot more Cadillac news coverage. We also invite you to join the latest discussions in our Cadillac forums and Cadillac CT5 forum.
Refreshed Cadillac CT5 Photos