A few weeks ago, Cadillac Society spies spotted a next-generation 2025 Cadillac XT5 undergoing testing, but we weren't granted a very clear look at the all-new luxury crossover thanks to white-out weather conditions. Now, we've spied another camouflaged prototype out testing, this time giving us our best look yet at the China-exclusive XT5.
Through the baggy vinyl cladding, we can pick out the vertically-oriented placeholder headlights. These are by no means indicative of what will ultimately make it to the production model, but the vertical arrangement suggests design congruence with vehicles like the refreshed Cadillac XT4. In a similar vein, this vehicle also sports a mesh grille similar to its smaller sibling.
Note the silver multi-spoke wheels, which appear similar to the rollers we've already seen on the previously-seen 2025 Cadillac XT5 prototype. Additionally, the new XT5 seems to retain the same profile and size of its first-generation counterpart.
As for the rear, it's difficult to make out what's under the camo, but the new trapezoidal exhaust treatment is clearly visible. We expect the body work between the C- and D-pillars to be revamped, along with the entire rear fascia, including but certainly not limited to the tail lights.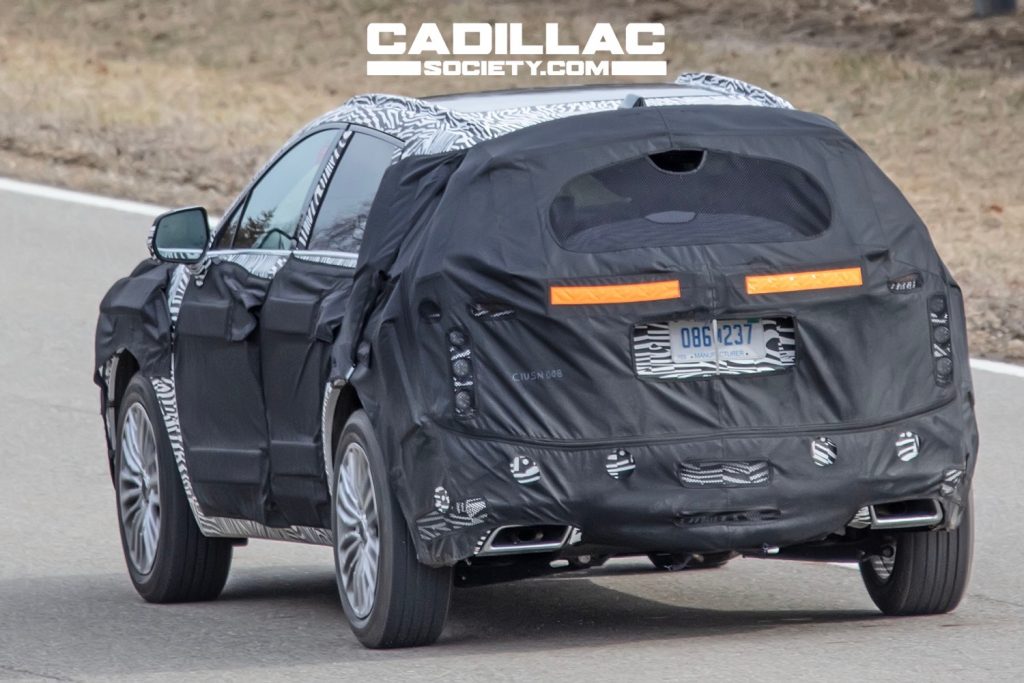 These photos are grand us our a first real look at the vehicle's interior. Though we can't tell what's under the camo, there appears to be a new digital display spanning the information cluster and center stack, again drawing similarities to the forthcoming XT4.
As previously stated, the 2025 Cadillac XT5 will be exclusively sold in China, as the XT5 is poised to exit the North American market upon conclusion of the 2024 model year without any major changes or updates, as it's indirectly replaced by the Cadillac Lyriq. As for what's under the revamped skin, the China-exclusive model will utilize the C1-2 platform, which will be an evolution of the current model's C1 platform. In fact, Cadillac Society was the first to report this back in 2021.
Subscribe to Cadillac Society for more Cadillac XT5 news and twenty-four-seven Cadillac news coverage. We also invite you to join the latest discussions in our Cadillac forums and Cadillac XT5 forum.