Owners looking to add extra personalization to their 2021 Cadillac Escalade often opt for custom wheels. We've already shown you several Escalades riding on forged wheels from Vossen, including one on a set of HF6-4 wheels and another sporting some HF6-2s. More recently, Vossen shared a photo of yet another 2021 Cadillac Escalade on a set of its custom HF6-2 wheels.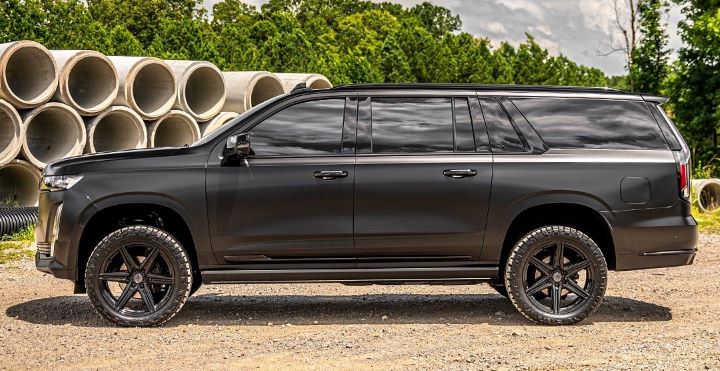 This particular Escalade is the ESV, meaning that its wheelbase is roughly 12 inches longer than that of the "regular" Escalade. The exterior has been customized with a matte black vinyl wrap, pairing perfectly with the Vossen HF6-2 alloys, which are finished in gloss black.
Compared to the other Cadillac Escalades we've seen on Vossen wheels, this particular one seems to be more off-road oriented. Instead of low-profile road tires, the owner of this Escalade opted for a more aggressive set of Nitto Tires' Ridge Grapplers. At 22 inches in diameter, the wheels themselves are also slightly smaller than the 24-inch Vossens we've seen on Escalades in the past.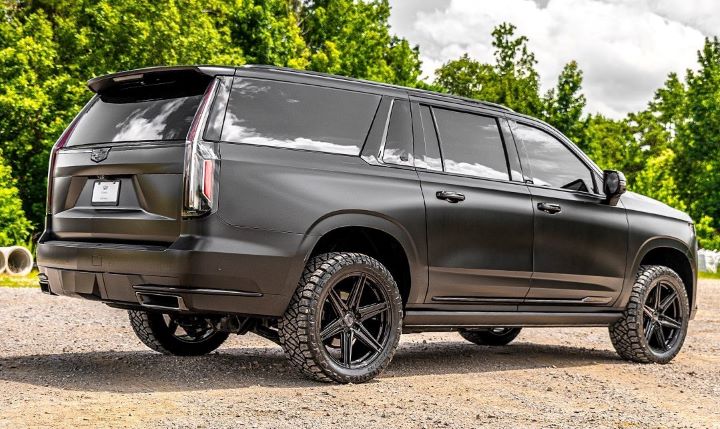 The smaller wheels result in more space within the wheel wells, giving this Escalade the appearance of having an aftermarket lift kit installed. However, it seems that the Air Ride Suspension, a standard feature on Escalades donned in either the Sport Platinum or Premium Luxury Platinum trims was actuated for the photo.
Vossen's sporty HF6-2 wheels start at $649 each. They are geared specifically toward SUVs and light trucks, making them a popular choice for the Cadillac Escalade. The wheels are offered in ten finishes, five of which are considered premium, including the gloss black option seen on this Escalade. Sizing options include 20 inches, 22 inches and 24 inches.
View this post on Instagram
Want to stay in the know on all things Cadillac? Make sure to subscribe to Cadillac Society for more Cadillac Escalade news and to-the-minute Cadillac news coverage. We also invite you to join the latest discussions in our Cadillac forums.