The American Customer Satisfaction Index just released the findings from its 2019-2020 Automobiles & Light Vehicles study, placing Cadillac in second place among both mass-market and luxury brands.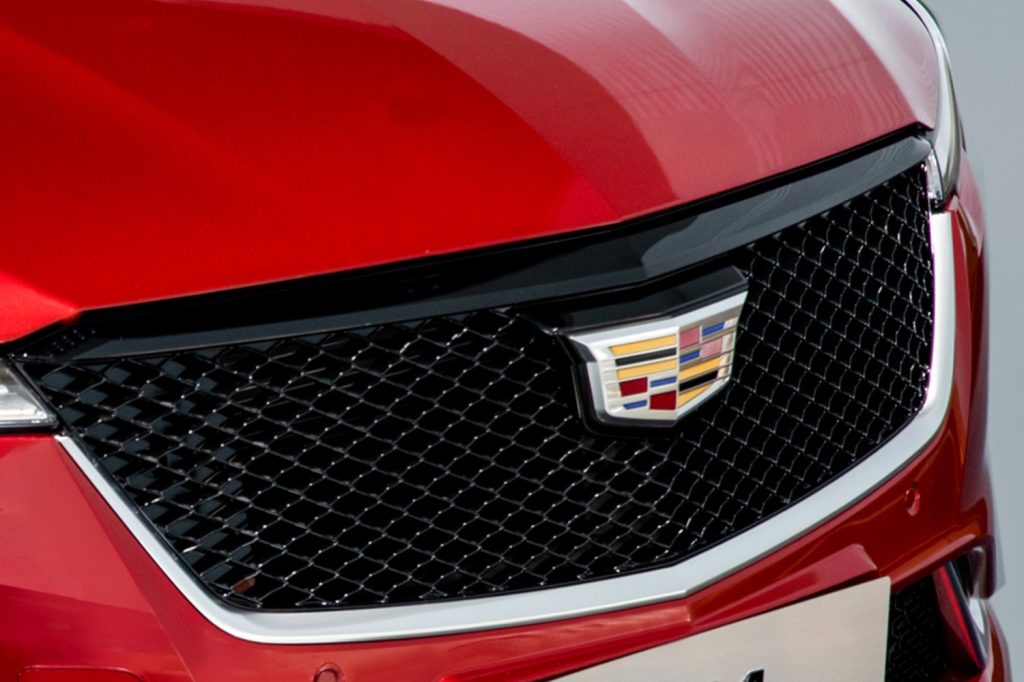 The American Customer Satisfaction Index (ACSI) looks at data collected from interviews conducted with roughly half a million customers. Not to be confused with the J.D. Power Customer Service Index, the ACSI looks at customer satisfaction with regard to 400 companies in 46 industries and 10 economic sectors.
ACSI releases its results throughout the year, with data for this year's Automobiles & Light Vehicles study collected between July of 2019 and June of 2020, targeting customers who purchased or leased a new car a minimum of six months to three years prior. All measures are then reported on a 100-point scale.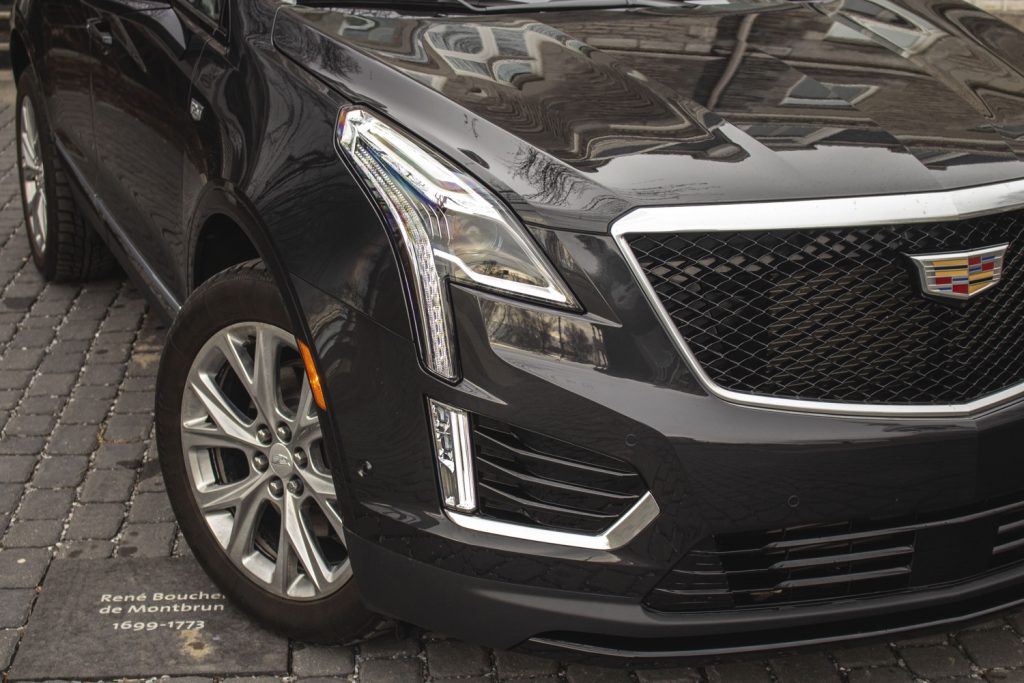 "ACSI data have proven to be strongly related to several essential indicators of micro and macroeconomic performance," ACSI states. "For example, firms with higher levels of customer satisfaction tend to have higher earnings and stock returns relative to competitors."
The most recent data indicates that customer satisfaction as it relates to the auto industry continues to decline, which poses another hurdle in the face of slow economic recovery from the COVID-19 pandemic. This decline permeates the entirety of the luxury car segment, with all nine luxury nameplates studied posting driver satisfaction losses.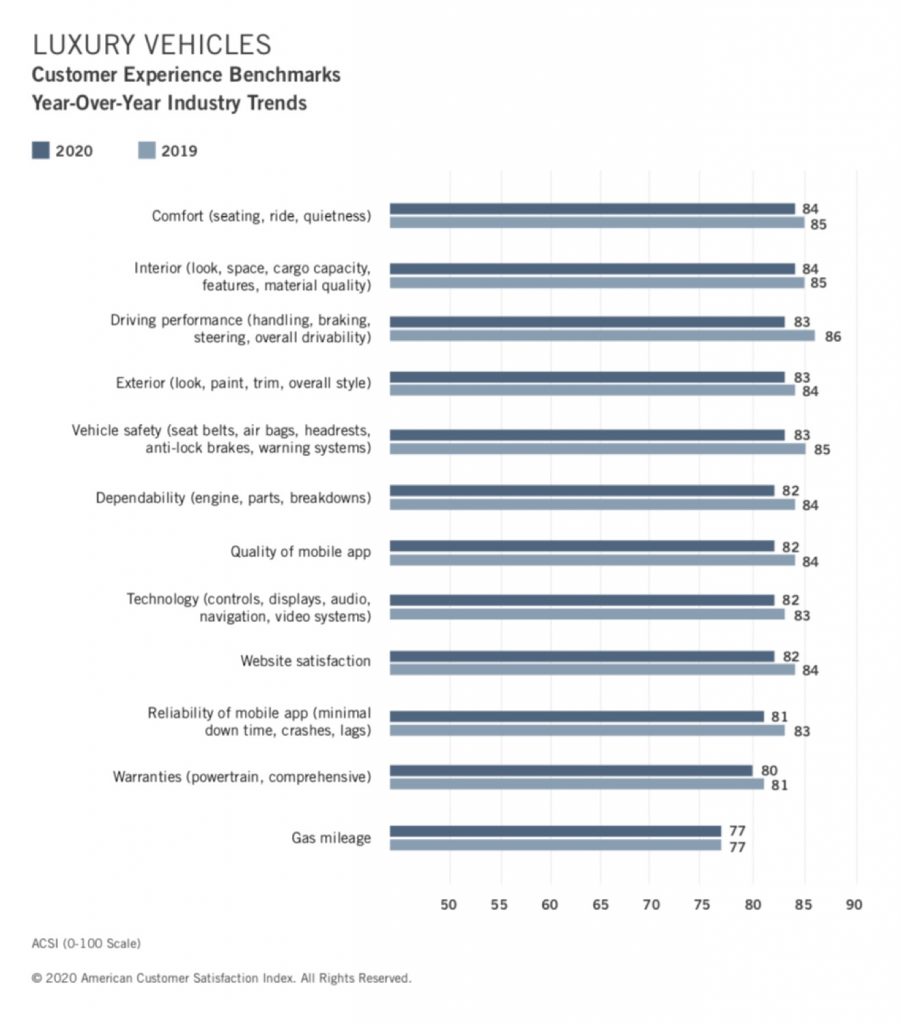 Year-over-year, luxury brands also saw a decline in every metric studied, with the exception of gas mileage.
That said, Cadillac was one of just two domestic brands that beat the industry average of 78 points, the other of which is Ram.
The top position belongs to Lexus, which received a score 82 points, a decline of 2 points compared to last year's score of 84. Meanwhile, five brands total are tied for second place with 80 points, including Cadillac. The other four brands tied for second include Audi, Mercedes-Benz, Ram, and Toyota.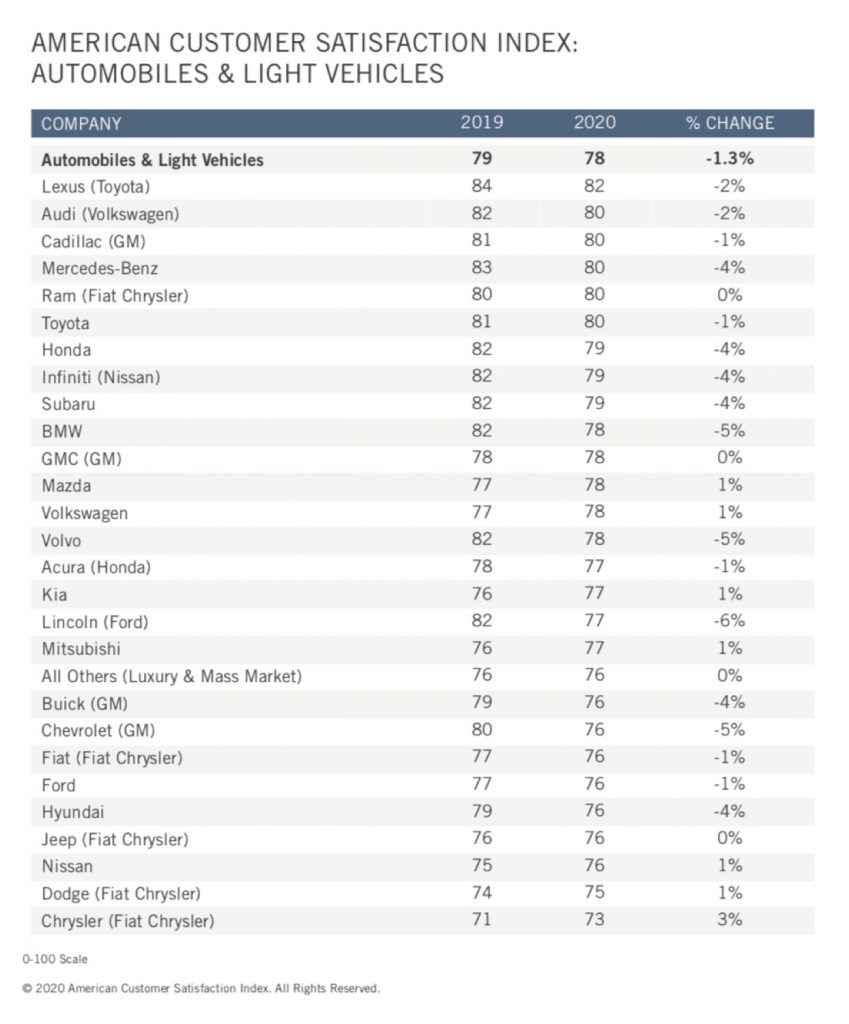 Looking at luxury brands exclusively, Cadillac remains tied for second with Audi and Mercedes-Benz, while Infiniti managed third with 79 points BMW is tied with Volvo in fourth with 78 points.
Critically, Cadillac was one of the closest to holding satisfaction stable among luxury brands in this year's study, with a narrow single-point decrease in satisfaction, compared to bigger slides from rival brands.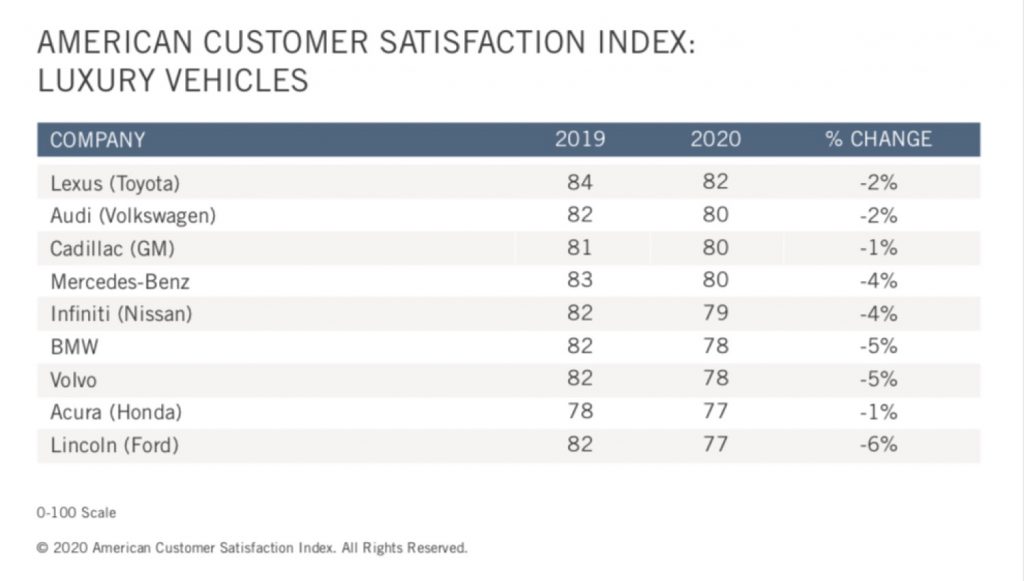 Subscribe to Cadillac Society for ongoing Cadillac news coverage.
Source: American Customer Satisfaction Index