As Cadillac Society was first to report, the all-new Cadillac CT5-V started to arrive at dealers across the U.S. in the first quarter of 2020. Unfortunately, the COVID-19 pandemic stopped Cadillac production in its tracks, along with any media drives that were planned for the vehicle. As a result, only a few units of the CT5-V are currently available to purchase at dealers, and very few have actually seen the car in person, let alone driven it. That means that there's a lot that's still unknown about Caddy's new high-performance compact sedan.
So we went out to a local dealer in sunny South Florida to check out a recently-arrived Cadillac CT5-V (while also practicing the awkward skill of social distancing). One of the most noteworthy things that we discovered is that the CT5-V has quite a throaty exhaust note. Just listen for yourself:
The burly, crackling and poppy exhaust note emanating from the quad trapezoidal outlets is the direct result of a specially-tuned exhaust system with dual-mode functionality. In fact, we were pleasantly surprised to confirm with Cadillac comms man, Stefan Cross, that the CT5-V features Caddy's vaunted dual-mode exhaust feature.
Dual mode exhaust contains "flaps", which can be opened or closed by the driver from within the vehicle. Tour and Snow/Ice modes leave the flaps closed, resulting in a quieter sound, while Sport and Track modes open the flaps, delivering a louder, more aggressive tone. It's worth noting that – having followed this new Cadillac sedan very closely, from planning and development to announcement and launch – this is the first time we've heard that the CT5-V will feature dual-mode exhaust.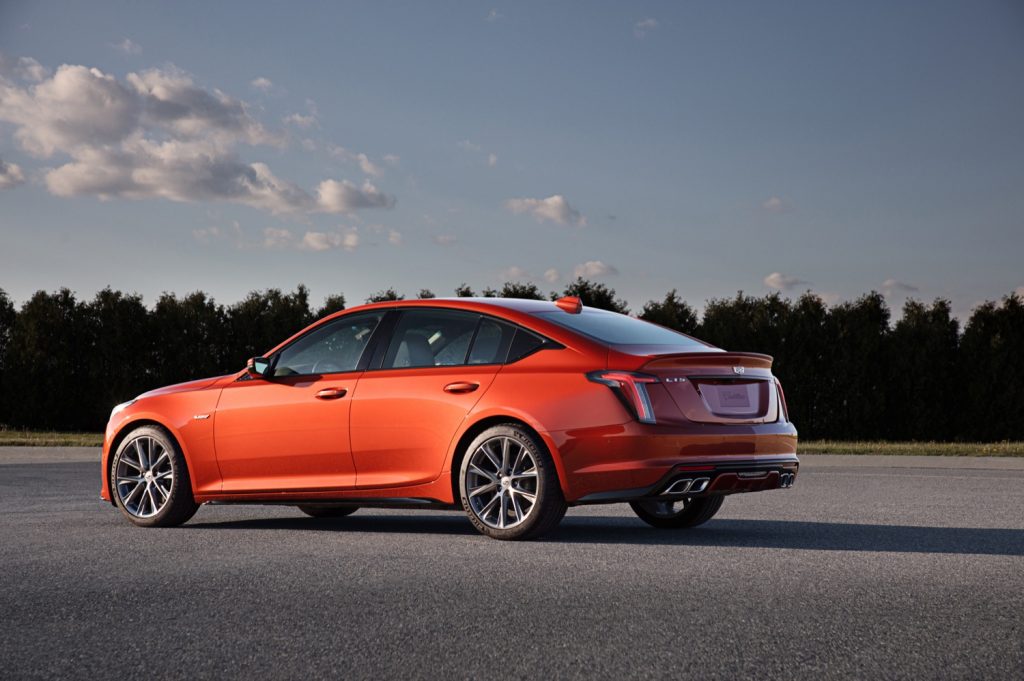 Overall, we came away very impressed by the Cadillac CT5-V's exhaust note, as it makes just the right sounds both inside and outside the car. It's throaty, but not to the point of being obnoxious or annoying, while fitting in perfectly with the sport-luxury nature of the all-new CT5-V. There's also a nice "poppy" quality during gear changes of the 10-speed automatic transmission.
As a reminder, the all-new Cadillac CT5-V is powered by Cadillac's all-new, twin-turbo 3.0L V6 engine (production code LGY) rated at 360 horsepower and 405 pound-feet of torque. It mates to a ten-speed automatic transmission, and is available either in the standard RWD or the optional AWD. The high-performance model also features unique chassis, suspension and driving technology calibrations, Magnetic Ride Control 4.0, Performance Traction Management, an electronic limited-slip rear differential, and new V-Mode personalization. Direct rivals include the BMW M340i, Mercedes-Benz C43 AMG and Audi S4.
For those who desire more than 360 horsepower, fear not – an ultra-high-performance CT5-V Blackwing model is on the way with a supercharged 6.2L V8 engine that will make in the vicinity of 600 horsepower. Originally expected to launch in the first half of the 2021 calendar year, the vehicle has been pushed back by roughly six months as a result of the ongoing coronavirus pandemic.
We'll have much more on the Cadillac CT5-V shortly, so subscribe to Cadillac Society for more Cadillac CT5 news and around-the-clock Cadillac news coverage.
A special thanks to Sheehan Cadillac in Pompano Beach, Florida for letting us spend some time with their Black Raven CT5-V, which is available for sale as of this writing.