A new Cadillac ad campaign is here, and it display the luxury brand's fresh new vehicle lineup. Entitled "Make Your Way", the campaign was originally announced in February. Its first ad – "No Barriers" – showcases the 2021 Cadillac vehicle lineup.
Set to the catchy melody of "Nobody Speak" by DJ Shadow featuring Run The Jewels, the minute-long spot shows folks in different environments such as in a business meeting, a library, and on the street catch glimpses of Cadillac models that are driving by, and breaking through glass, doors, walls and even interstate ramps to chase the cars. According to Cadillac, the action of breaking through the aforementioned items is a symbolization of success achieved through boundary-pushing strength and determination, and breaking down barriers – as the ad's title implies.
The spot features the complete 2021 Cadillac lineup, including the XT4, XT5, XT6, the Escalade, plus the all-new 2021 Escalade (at the very end). The new CT4 and CT5 sedans also make a rather handsome appearance in red and gray, respectively. Sadly, the now-discontinued CT6 is not on display. The spot concludes with words by Oscar-winning actress and acclaimed director Regina King.
"Cadillac. For those who make a way, find a way, and challenge the rest to get out of the way. Others talk about the road to success, we make cars for it."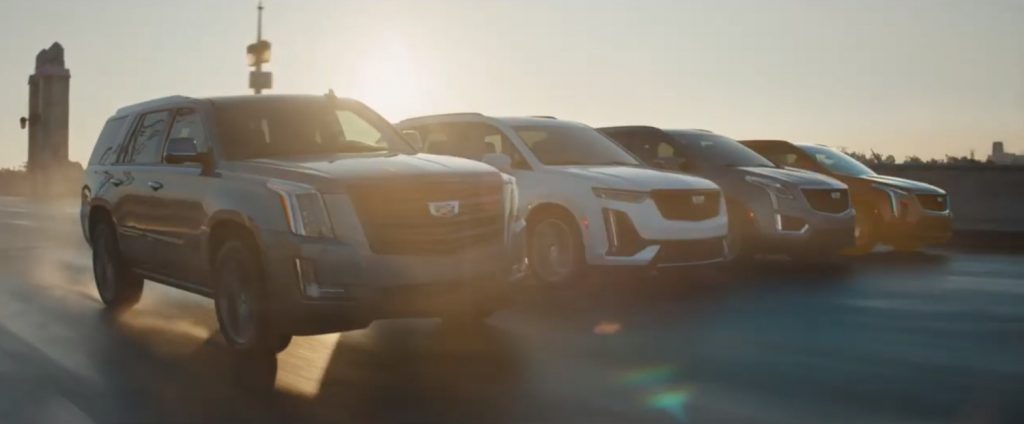 "Cadillac has always represented success… there's a swagger, a sexiness, to the vehicles. There's also a realness and a sense of ambition that I identify with. Through sheer perseverance, I've found my way through doors some never thought possible. There's a real connection for me with Cadillac, and that is why I wanted to get involved," King was quoted as saying in a press release.
The No Barriers ad initially ran during the 92nd Oscars presentation on February 9th, 2020. Cadillac has been airing ads during the ceremony's broadcast – which is second only to the Super Bowl in global viewership – to launch new products and brand campaigns. The spot is now running nationwide on the airwaves.

"Cadillac is inspired by those who have a passion for what's next," said Melissa Grady, Cadillac chief marketing officer. "They make their way by going through obstacles, not around them. Such unwavering self-determination pushes them to succeed and inspires others to do the same. That's the heart of 'Make Your Way' and the soul of Cadillac."
Subscribe to Cadillac Society for more Cadillac news coverage and check out our Cadillac forums for discussions.