The latest spy shots of the Cadillac XT4 suggest that the upcoming compact crossover will feature a concealed rear window wiper.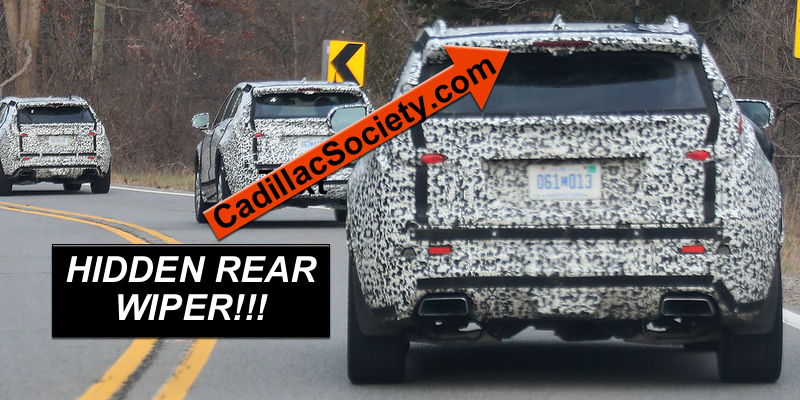 Zooming in on the convoy of XT4 prototypes recently photographed undergoing testing shows the models lacking a visible rear window wiper, leading us to believe that the XT4 will instead have the rear window wiper integrated into the top of the rear glass and hidden within the rear spoiler. By comparison, the rear wiper is clearly visible at the bottom of the rear glass in most other crossovers and vehicles with a hatchback body style.
Moving the rear wiper to the top of the rear glass and packaging it within the contours of the rear spoiler results in a sleeker, cleaner appearance and improved visibility. According to Bob Boniface, director of Cadillac exterior design at the time of the unveiling of the 2015 Escalade, the feature is "an example of the attention to detail" that customers should expect from Cadillac.
If it does come to feature the integrated rear wiper, the XT4 will not be the first Cadillac model to introduce the feature, as the current, fourth-generation Escalade was first to introduce the integrated rear wiper in 2014, followed by the Cadillac XT5 in 2016.
About Cadillac XT4
Expected for the 2019 model year in calendar year 2018, the compact Cadillac XT4 will slot under the midsize XT5 as Cadillac's second crossover. Discuss the upcoming CUV in our Cadillac XT4 forum.