The 2021 Cadillac Escalade won't arrive at dealerships until later this year, but when it does, we expect many customers will immediately begin installing aftermarket wheels and other custom parts on the luxury SUV.
For now, though, digital renderings like this one from Abimelec Arellano of Abimelec Design can provide us with a very good idea of what a customized 2021 Cadillac Escalade would look like.
This very well-done rendering shows a slammed, Infrared Tintcoat-painted 2021 Cadillac Escalade with flared out fenders and aftermarket three-piece deep dish wheels. It's also rocking a set of custom side steps/running boards, though these would be fairly useless, as this imaginary Escalade is sitting lower to the ground than most sports cars.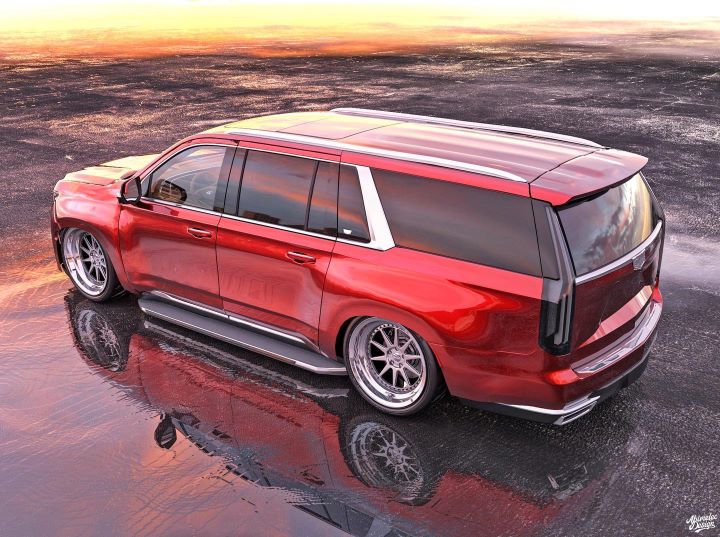 If Arellano's 2021 Escalade rendering were a real vehicle, it would almost certainly be riding on air suspension, enabling the driver to raise the SUV's suspension slightly to help it get over speed bumps and up driveways.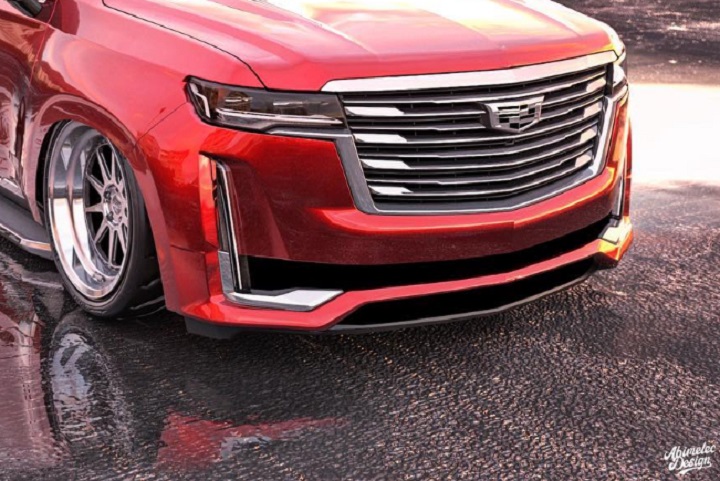 Another subtle custom feature on this 2021 Cadillac Escalade are the monochromatic Cadillac logos. Arellano has gotten rid of the multi-colored Cadillac crests on the front and rear of the luxury SUV in favor of brushed silver crests. As we noted in a previous article, Cadillac experimented with this monochromatic logo on the Cadillac Escala concept and may be set to employ such a logo in the future. The automaker is also preparing to use an illuminated Cadillac crest on its upcoming electric vehicles (like the Cadillac Lyriq EV), which will feature a stylized design that differs from the crest seen on its current production models.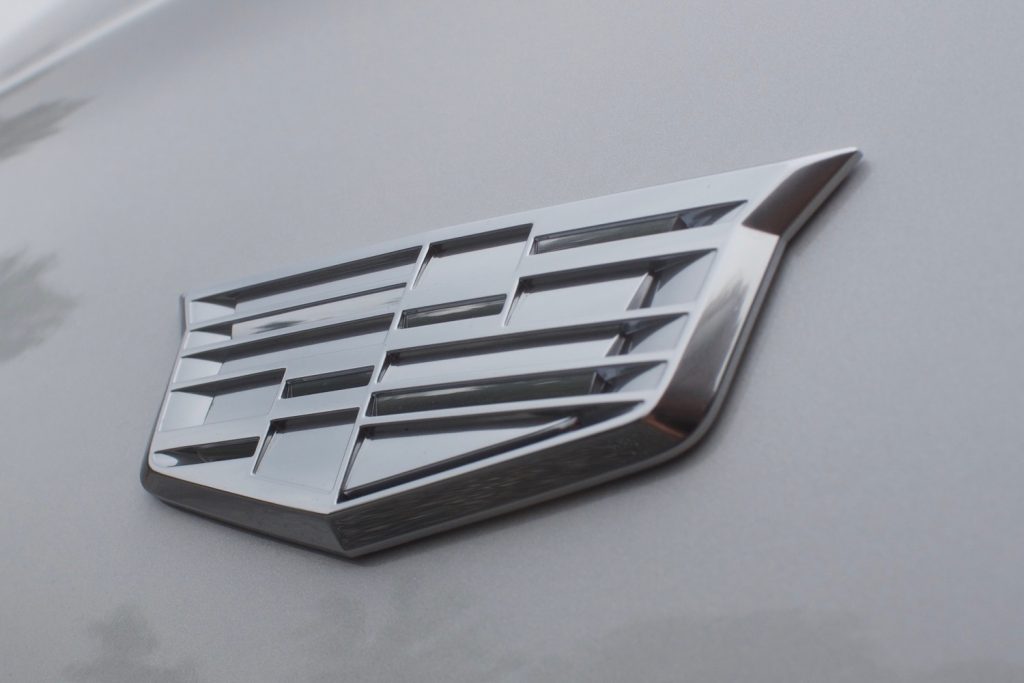 It's worth noting the monochromatic version of the Cadillac logo also appears on the front quarter-panels of Cadillac's production models, a trend that was started with the Cadillac CT6 sedan.
After seeing Arellano's expert rendering, we can't wait to see what the aftermarket has in store for the 2021 Cadillac Escalade. Perhaps we'll see a build similar to this pop up at a future edition of the annual SEMA show in Las Vegas?
Subscribe to Cadillac Society for more Cadillac Escalade news and ongoing Cadillac news coverage.
Source: Arellano Abimelec/ Abimelec Design