A large electric Cadillac utility vehicle is on the way, and Cadillac Society recently spied this upcoming model – which will slot in above the Lyriq in the lineup – undergoing testing for the first time.
The black and white zebra striped camo makes the finer details of this large electric Cadillac crossover difficult to discern, though it certainly reveals more than the heavy vinyl camo used on some of the other prototypes we've spied previously.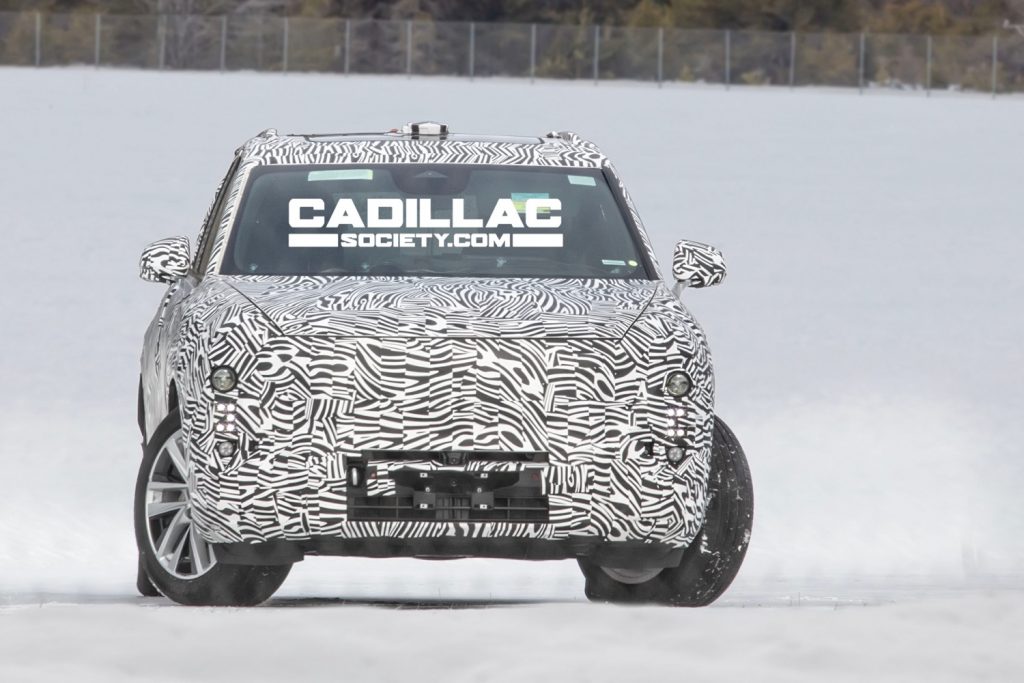 A pair of placeholder headlights is affixed to the vehicle's front fascia. These headlights feature Cadillac's signature vertical arrangement, while an air intake can be seen below them through a cutout in the camo wrap. The area that would typically house the upper grille is completely closed off, giving us a solid hint that this is an electric vehicle.
This electric Cadillac crossover features a more "traditional" shape than the Lyriq, with a more upright, boxy profile as opposed to the sloped profile of the Lyriq, as previously reported by Cadillac Society. The prototype appears to be proportionally similar to the current ICE-powered Cadillac XT6, but with a longer dash-to-axle ratio, and it rolls on a set of multi-spoke alloy wheels that are finished in silver with black accents. Just like the Lyriq, this vehicle also features door handles that are flush with its body, keeping its profile sleek and streamlined.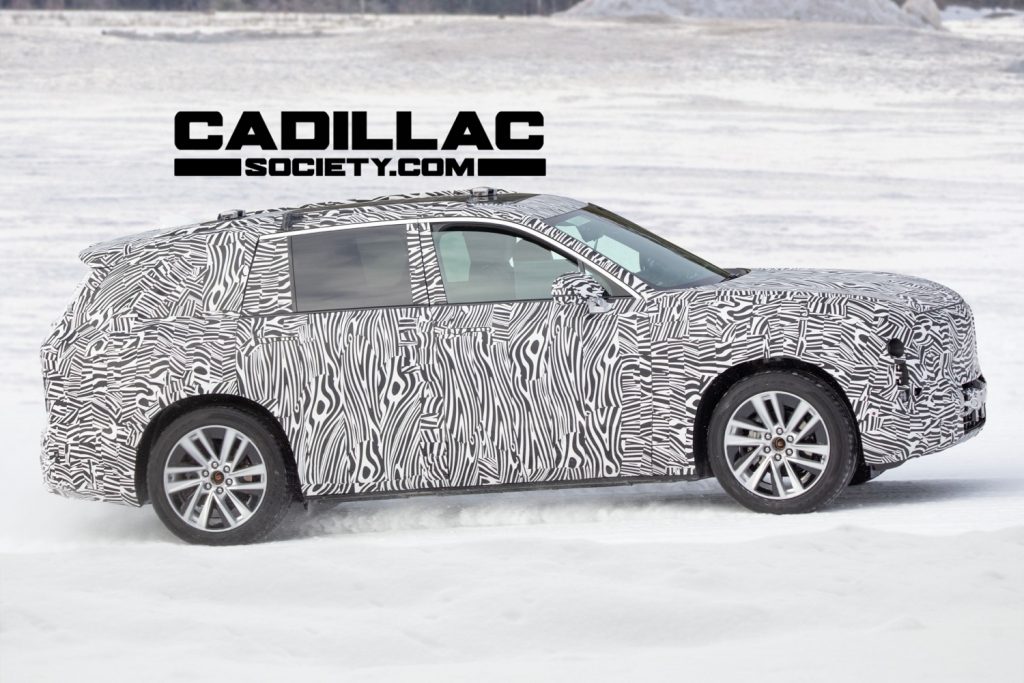 It's difficult to pick out exactly what makes up the electric Cadillac crossover's roof, but the glass paneling indicates either a large glass roof or dual sunroofs. The view of the vehicle's rear end reveals placeholder taillights that are also aligned in a vertical layout, much like on the current Escalade.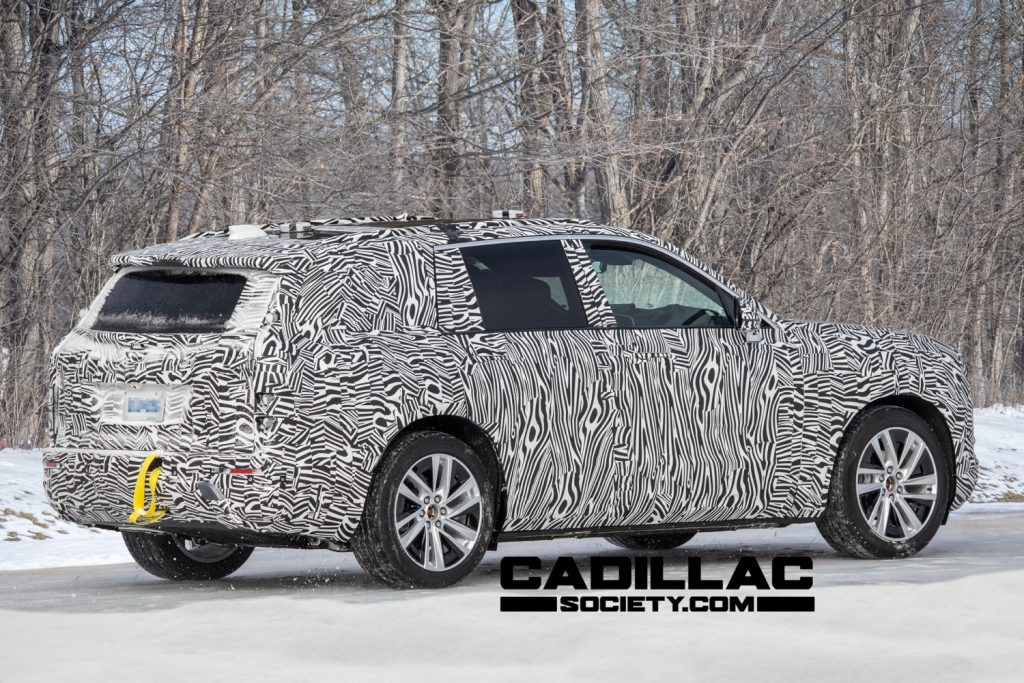 We have one shot of the interior, which shows a curved, single-piece screen spanning the instrument panel and center stack, much like what's found in the Escalade, Lyriq and refreshed XT4.
Beyond that, we expect this model to offer three seating rows, similar to the XT6 and Escalade, and its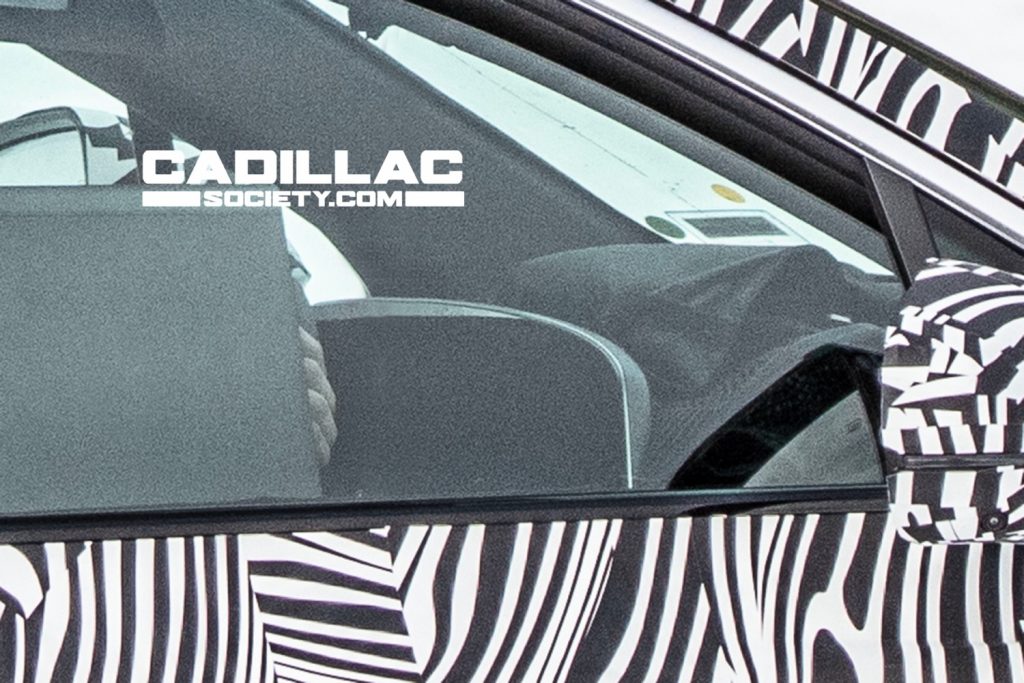 This model is one of the three Cadillac EVs set to be revealed in 2023. A full reveal of this mysterious electric Cadillac utility is expected during the 2023 calendar year, and it will likely enter production during the 2024 calendar year as a 2025 model year vehicle.
Want to stay up to date on Cadillac's surge into an all-electric future? Then make sure to subscribe to Cadillac Society for more future Cadillac product news, and 24/7 Cadillac news coverage.
Electric Cadillac Three-Row Crossover Photos