Texas-based tuner Hennessey Performance Engineering (HPE) recently shared a video showcasing the delivery of an upgraded Cadillac Escalade to its eager customer.
The vehicle in question is the fourth-generation Escalade that was handed over to Hennessey to receive the HPE650 treatment, which is HPE's mid-grade upgrade option. The vehicle upgrade kit crammed some more horses under the hood of the Escalade, improving the output of its stock 6.2L V8 engine (production code L86) from 420 horsepower and 460 pound-feet of torque to 650 horsepower and 658 pound-feet of torque.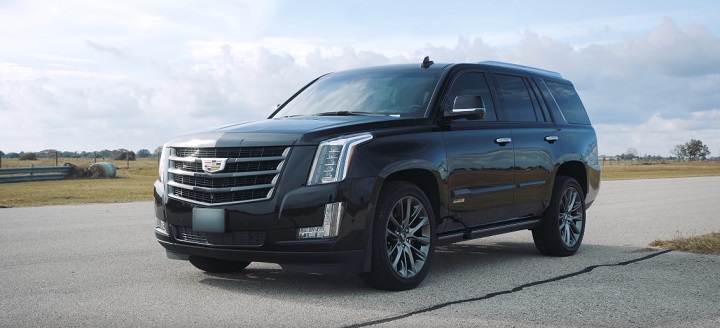 The HPE650 upgrade package includes a 2.9L supercharger, along with a high-flow intercooler, chromoly push rods, revised crankcase ventilation, a full stainless steel exhaust from Borla and an aftermarket air intake. Additionally, Hennessey also installs its own engine management tune and, before delivery, the upgraded vehicle is placed on a dyno in-house and run through extensive performance tests. The product is then given a serialized plaque in the engine bay that certifies it as an official Hennessey product. Finishing touches include the signature Hennessey script logo embroidered on the headrests.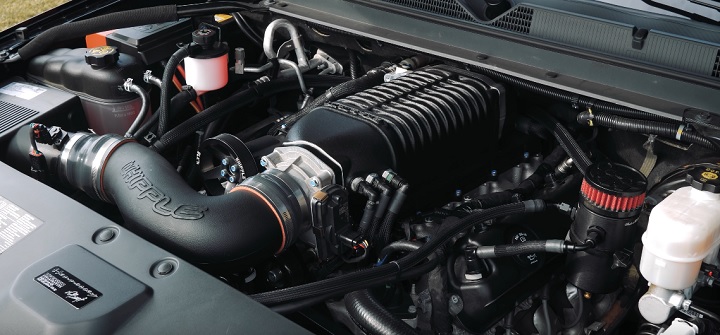 The Borla exhaust drastically improves the sound of this Cadillac Escalade, something the customer is very pleased with. "It's like you figured [out] a way to make my ZL1 Camaro a seven-seater," he says. He also notes that the exhaust has "just the right amount of noise," without its throaty note carrying unpleasantly into the cabin. The customer says he can still talk on his cell phone while driving without worrying about the exhaust noise.
The defiant, throaty sound of this Escalade with the aftermarket HPE650 package certainly calls to mind that of the upcoming Cadillac Escalade-V. Cadillac Society managed to snag a video of a prototype of the high-performance luxury SUV taking a corner at wide open throttle, and its exhaust note sounds strikingly similar to the supercharged fourth-gen built by Hennessey.
There aren't many details regarding the Cadillac Escalade-V at this time, but we do know it will have at least 640 horsepower on tap via the supercharged 6.2L V8 gasoline engine (production code LT4) also used in the third-gen CTS-V and current CT5-V Blackwing, which is sure to give the HPE650 Escalade a run for its money. Hit black on the video of the Escalade-V prototype below to hear its exhaust note.
Want to stay up to date on the Escalade-V? Then subscribe to Cadillac Society for the latest Cadillac Escalade news and around-the-clock Cadillac news coverage. We also invite you to join the latest discussions in our Cadillac forums.