The Cadillac CT5-V Blackwing was officially unveiled on February 1st, 2021 and is expected to enter the market during the summer of 2021 as a 2022 model year vehicle. The familiar supercharged 6.2-liter LT4 V8 under the hood, though with a slight power-bump compared to the third-generation CTS-V. The biggest distinction from its indirect predecessor, however, is a 6-speed manual transmission, which is standard for the CT5-V Blackwing and was unavailable for the third-gen CTS-V.
Cadillac CT5-V Blackwing Quick Facts

| | |
| --- | --- |
| Model years: | 2022 – Present |
| Assembly Location: | Lansing Grand River Plant, Michigan, USA |
| Layout: | Front-Engined, Longitudinal |
| Engine: | Supercharged 6.2L V-8 LT4 |
| Horsepower: | 668 |
| Torque: | 659 |
| Transmission: | 6-Speed Manual, GM Hydra-Matic 10-Speed Auto |
| Driven Wheels: | Rear-Wheel |
| Availability: | U.S.A., Canada, Middle East |
| Predecessor: | – |
| Successor: | – |

First-Generation
The 2022 Cadillac CT5-V Blackwing representing the first-ever model year for the nameplate, meaning the first-generation has not yet entered the market. This hasn't kept the brand from building up a ton of hype and excitement for the upcoming product.
As stated, the high-performance luxury sedan will feature the stout and supercharged LT4 gen-five small block V8 with a Cadillac-estimated output of 668 horsepower and 659 pound-feet of torque, which is a slight bump compared to the engine's output under the hood of a third-gen CTS-V, which put out 640 horsepower and 640 pound-feet of torque. Notably, the CT5-V Blackwing's application of the engine now represents its highest output, surpassing the 650 horsepower and 650 pound-feet of torque generated by the sixth-gen Chevrolet Camaro ZL1 and seventh-generation Corvette Z06.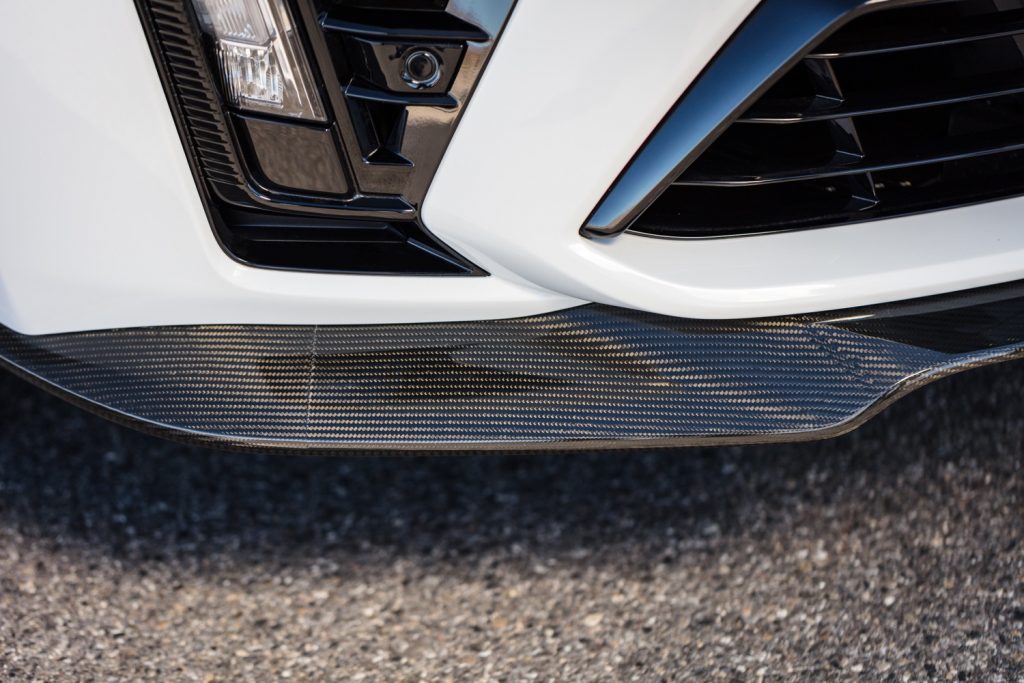 Performance Features
The 2022 Cadillac CT5-V Blackwing offers two optional carbon-fiber packages, dubbed Carbon Fiber 1 Package (CF1 Pkg) and Carbon Fiber 2 Package (CF2 Pkg). Here's a look at the components included in each, along with pricing info:
Carbon Fiber 1 Package – $4,100
Front splitter
Front wheel well deflectors
Rear extra aero spoiler
Carbon Fiber 2 Package – $5,230
Grille header
Rocker moldings
Rocker extensions
Rear valance diffuser
Requires Carbon Fiber 1 Package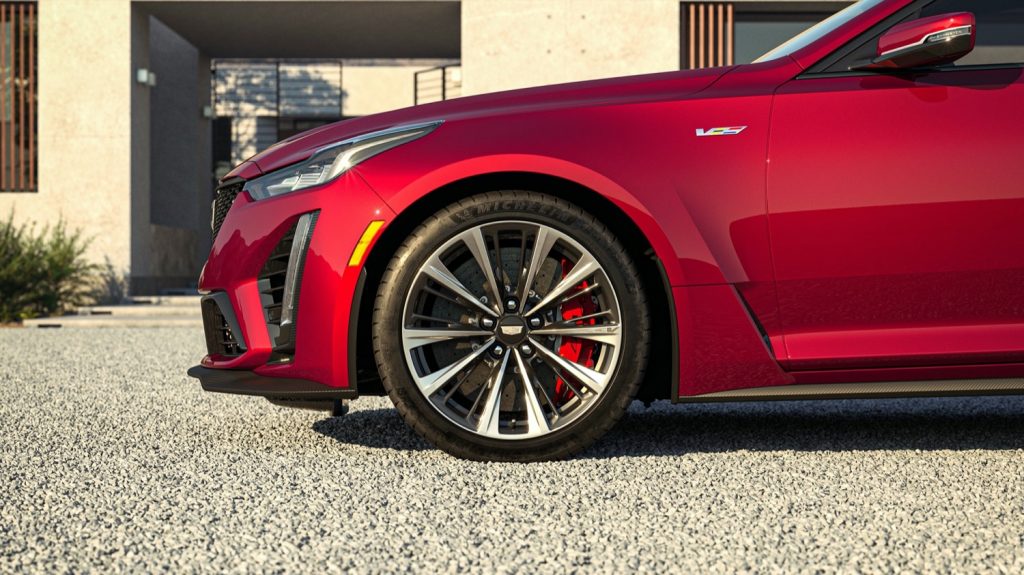 For the 2022 model year, the high-performance sedan also offers a standard Brembo braking system and an available carbon ceramic braking system. High-performance, summer tires are also standard for both the CT4-V Blackwing and CT5-V Blackwing sedans.
The 2022 Cadillac CT5-V Blackwing alos features the fourth generation of Magnetic Ride Control (MR 4.0), with improvements to the front and rear suspension systems. Stiffer spring rates, unique hollow stabilizer bars, higher-rate bushings and more enable a driving experience that isolates the driver from road imperfections, while also providing a precise, engaging connection with the road.
The performance data and video recorder is another option for buyers who want to log their track sessions.

Cadillac CT5-V Blackwing Timeline
May 2019: the 2020 Cadillac CT5-V is announced as an all-new, intermediate performance model
June 2019: Cadillac shows "next-level CT5-V" prototype at the 2019 Detroit Grand Prix
June 2019: Cadillac performance variants manager, Mirza Grebovic, says that Cadillac V-Series models will "go out with a bang" before EVs take over
July 2019: reports indicate that next-level Cadillac CT5-V will be called "Blackwing"
October 2019: more spy shots show best look yet at CT5-V Blackwing prototype
December 17, 2019: new spy shots reveal CT5-V Blackwing front fascia
January 25, 2020: Reports confirm CT5-V Blackwing will feature supercharged 6.2L V8 LT4 engine and offer the option for a manual transmission
March 20, 2020: new spy shots show best look yet at CT5-V Blackwing prototype
April 2, 2020: COVID-19 pandemic delays CT5-V and CT4-V Blackwing models
April 14, 2020: GM confirms Blackwing name for next-level CT5-V sedan and shares soundtrack of CT5-V accelerating, as well as a teaser image of the rear three-quarters of the CT5-V Blackwing
June 17, 2020: Spy shots capture CT5-V Blackwing with bronze wheels
August 2020: GM teases CT5-V Blackwing steering wheel and GM Authority notices some easter eggs on the steering wheel teaser
October 2020: Cadillac announces that the CT5-V Blackwing and CT4-V Blackwing will offer magnesium wheels as an option
October 2020: Cadillac confirms that the CT5-V Blackwing will go on sale in the summer of 2021 as a 2022 model year vehicle
November 2020: Cadillac Society learns that CT5-V Blackwing will wear wider front and rear tires than third-generation CTS-V
December 2020: CT5-V Blackwing (and CT4-V Blackwing) will feature improved manual transmission with 3D printed parts
2022 Cadillac CT5-V Blackwing Photos
Want to stay up to date on all things Cadillac? Then be sure to subscribe to Cadillac Society for more Cadillac CT5 news and around-the-clock Cadillac news coverage. We also invite you to join the latest discussions in our Cadillac forums.