2022 Cadillac CT4-V Blackwing colors consist of ten options, with several hues – such as Dark Emerald Matte and Electric Blue – exclusive to the Blackwing model (and not available on the "regular" CT4-V or CT4).
Of the ten colors, two are regular hues, six are metallic, one is a tintcoat, and one is a matte finish. Eight of the ten colors will carry a premium, including $625 for metallic options, $1,225 for the tintcoat option, and $3,925 for the Dark Emerald Matte option.
While Dark Emerald Matte (subsequently renamed to Dark Emerald Frost) is the first-ever matte option for the CT4, it's in fact the third matte finish to be offered by Cadillac within the last decade. Crystal White Frost was offered in 2016, when it was exclusive to the ATS-V and CTS-V Crystal White Frost Edition models. In 2013, a special run of 100 CTS-V coupes were finished in Silver Frost matte, and the collector-edition models were only offered through select dealers.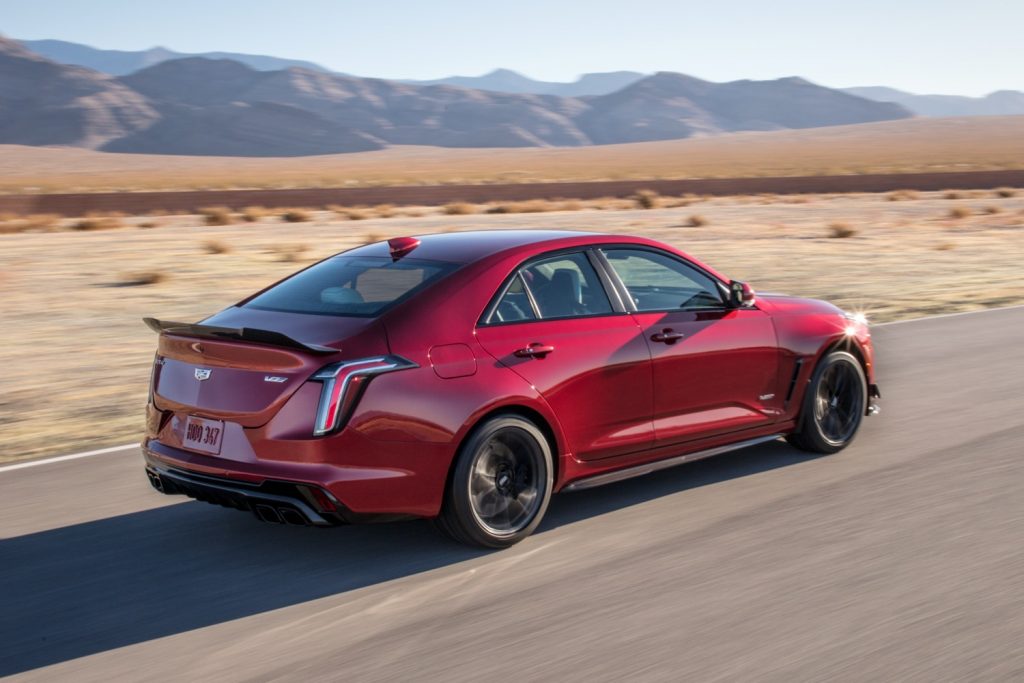 In addition to the exterior colors, there are three interior color combinations available. Here are the 2022 Cadillac CT5-V Blackwing exterior colors.
Summit White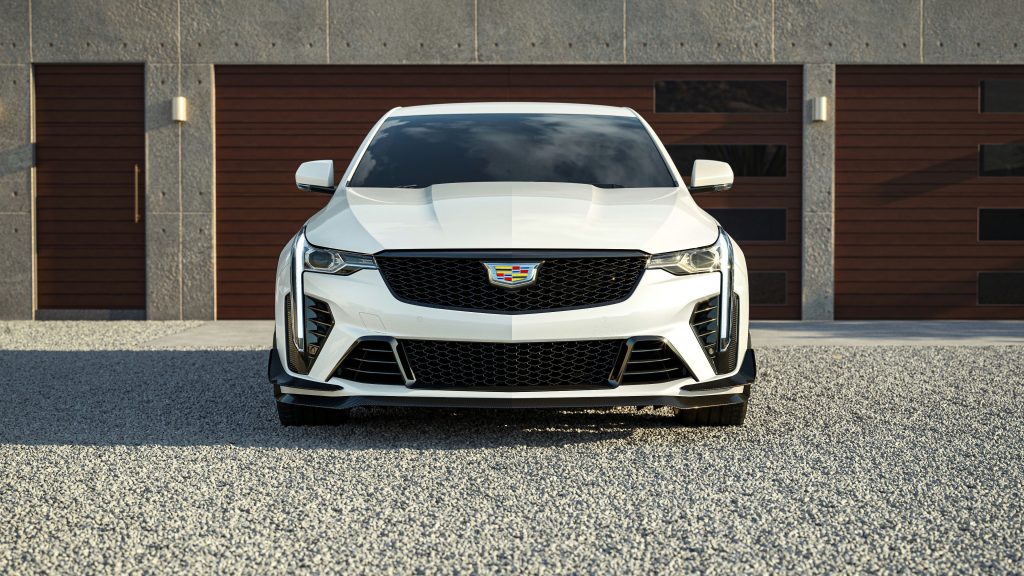 Black Raven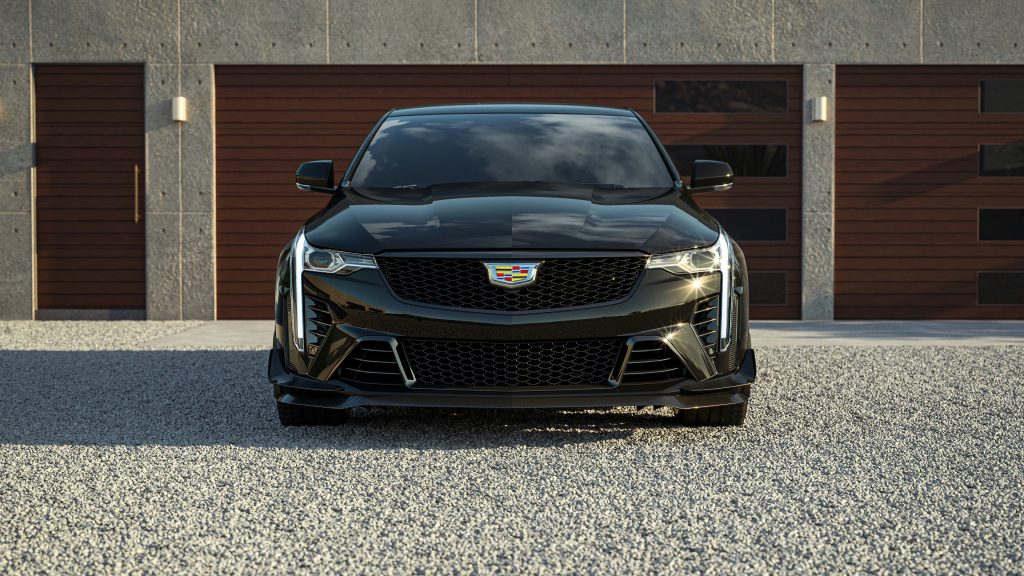 Dark Emerald Matte Frost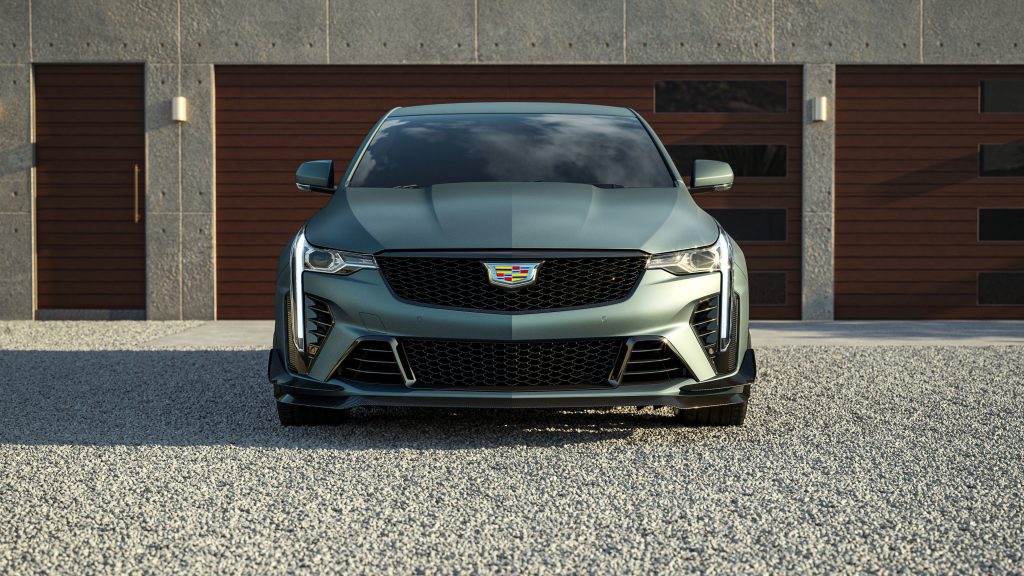 Electric Blue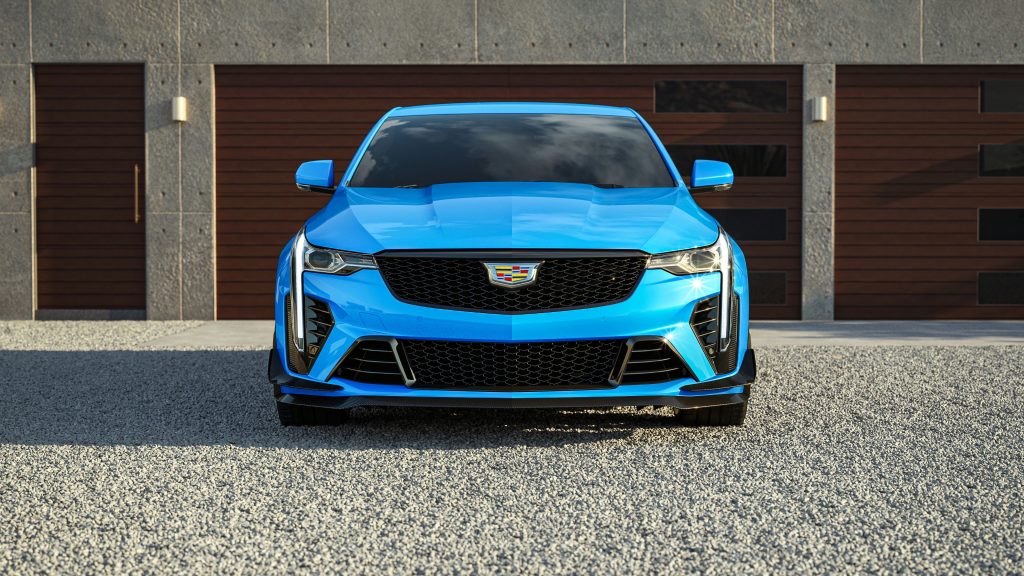 Infrared Tintcoat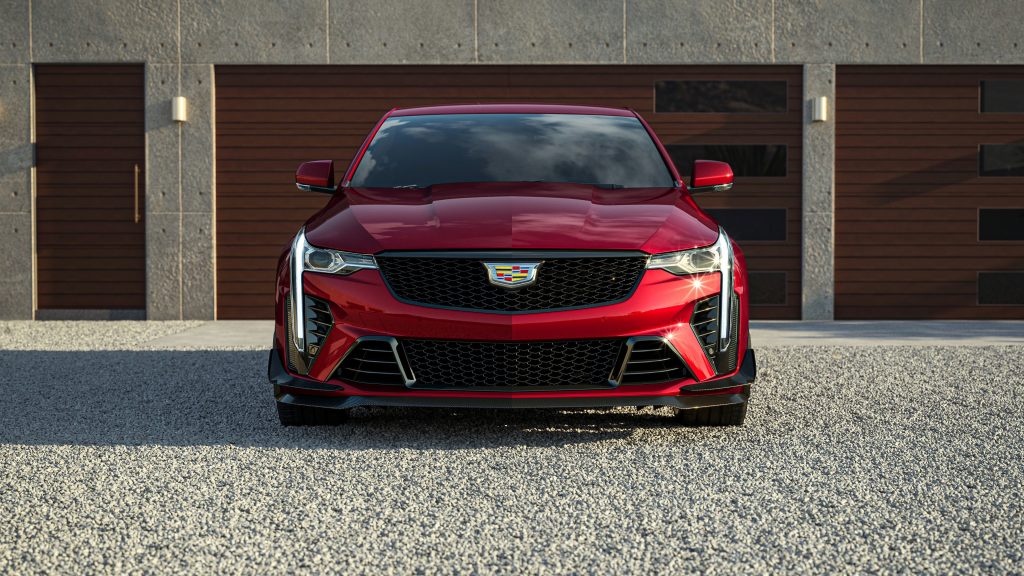 Orange Blaze Metallic
Satin Steel Metallic
Shadow Metallic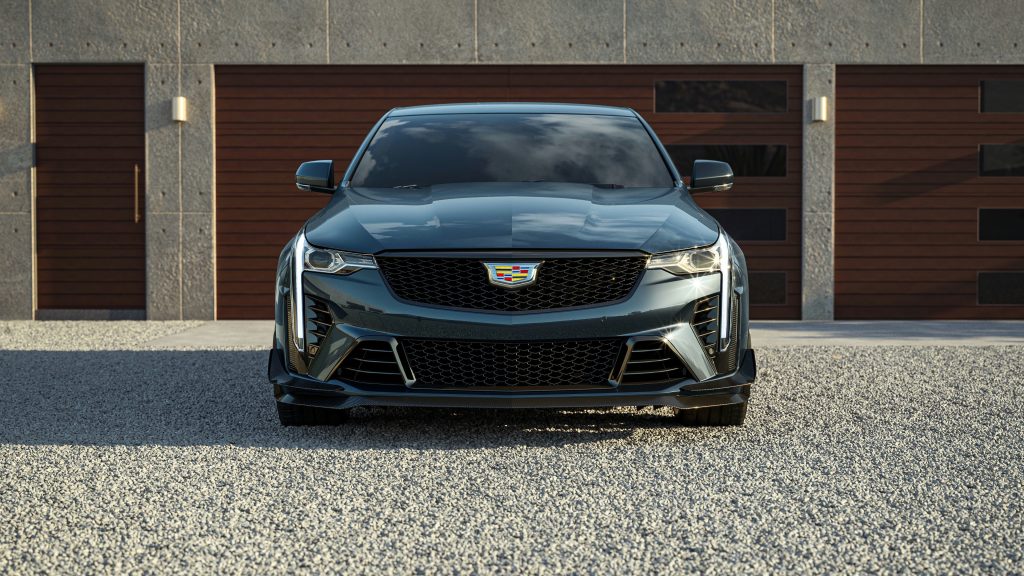 Wave Metallic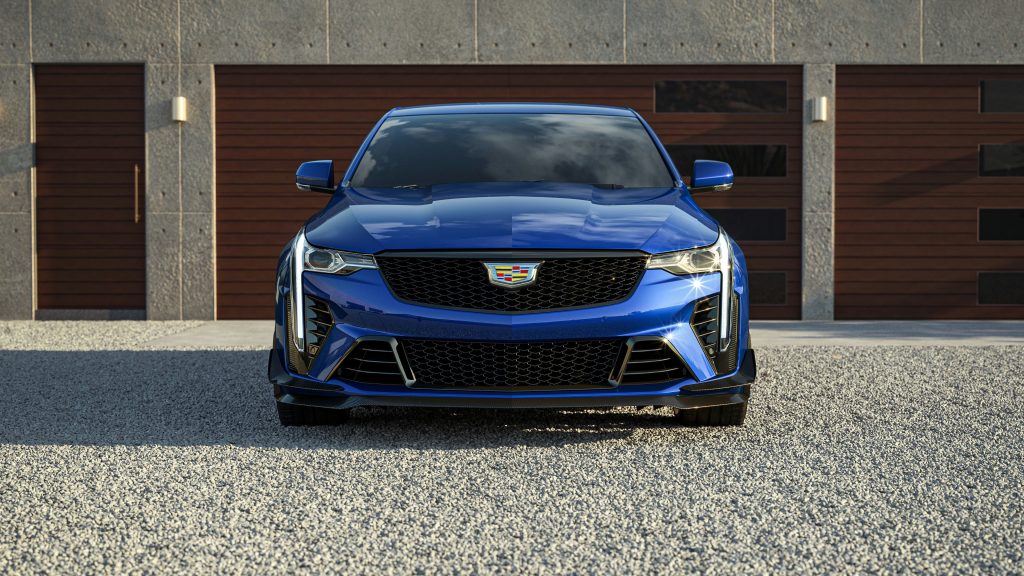 Rift Metallic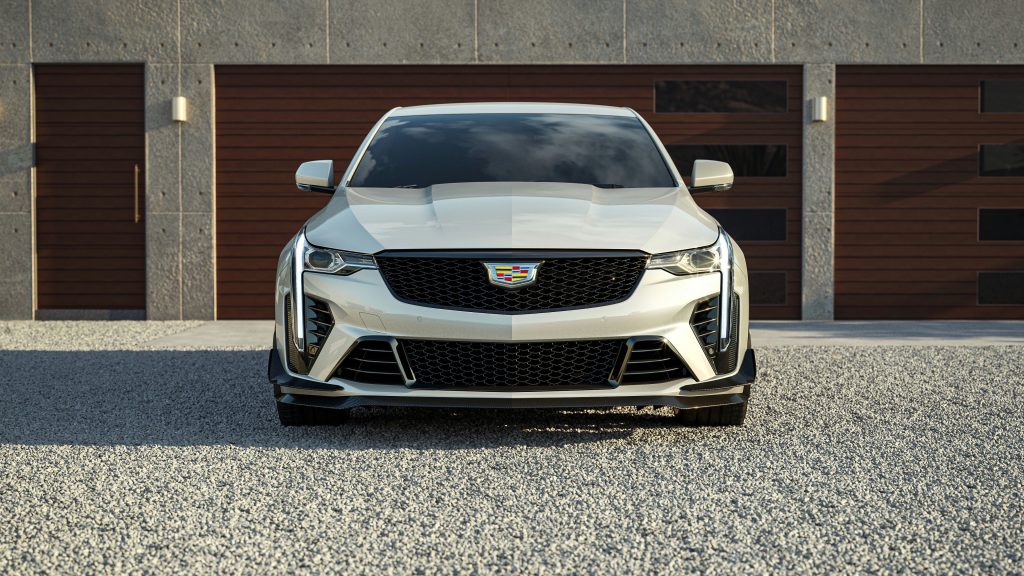 Exterior Color Options
Dark Emerald Matte Frost (green)
Satin Steel Metallic (ray)
Summit White (white)
Black Raven (black)
Blaze Orange Metallic (orange)
Shadow Metallic (dark gray)
Wave Metallic (blue)
Electric Blue (bright blue)
Rift Metallic (white/gray)
Infrared Tintcoat (red)
Interior Color Options
Jet Black with Jet Black accents
Natural Tan with Jet Black accents
Sky Cool Gray with Jet Black accents
Notably, any 2022 CT4-V Blackwing exterior color option may be coupled with any interior color combination. Additionally, customers who opt for standard front bucket seats (production code AQ9) will only have Jet Black as an interior option choice. Upgrading to leather seating surfaces with a sueded back panel (production code AQJ) opens up the Sky Cool Gray color. Upgrading to the most expensive seat option – semi-aniline leather with custom quilting and carbon fiber back panels – is the only way to open up all three interior color options.
To clarify, there are six interior configurations available, designated by six different production codes. However, there are only three different colors available in three different combinations, as shown above. Notably, some of the configurations include a tertiary accent in the form of red piping or stitching, though Cadillac does not use this aspect to identify the color combination, as the identity is based on the primary and secondary hues.
| Color | Cost | Color Code | Touch-Up Paint Number | Interior: Jet Black | Interior: Natural Tan w/ Jet Black | Interior: Sky Cool Gray w/ Jet Black |
| --- | --- | --- | --- | --- | --- | --- |
| Dark Emerald Matte1 | $3,925.00 | G7W | WA-620G | A | A | A |
| Satin Steel Metallic2 | $625.00 | G9K | WA-464C | A | A | A |
| Summit White | $0.00 | GAZ | WA-8624 | A | A | A |
| Black Raven | $0.00 | GBA | WA-8555 | A | A | A |
| Blaze Orange Metallic2 | $625.00 | GED | WA-244F | A | A | A |
| Shadow Metallic2 | $625.00 | GJI | WA-626D | A | A | A |
| Wave Metallic2 | $625.00 | GKK | WA-626D | A | A | A |
| Electric Blue2 | $625.00 | GMO | WA-632D | A | A | A |
| Rift Metallic2 | $625.00 | GRW | WA-249F | A | A | A |
| Infrared Tintcoat2 | $1,225.00 | GSK | WA-252F | A | A | A |
Legend:
1 – Available at extra charge. Late and limited availability
2 – Available at extra charge.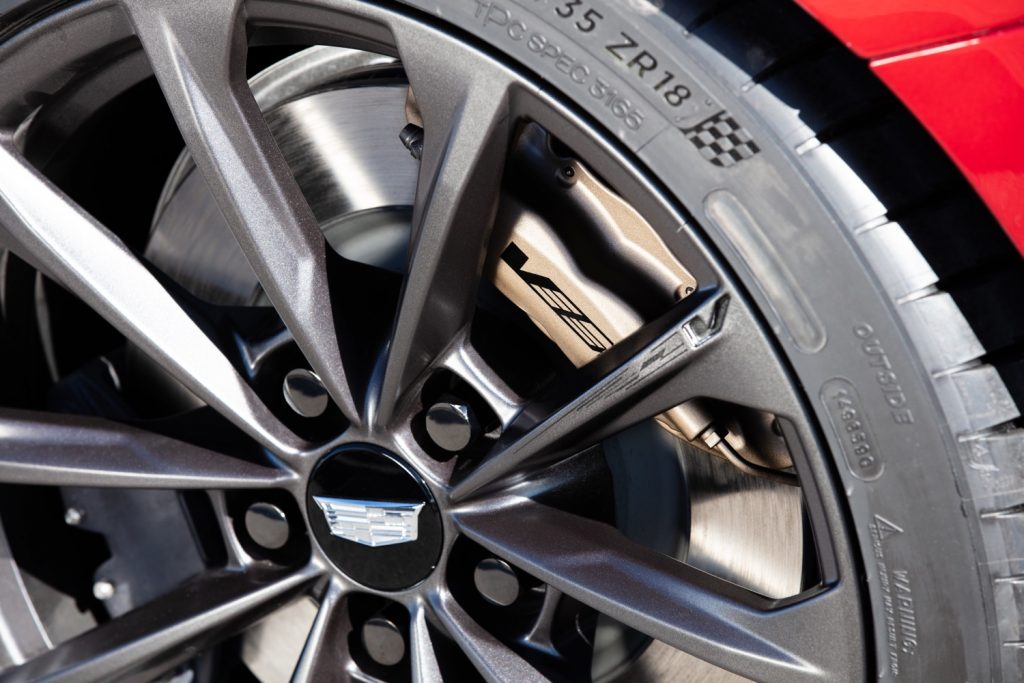 Want to stay up to date on all things Cadillac? Then be sure to subscribe to Cadillac Society for more, CT4-V Blackwing news, Cadillac CT4 news, Blackwing news and around-the-clock Cadillac news coverage. We also invite you to join the latest discussions in our Cadillac forums.
2022 Cadillac CT4-V Blackwing Photos