While Cadillac is best-known for its luxury and refinement, the automaker has plenty of performance chops as well. Beyond production go-fast Caddys like the Cadillac CTS-V and ATS-V (not to mention the upcoming CT4-V Blackwing and CT5-V Blackwing), there are a few Cadillac supercar models to point to as well, such as the Cadillac Cien concept from 2002.
So then – what might a modern Cadillac supercar look like? To find out, we can turn to the following design rendering.

Posted to social media by Cadillac's parent company, General Motors, this Cadillac supercar rendering was produced by GM Designer Tom Grech back in 2018, and is described as "a great mix of sheer surfaces and muscular forms."
While outlandishly extravagant and stylized, the design still incorporates a variety of design cues that are easily recognizable. For example, the front end takes the same approach as the Cadillac Lyriq in terms of overall shape, with a V-shaped slant for the front bumper that pinches towards the lower fascia, as well as prominent vertical lighting signatures in the sides. Critically, there's no large air intake up front, which suggests that this Cadillac supercar concept could instead come with an all-electric powertrain.

Further performance cues and standout features include a rear tail fin section that gives a nod to prototype race cars like the Cadillac DPi-V.R. The rear end also shows off with a prominent rear diffuser, while the vertical rear lamps mirror the front end lighting signatures.
Notably, the front end sports a sharp V emblem rather than the standard Caddy crest, while the rear end spells out the word Cadillac.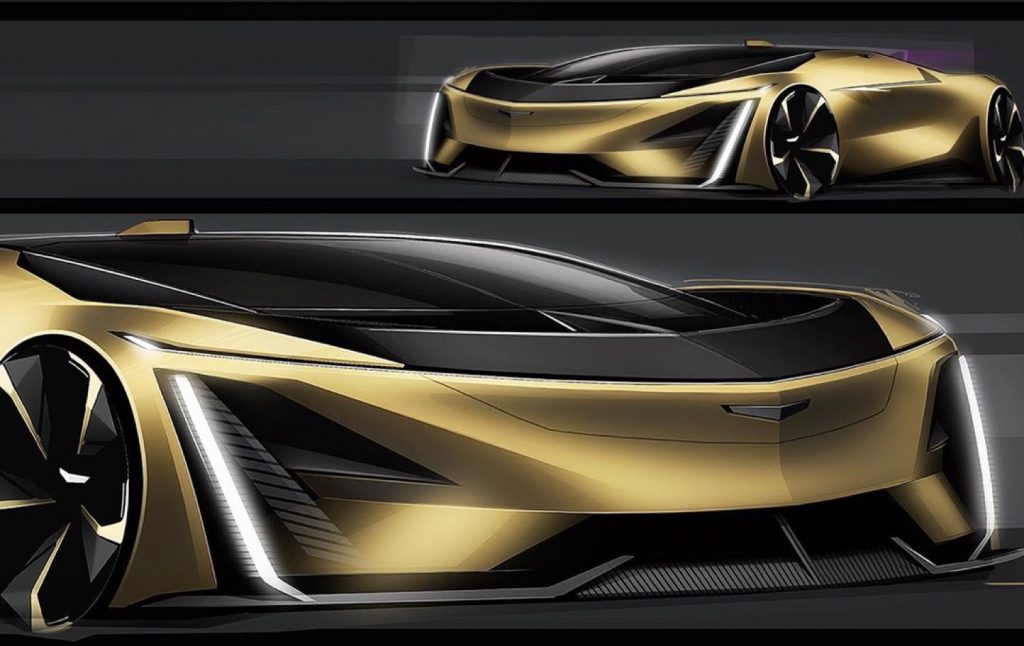 While this Cadillac supercar rendering is nothing more than a concept, it's still pretty cool to see what the automaker has in mind when it comes to offering superlative performance under the Caddy banner.
What do you think of this Cadillac supercar rendering? Post your thoughts in the comments, and make sure to subscribe to Cadillac Society for ongoing Cadillac news coverage.
This post was created in collaboration with our sister publication, GM Authority.