There is no question that the current, fourth-generation Cadillac Escalade is a fine luxury SUV. Despite being developed over half a century ago and introduced in 2014, the present model has aged rather gracefully, while serving its purpose as Cadillac's talisman (and phenomenal profit generator). But Cadillac is hard at work on the all-new 2020 Escalade, which is expected to deliver significant, especially in the powertrain department.
Sources familiar with future Cadillac product plans told Cadillac Society that the future Escalade will be available with three engine choices.
Offering more than one engine in the Escalade is a notable departure from the state of affairs with the current model, which is available exclusively with one engine – the 6.2-liter Small Block V8.
The Cadillac Society Take
We weren't told exactly what three engines will be offered, but thanks to our penchant for speculation, we would not be surprised to see the 2020 Cadillac Escalade offer the following powertrain lineup:
First: we would not be surprised to see the base engine of the 2020 Cadillac Escalade to be the naturally-aspirated 6.2L V8 Small Block (production code L87).
Essentially an upgraded version of the eight-banger in the current Escalade, the motor was recently introduced on the Chevy and GMC pickup trucks of Cadillac parent firm, General Motors. The most notable improvement to the engine over its predecessor is the replacement of Active Fuel Management (AFM) cylinder deactivation system with the more advanced Dynamic Fuel Management (DFM) technology. While AFM is capable of alternating between eight- and four-cylinder modes, DFM features 17 cylinder patterns and is capable of running on just one cylinder at a time. That greater control over cylinder patterns enables the engine to constantly optimize efficiency and power delivery at all speeds.
In pickup truck applications, the 6.2L V8 L87 engine makes an SAE-certified 420 horsepower (313 kw) at 5600 rpm and 460 pound-feet (621 Nm) of torque at 4100 rpm. The numbers are identical to the output of the current Escalade, but the new motor should be more fuel efficient while being more refined when compared to its predecessor.
Second: an upgrade over the standard motor could be Cadillac's new 4.2L Twin-Turbo DOHC V8 engine (production code LTA).
First introduced in the refreshed 2019 Cadillac CT6, the boosted engine is available in two versions:
Regular output: 500 horsepower (373 kW) at 5000-5200 rpm and 553 pound-feet (750 Nm) of torque at 2600-4600 rpm
High output: 550 horsepower (410 kW) at 5700 and 627 pound-feet (850 Nm) of torque at 3200 – 4000
Cadillac can use either version of its new eight-cylinder belle in the 2020 Escalade. It might also create another tune entirely for the full-size SUV. Whatever version of the LTA Cadillac ends up using, it might call the final product the Escalade-V or Escalade V-Sport.
These first two engines will likely be mated to the new 10-speed automatic transmission that is debuting on the face-lifted CT6.
Third: the third option might not be an engine at all, but a new energy vehicle instead. In other words, we would not be surprised to see an Escalade Plug-In Hybrid (PHEV), similar to the namesake Cadillac CT6.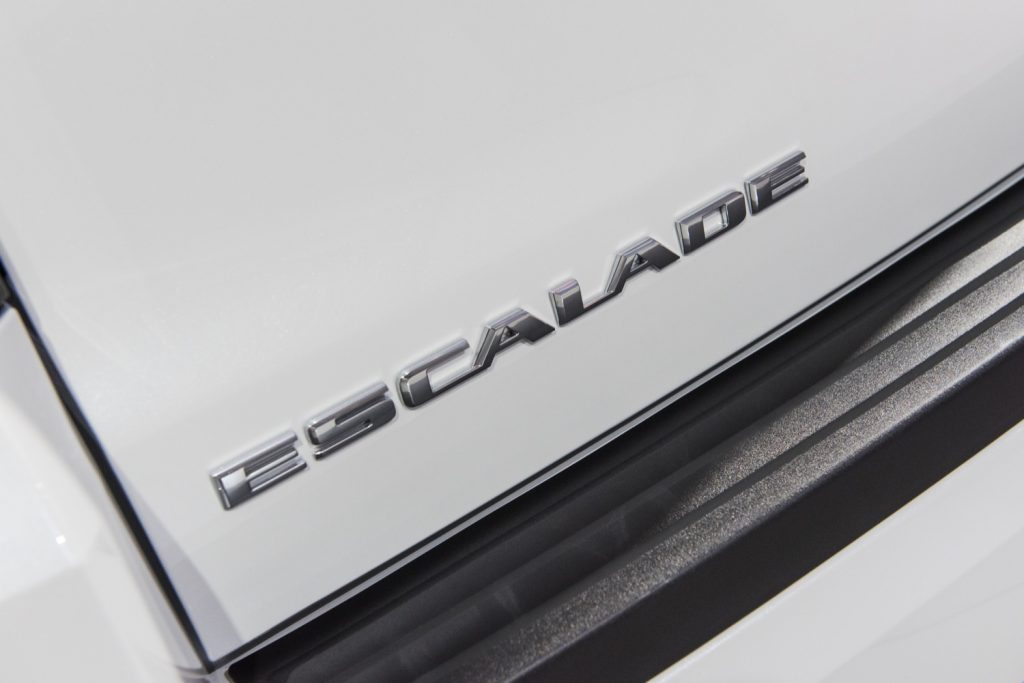 About 2020 Cadillac Escalade
Expected to launch in the second or third quarter of 2019 as a 2020 model year vehicle, the 2020 Cadillac Escalade will represent the fifth generation of Cadillac's largest and most expensive offering. The vehicle will represent a complete overhaul over the current model, consisting of a complete redesign and re-engineering.
Expect a dynamic new design that brings the Escalade in line with the new Cadillac design language introduced by the Escala Concept, and brought to market by the 2019 CT6 and XT4. As before, the regular-length Escalade will be joined by an extended-length Escalade ESV model. Expect an all-new interior with new rotary infotainment system controls, along with new and luxurious features for the second row, including reclining and massaging chairs.
Three new powerplant choices are expected to be available, including a regular-power model, a high-power model (potentially called Escalade-V or V-Sport) mated to the new 10-speed automatic transmission, as well as a new energy model, such as a plug-in hybrid vehicle (PHEV). The 2020 Escalade is also expected to gain a fully-independent rear suspension, a change that is expected to enhance ride comfort while also improving agility, especially over uneven pavement.
News
Follow our coverage of Cadillac Escalade news.
Forum
Discuss the 2020 Escalade in our Cadillac Escalade forum.