Cadillac is hard at work on at least three new crossovers to flank the popular XT5 midsizer. One of these has been confirmed to be the compact XT4. The model has been captured undergoing testing several times before wearing heaps of cladding to disguise the body, but this time is different, as the crossover has replaced its bulky cladding for a more traditional camouflage, allowing us to see the general shape of the upcoming CUV better than any time before.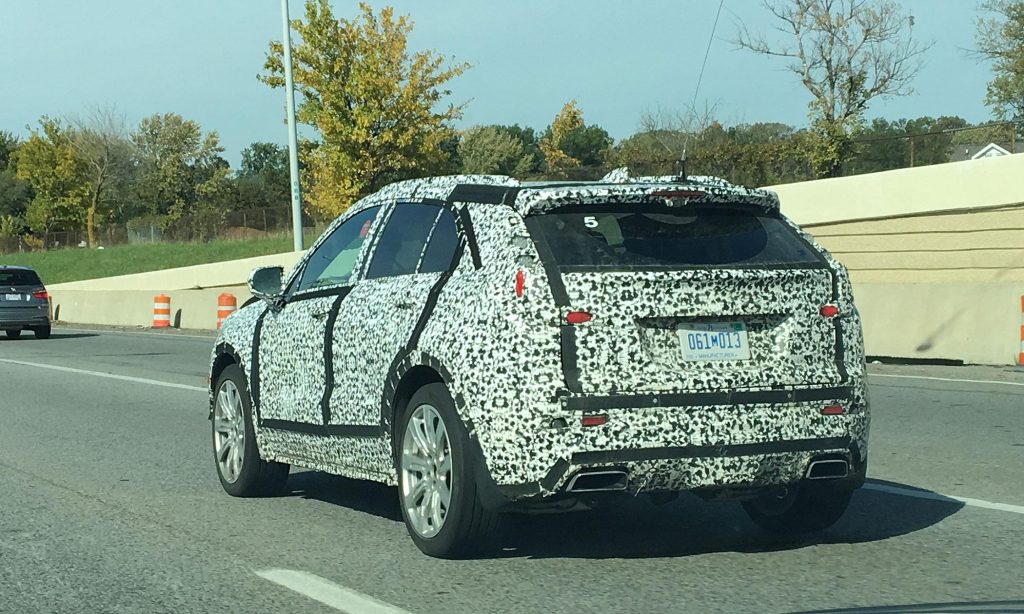 The side profile shows a general shape that is similar to yet smaller than the XT5, with a forwarding-leaning hatch and D-pillar treatment. The rear shows a new taillight design that appears to consist of two connected elements: the vertical element that runs downward from the top of the roof, flowing into what seems to be a horizontal element above the license plate area. We imagine that the tail light design will be similar to that seen on the Escala concept, as Cadillac reworks its vertical signature lighting elements.
Unfortunately, the shooter didn't capture any photos of the vehicle's front end, but it's widely believed that the front fascia will feature both horizontal and vertical lighting elements as well as other design elements seen on the Escala concept.
Cadillac has confirmed that the XT4 will be powered by a range of new and powerful engines, and a plug-in model will be part of the lineup. In addition, the Super Cruise autonomous driving technology that was introduced for the 2018 model year CT6 will likely be available as well.
Cadillac's new XT4 will sit below the XT5 in price, size and dimensions and will all but certainly ride on the GM E2 platform, the same front-drive architecture that underpins other GM models, including the mid-size Chevrolet Malibu, Buick Regal (aka Opel/Vauxhall Insignia and Holden Commodore) as well as the full-size Buick LaCrosse. The model will be revealed in 2018 and be available shortly thereafter, kicking off Cadillac's product offensive that involves introducing a total of five car lines in the timeframe of two years.