The 2024 Cadillac Celestiq ultra luxury sedan is filled to the brim with the latest features and technologies befitting the luxury marque's upcoming flagship vehicle. Not only does this include tech such as Ultra Cruise, Magnetic Ride Control, Adaptive Air Suspension, Active Rear Steering and advanced AWD facilitated by an electric motor mounted on each axle, but it extends to the vehicle's exterior as well. Now, Cadillac Society has spotted a Celestiq with one of its more unique features on display: a deployable rear wing.
The deployable rear spoiler sits flush with the vehicle's body until a certain speed is reached, at which time the wing will lift to provide more downforce at high speeds. Said spoiler is mounted just after the bottom of the rear window, and when not exposed, it's neatly tucked beneath a piece of trim to keep it camouflaged. Electric motors lift and lower the spoiler automatically. It's currently unclear whether drivers will be able to raise or lower the spoiler manually from within the cabin.
While this is the first time the tech has been featured on a vehicle with a Cadillac badge, a deployable rear wing isn't a rarity. It can be found on vehicles such as the Porsche 911, as well as certain Mercedes-Benz and Audi models. Concealing the spoiler until necessary ensures that a fixed wing won't interrupt a vehicle's sleek, streamlined design, while enabling enhanced handling and downforce once the required speed is reached.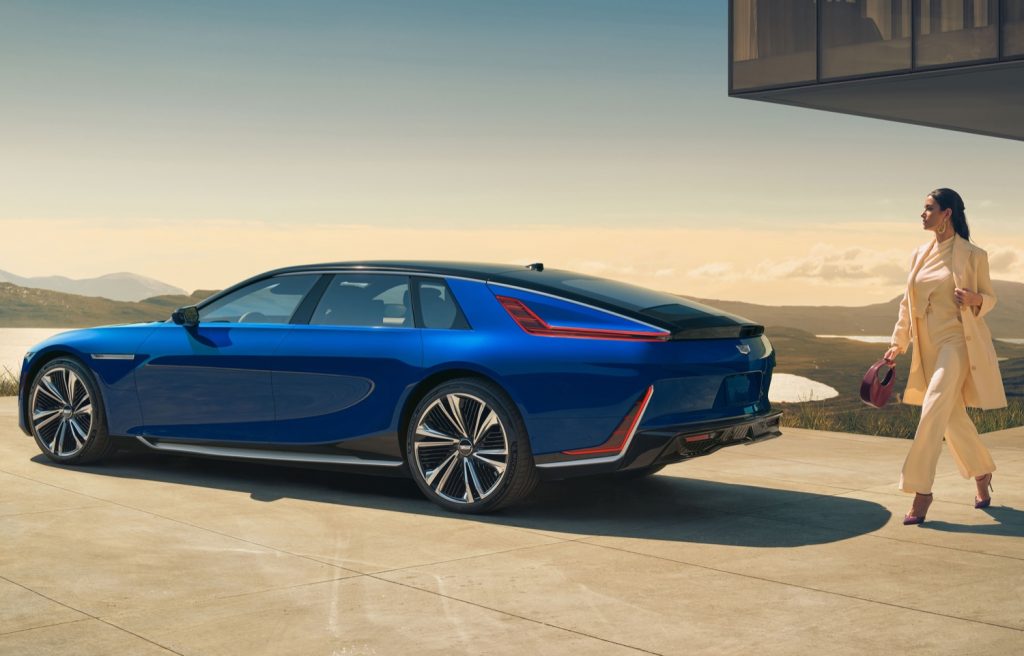 The 2024 Cadillac Celestiq certainly has a powertrain worthy of a high-tech deployable spoiler. Its 111 kWh battery pack and a dual-motor all-wheel-drive propulsion system provides 300 miles of driving range on a single charge while delivering 600 horsepower and 640 pound-feet of torque. It rides on the BEV3 platform, which was developed to exclusively underpin battery electric vehicles.
Understandably, all that ultra-luxurious tech and power comes at a price – the Celestiq starts at $340,000. We'll provide more details on the Celestiq as soon as we get them. Until then, be sure to subscribe to Cadillac Society for more Cadillac Celestiq news and around-the-clock Cadillac news coverage. We also invite you to join the latest discussions in our Cadillac forums and Cadillac Celestiq forum.