The opportunity to take the wheel of a Cadillac CT5-V Blackwing doesn't present itself very often to people who don't own one themselves. When the owner of a CT5-V Blackwing, Joe Luck, handed the keys to a National Parking valet in metro Georgia, the valet couldn't help himself – he took the super sedan for a spin, quite literally, and unfortunately ended up wrecking it, according to a report from 11Alive.
One of the Cadillac CT5-V Blackwing's many features is that of its Performance Data Recorded (PDR). The built-in dashcam, which also features telemetry data, is intended to help owners who track their cars keep an eye on its stats and performance in real-time and revisit it later. Thanks to this system, the valet's misguided drive was captured on camera. He pulls it out of the parking space and into the flow of traffic, opening up the throttle a few times on the narrow urban street. About half a minute into his joyride, he decides to pull a one-eighty turn across traffic in a poorly-timed move that puts him right in the path of another motorist.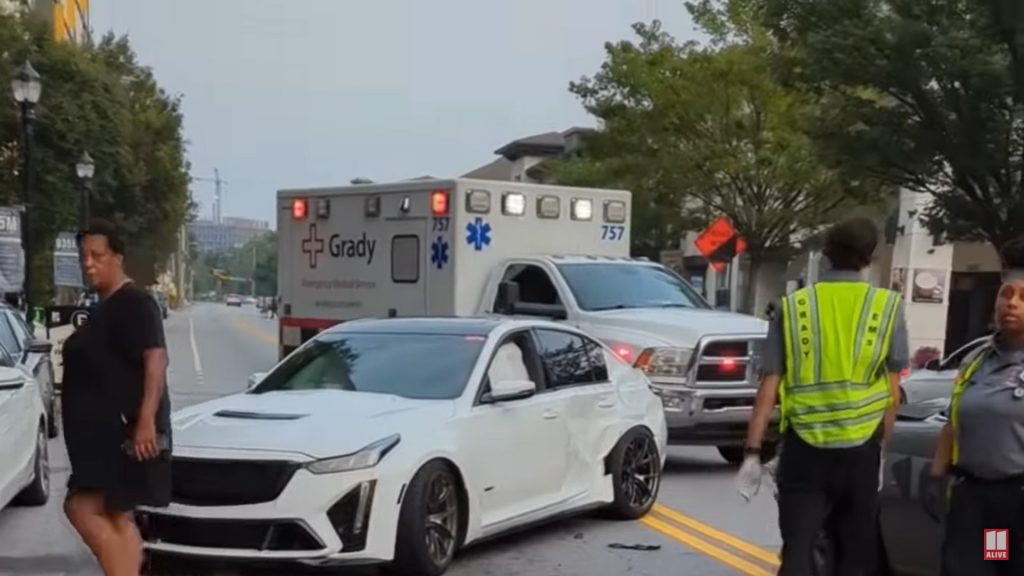 The Cadillac CT5-V Blackwing is struck in the rear driver's-side door by a Dodge Charger, causing it to spin around violently, much to the valet's disappointment, who has some choice words for the situation while reality sinks in. A wide shot of the car shows the extent of the damage to the vehicle's rear door and quarter panel. Making matters worse is that both front row side airbags and rear driver's side airbag deployed in the impact. The rear axle was also damaged.
"I've been waiting a year and half for it," Luck said of his now-wrecked super sedan. "These cars are very hard to get… it's a very special vehicle. I've only had it for six months… It's in pretty bad shape. I can't even drive it."
So far, National Parking's insurance has not reached out to Luck to offer a solution. The company did confirm that the valet driver responsible for the crash was fired, however.
Want the latest on all things Cadillac? Then subscribe to Cadillac Society to stay in the know on the latest Cadillac CT5 news, CT5-V Blackwing news and a lot more Cadillac news coverage. We also invite you to join the latest discussions in our Cadillac forums, including our CT5-V Blackwing forum.
Cadillac CT5-V Blackwing Photos