Some will do almost anything to shave a few seconds off their daily commute, but as one Cadillac CTS owner found out, shortcuts don't always pay off. In fact, their mistake went viral after it was caught on dashcam and posted to the infamous Reddit community r/idiotsincars.
In the video, there's obviously some serious traffic stacking up on the Detroit freeway, prompting this Cadillac CTS driver to attempt to take a rather creative route onto an exit, probably hoping it would save them a few precious moments. The CTS driver sends the sedan careening up the embankment intent on clearing it and forcing their way into the exiting traffic.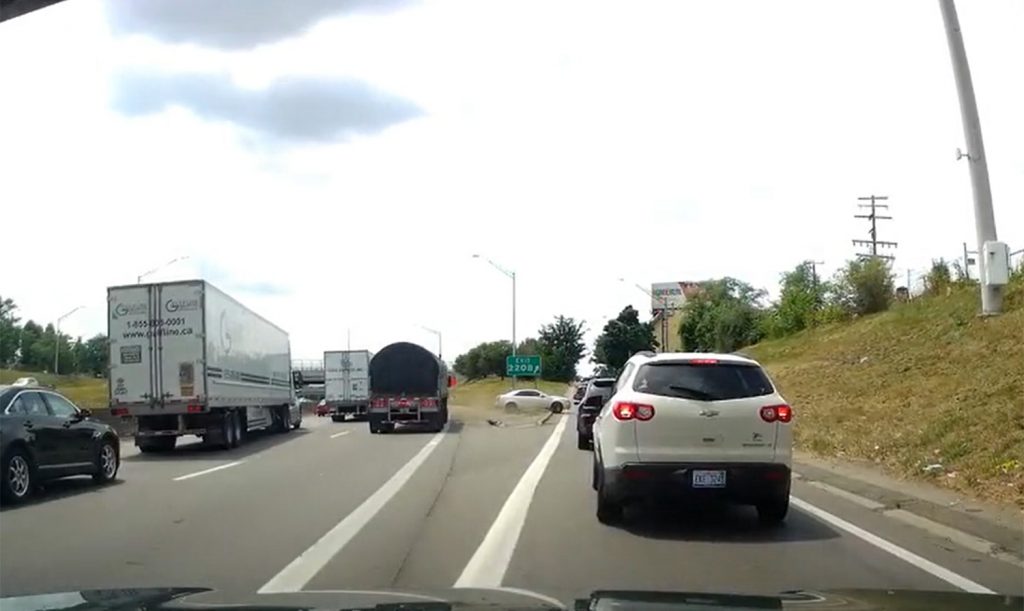 However, they failed to account for their luxury sedan's low ground clearance. Instead of driving up and over the grass embankment onto the pavement, they found themselves in an embarrassing situation, as the sedan high-centers and gets stuck with all four wheels spinning through empty air. Of course, the occupants of the cammer car have a laugh at the expense of the Cadillac CTS, commenting that the stupidity of the driver was caught on camera and announcing their intent to post the video to Reddit.
The cammer didn't stick around long enough to capture the fate of the Cadillac CTS, but it's safe to assume that it was trapped there for a while, as we don't imagine a tow truck could maneuver in stop-and-go traffic to get to the scene in short time. Suffice to say, if the driver of the CTS had simply waited patiently for the traffic to clear, they probably would have made it to their destination much sooner.
To add insult to injury, one Reddit user commented on the original post explaining that they are familiar with this stretch of highway, and noted that there are exits every half mile or so through that stretch. Even with traffic, it probably wouldn't have taken more than a couple minutes to get to the next viable exit, but this Cadillac CTS owner clearly thought they didn't have the time to wait.
Subscribe to Cadillac Society for more CTS news, and ongoing Cadillac news coverage. We also invite you to join the discussion in our Cadillac forums and Cadillac CTS forum.