One of the things that set old-school Cadillac models apart from other luxury models was their hood ornaments, which featured the Cadillac wreath and crest jutting from the front portion of the hood, proudly declaring its heritage. The luxury marque did away with the hood ornament almost two decades ago, but the Cadillac CT5 pictured here seems to be stuck in the past, with a wreath and crest ornament jutting out from the hood.
Not much is known about this particular Cadillac CT5, or why its owner decided to add the hood ornament in the first place. The wreathed Caddy crest ornament seen here was first introduced for the 1963 model year and went through a few minor iterations before being replaced with the current, wreath-less crest in 2014. Both logos can be seen on this CT5, offering a visible contrast between the two.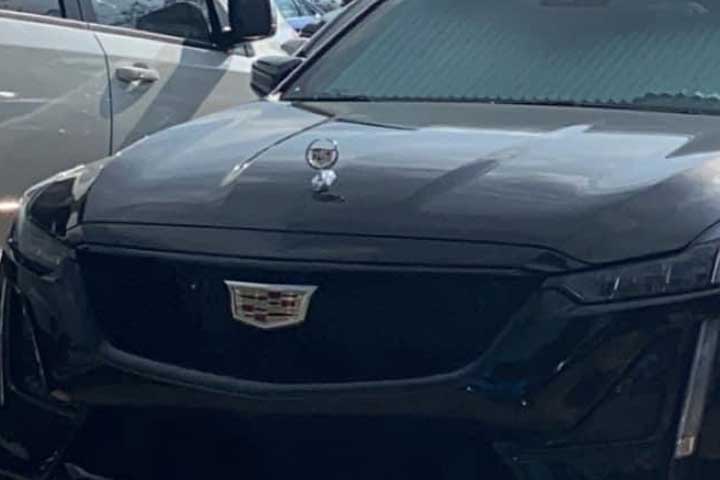 In fact, the last Cadillac to feature the hood ornament seen on this CT5 was the 2000 through 2005 Cadillac DeVille, begging the question – what model was the donor for this hood ornament? Whatever the case, it's a pretty strange accessory for this CT5, which features sleek, modern styling that doesn't work all that well with the aftermarket ornament.
Adding another twist to this story is the fact that Cadillac is currently in the process of resurrecting the hood ornament, albeit in a very limited capacity. The luxury marque recently brought back "The Goddess," a motif of a woman in flowing robes first used as a hood ornament in the 1930s before being retired in 1956. While not stuck to the hood like her predecessor, the Goddess can be found throughout the Cadillac Celestiq, the luxury marque's forthcoming battery electric flagship sedan.
Want the latest on all things Cadillac? Subscribe to Cadillac Society for Cadillac logo news and twenty-four-seven Cadillac news coverage. We also invite you to join the latest discussions in our Cadillac forums.