Here's our first look at the 2020 Cadillac XT6 – Cadillac's upcoming large crossover that will represent a vital piece of the future Cadillac product pipeline.
Caught testing on public roads near General Motors' Milford Proving Grounds, the XT6 prototype is wearing black-and-white camouflage seen on prototype versions of the Cadillac CT5.
The tester model is a rather large vehicle with boxy proportions, although the boxy part might be a trick of the camouflage. The overall size, long wheelbase, and rather traditional roofline of the Cadillac XT6 will enable sufficient room for three rows of seating as well as ample cargo space.
Meanwhile, the grille behind the camo appears to be set up in just the right way so as to wear Cadillac's new shield-style grille. The model seen here is wearing placeholder lights, with the both the headlights and taillights featuring overall styling consistent with the most recent Cadillac design language, which was foreshadowed by the Cadillac Escala concept and then brought to fruition on the refreshed 2019 Cadillac CT6 and all-new Cadillac XT4.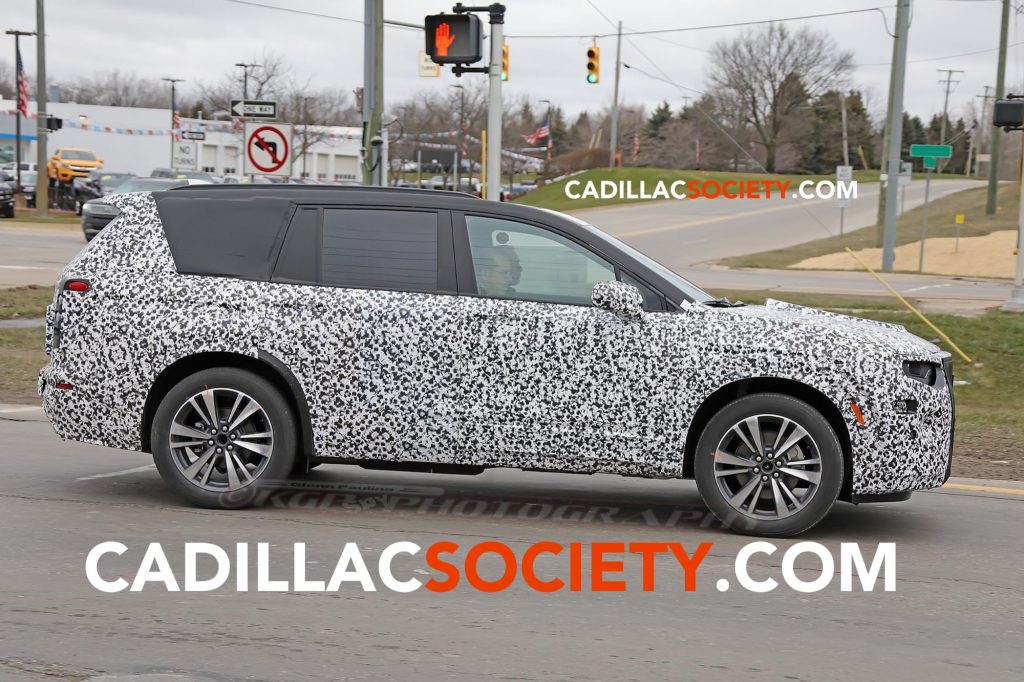 The Cadillac XT6 is expected to be based on the extended version of the GM C1 platform. The transverse-engine, front-drive architecture currently underpins two other full-size GM crossovers. The shorter wheelbase version of the same architecture underpins the Cadillac XT5.
We expect that the XT6 will be offered with at least two of six-cylinder engines on tap, one atmospheric and another that's boosted. There also might be a plug-in hybrid model. An eight-cylinder engine, such as the new Cadillac 4.2L Twin-Turbo V-8 LTA motor, is not believed to be part of the lineup.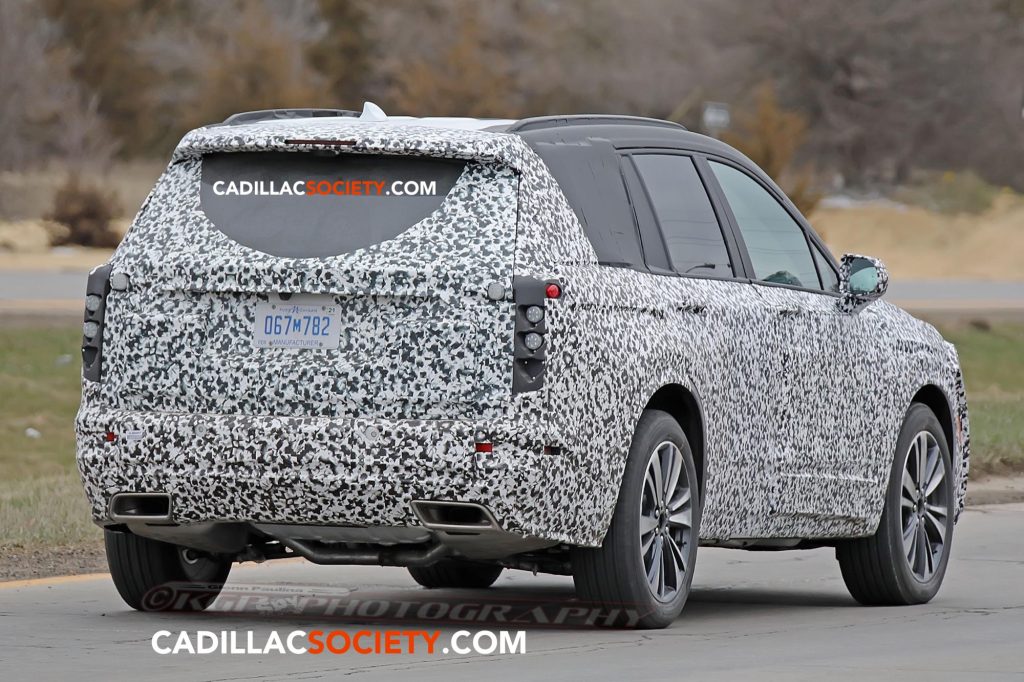 The XT6 will represent the first three-row Cadillac crossover, providing an alternative to the three-row, body-on-frame Escalade. It will slot between the XT5 and Escalade in the Cadillac utility lineup, though Cadillac might also have plans for an even larger, more expensive crossover on the rear-drive Omega platform.
Key XT6 competitors will include the Volvo XC90, Audi Q7, Infiniti QX60, Lexus RX-L – all of which are technically "midsize plus" crossovers. The upcoming Lincoln Aviator will also be a rival, potentially the most direct to the XT6.
Industry rumblings suggest that Cadillac XT6 will make its public debut at the 2018 Los Angeles Auto Show in November, with sales commencing in May 2019 for the 2020 model year.
The Cadillac Society Take
As luxury car buyers continue to buy crossovers in droves, Cadillac really needs a player in the large CUV space to gain sales and make money, as well as to also to remain relevant in the ever-changing luxury landscape. As such, the XT6 will be a key vehicle for the storied American automotive luxury brand.
Stay tuned for more Cadillac XT6 news coverage.