Welcome to today – a day that many Cadillac fans and enthusiasts have been awaiting for quite some time. Today, our favorite luxury brand will introduce the 2019 Cadillac XT4.
The introduction of the XT4 is significant for various reasons, including that it's Cadillac's:
First new product since the CT6 and XT5, which were launched in calendar year 2016, thereby ending the brand's two-year-long new product drought,
First compact crossover utility vehicle, a segment that's seeing significant growth that Cadillac has been missing out on, and
First vehicle developed under the leadership of Cadillac chief Johan de Nysschen
Though we've come to find out a lot about the new XT4 over the last few weeks, nothing compares to seeing a new vehicle in person and in pictures. To that end, Cadillac will reveal the XT4 this evening at its Cadillac House in Manhattan ahead of the 2018 New York International Auto Show. Cadillac Society will be on hand for the event, so stay tuned.
About 2019 Cadillac XT4
The Cadillac XT4 is an upcoming compact crossover that will slot under the midsize XT5 as Cadillac's second crossover utility vehicle (CUV). The XT4 will be underpinned by the front-drive-based E2 platform and will be produced at the Fairfax plant in Kansas City, Kansas.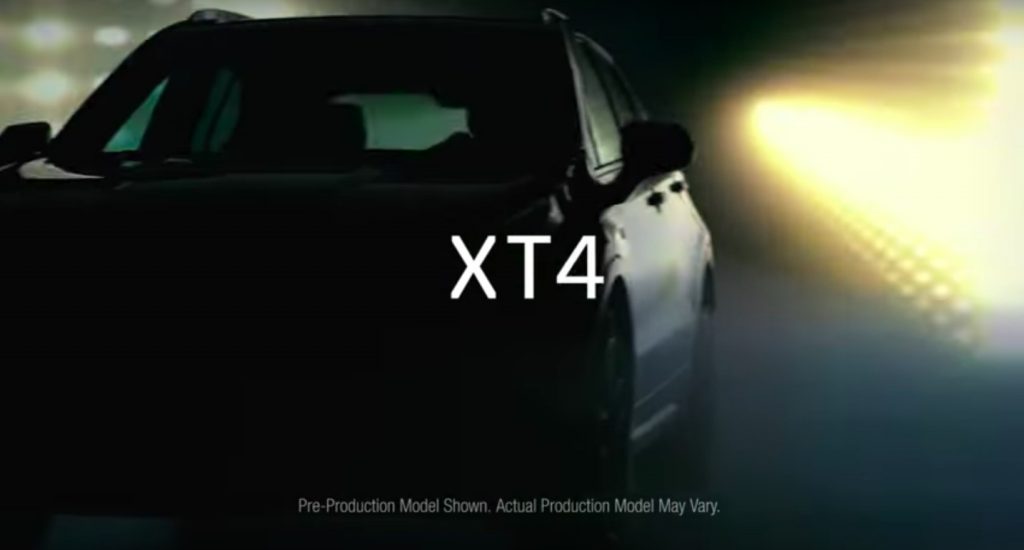 From a business standpoint, the XT4 is of significant importance for Cadillac's growth plans, as it will fill a glaring hole in the brand's vehicle portfolio. With just a single crossover (the Cadillac XT5), Cadillac's crossover lineup is sorely lacking compared to competing luxury makes, which offer three or more crossovers. In fact, some rivals, such as BMW and Mercedes-Benz, offer up to seven CUVs/SUVs in their lineup, as utility vehicle sales are experiencing rampant growth in the marketplace.
Cadillac XT4 Discussions
Discuss the XT4 in our Cadillac XT4 forum.
Cadillac XT4 News
Follow our coverage of Cadillac XT4 news.