Cars are sculptures meant to be enjoyed in motion, and this stunning 1955 Cadillac Eldorado is no exception. Sporting stout body lines, slender tailfins, and plenty of chrome, this pale yellow convertible beauty is looking for its new home.
For those not familiar with the origins of the Eldorado moniker, the nameplate is a contraction of El Dorado, the lost golden city of South American myth. While this particular Eldorado convertible isn't exactly gold, it's close enough, sporting a head-turning pastel yellow paint that perfectly complements its yellow and black leather interior. Judging by the original data paint code – which is 10 – the convertible was originally gray with a white and gray leather interior, but its new color scheme suits it just fine.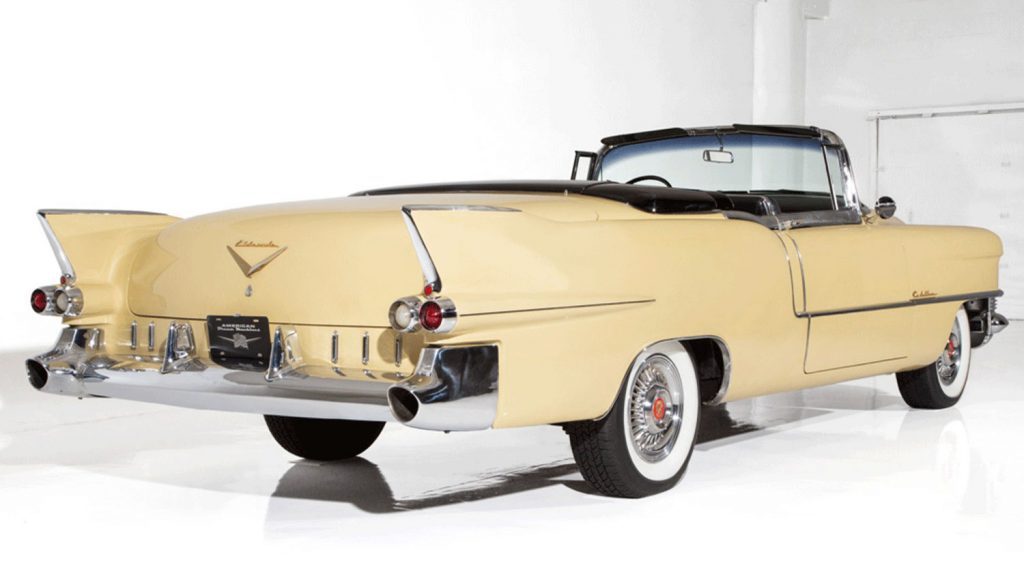 According to the seller, American Dream Machines of Iowa, this Eldorado's body is very straight with excellent fit and is covered in show-quality chrome and iconic Eldorado trim. It also features a black convertible top that's power-operated and can be neatly tucked behind a gloss black parade boot. It rolls on chrome Sabre wheels with radial whitewall tires for "drop-dead good looks."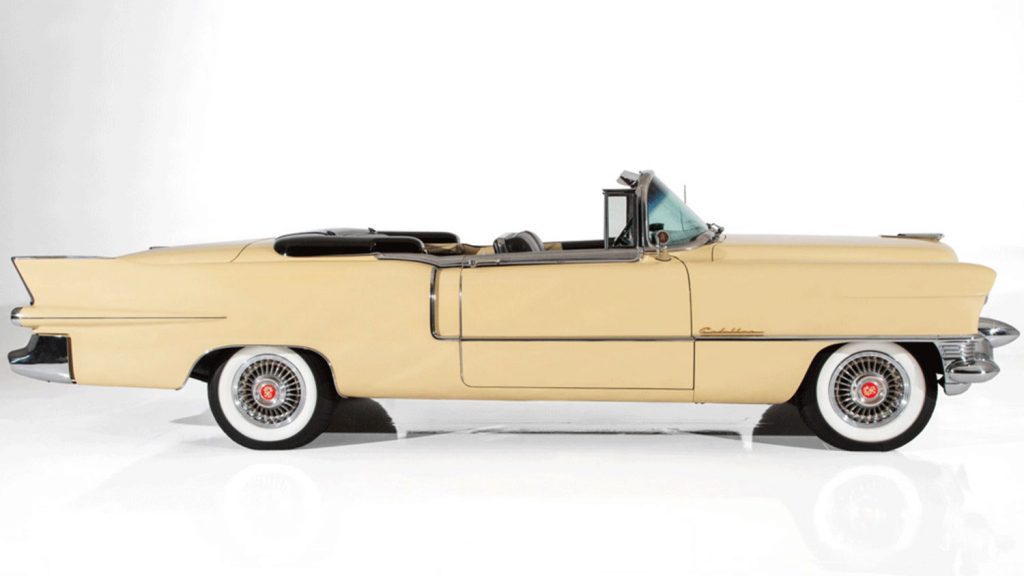 Under the hood, the Eldorado harnesses a 331 cubic-inch V8, fed by dual four-barrel carburetors situated beneath the Batwing air cleaner. Power is transferred to the road via an automatic transmission.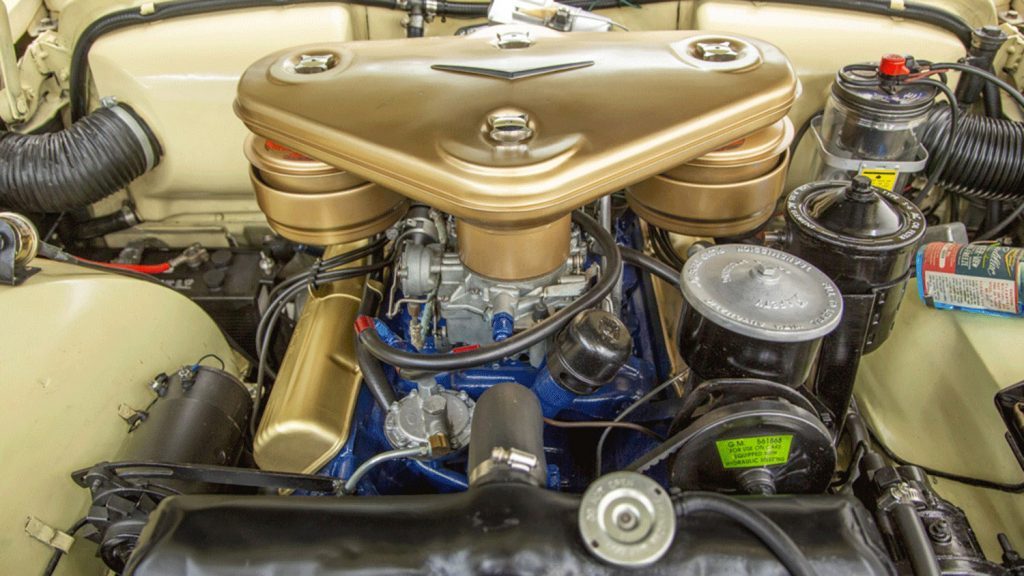 This Eldorado 'vert also features power steering, a windshield washer, power windows, a tinted windshield, and an optional tissue dispenser for passenger comfort.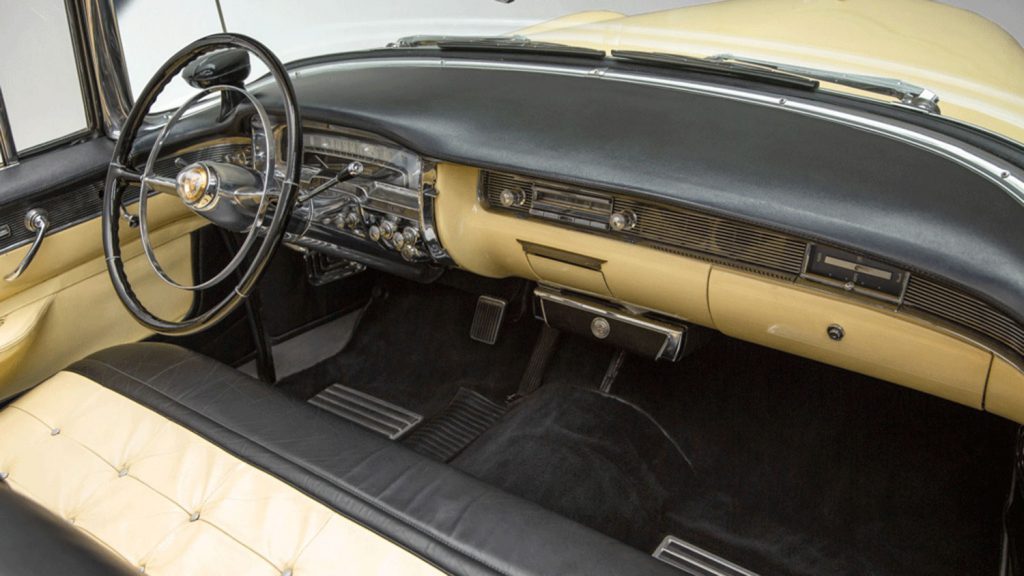 This 1955 Cadillac Eldorado comes intact with the unique Autronic eye feature. First introduced in 1952, the technology makes use of a light-sensing phototube mounted on the dash in a sleek chrome housing. The phototube senses oncoming light, such as that from headlights of passing traffic, and automatically triggers the vehicle's low-beam headlights to avoid blinding drivers traveling in the opposite direction.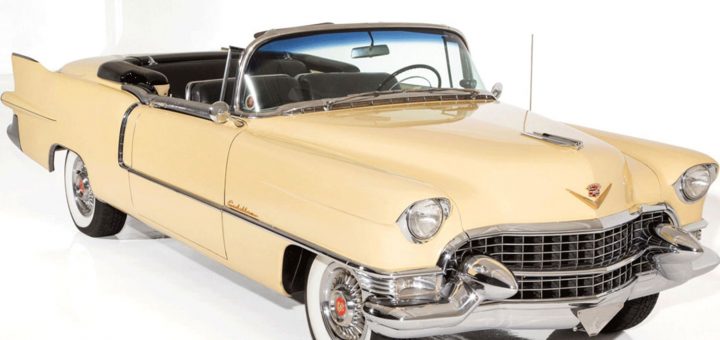 It's unclear if the Eldorado is original or restored, though we're leaning towards the latter given how great of a shape it's in. Nevertheless, if you've got a spare $89,900 lying around, this slick relic of the 1950s could be yours.
Subscribe to Cadillac Society to stay in the know about all things Cadillac, including Cadillac Eldorado news, and an endless stream of Cadillac news coverage. We also invite you to join the latest discussions in our Cadillac forums.