If Cadillac hopes to be the technology leader in the luxury space, then gonna need the right equipment for the job. And to enable it to do just that, Cadillac is debuting a brand-new digital electrical architecture on the 2020 Cadillac CT5.
Not to be confused with a traditional vehicle platform for the purposes of manufacturing, the electrical platform is analogous to a vehicle's central nervous system, providing the necessary communications hardware and software to run various digital and electronic features. Labeled internally at Cadillac parent company, General Motors, as "Global B," the new digital architecture will deliver the electronic underpinnings for Cadillac's various next-gen vehicles.
The new electrical architecture supports the various high-tech features Cadillac is deploying across its portfolio, including new active safety and infotainment features, expanded connectivity, Super Cruise drive assistance feature, and the introduction of electric propulsion that's's expected to debut in the mid-term future. In that regard, the current electrical architecture is insufficient, since it doesn't provide the bandwidth or connectivity required by all those features.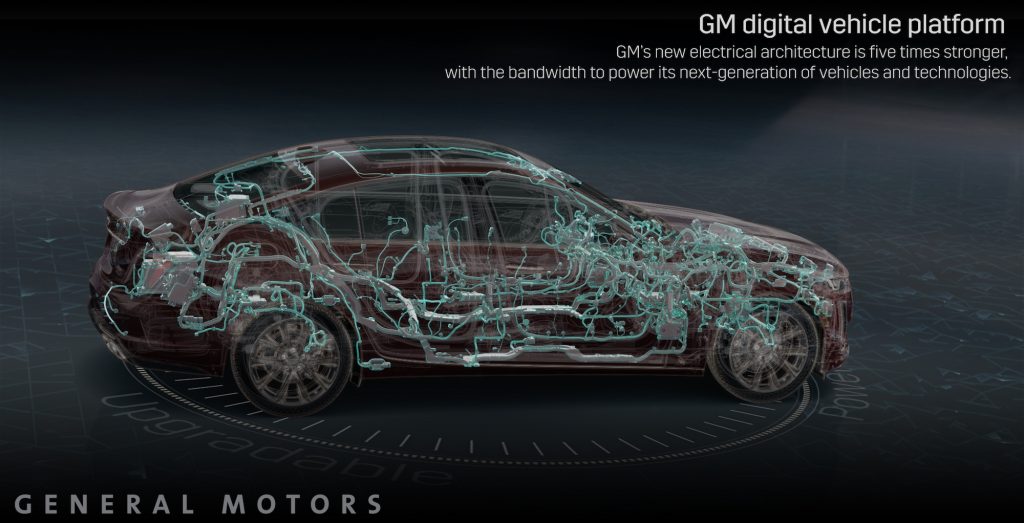 Global B digital offers data processing capabilities as high as 4.5 terabytes per hour, a fivefold increase compared to the outgoing electrical architecture used in current Cadillac models.
The platform is capable of over-the-air updates for extended longevity, and ethernet connections of 100Mbps, 1Gbps and 10 Gbps for future V2X capabilities.
The 2020 Cadillac CT5's new digital electrical architecture also features enhanced cybersecurity, with baked-in protective features at both the software and hardware levels. Given the platform's capability to deliver over-the-air vehicle updates, Cadillac's parent firm has created a global Product Cybersecurity division, security vulnerability disclosure program, and formal "bug bounty" program that works with the broader research community to strengthen the cybersecurity of its various products.
"The critical role of software and its importance to our vehicles, both now and for years to come, cannot be overstated," said the president at GM, Mark Reuss, who also has supervisory duties over Cadillac. "Our new digital vehicle platform and its eventual successors will underpin all our future innovations across a wide range of technological advancements, including EVs and expanded automated driving."
Subscribe to Cadillac Society for more Cadillac CT5 news and around-the-clock Cadillac news coverage.