We just got our hands on two images that appear to show an as-of-yet unannounced Cadillac XT4 V-Series model, or XT4-V. The leaked images come to us from an anonymous source, and show off the rear end of the alleged high-performance compact crossover from a close-cropped angle, sparking a flurry of excitement for those interested in a Cadillac XT4 model with a little extra giddy-up-and-go.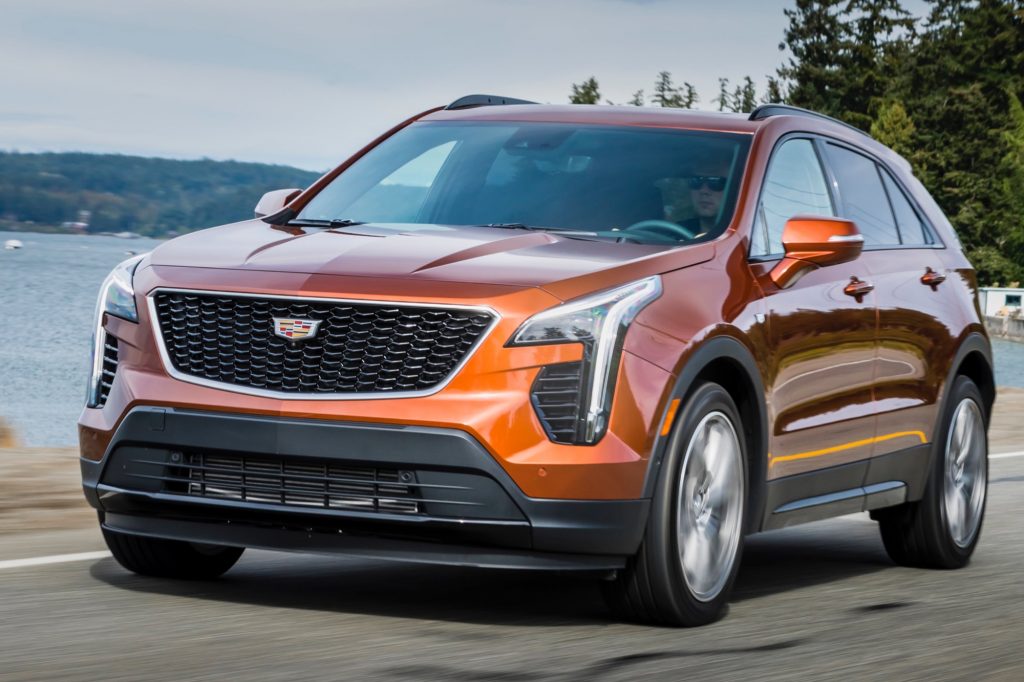 If these images do indeed precede the announcement of a Cadillac XT4-V model, then Cadillac will have a brand new offering added to the performance branch of its dual-tier V-Series strategy. Note that an XT4-V model would slot above the base-level Luxury trim level and the second-tier Premium Luxury and Sport trim levels, but would not belong to the range-topping "next-level" V-Series models, which are expected to carry the name "Blackwing."

While the images aren't the most-detailed photos of all time, they still reveal a good deal about the go-faster Cadillac XT4 variant. For starters, a carbon fiber-look trim decorates the license plate surround and the below the liftgate reflectors. We also spot quad exhaust tips, with dividing metal added to the standard trapezoidal tips of the Cadillac XT4, much like the recently-announced Cadillac CT4-V and CT5-V.
We'd also expect a full range of complementary exterior styling upgrades elsewhere in the body that are in line with the rest of V-Series models, such as black trim pieces, plus restyled front and rear bumpers.
Critically, the leaked images also reveal a badge in the upper right-hand corner of the liftgate that reads "2.7 T," leading us to believe the XT4-V will be powered by the turbocharged 2.7L inline four-cylinder engine (production code L3B). Exact output levels are unknown at this point, but considering the engine produces 320 horsepower and 369 pound-feet of torque in the 2020 Cadillac CT4-V, we'd expect similar numbers in the XT4-V, albeit with slightly lower peak figures given the XT4's transverse powertrain orientation.
| | 2.0L Turbo I4 LSY | 2.7L Turbo I4 L3B | + / – L3B |
| --- | --- | --- | --- |
| Horsepower: | 237 | 320 | +84 |
| Torque | 258 | 369 | +111 |
That would represent a notable upgrade of 84 horsepower and 111 pound-feet of torque over the turbocharged 2.0 inline four-cylinder (production code LSY), which is currently the only engine offered in the XT4. In the XT4, the LSY makes 237 horsepower and 258 pound-feet of torque.

We would expect a more robust version of the same nine-speed automatic transmission currently in the regular XT4 to do the shifting, sending power to all four wheels via a performance all-wheel-drive system. Further performance upgrades should include a more sport-oriented Active Sport Suspension, also known as CCD (Continuously Controlled Damping), or perhaps even the introduction of the famed Magnetic Ride Control dampers.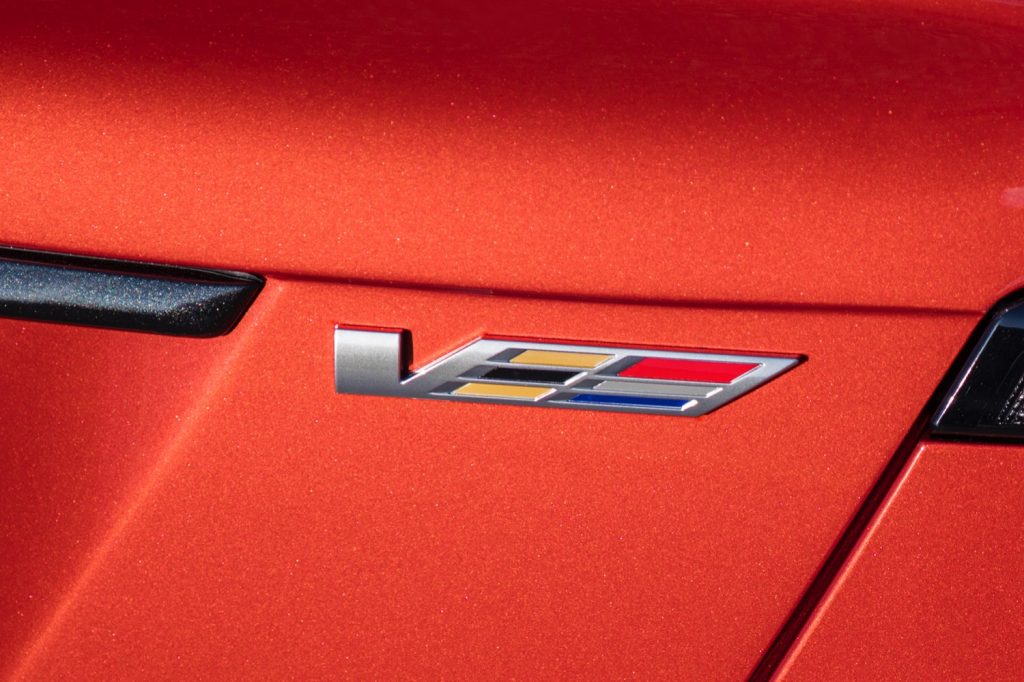 We would expect this go-faster Cadillac XT4-V to go on sale later for the 2020 model year, or possibly for the 2020i (2020 interim) model year. With just three months left before Cadillac has to finalize its 2020 model lineup, though it still has some time to finalize the portfolio for the 2020i model year. Hence, the XT4-V is probably close to a reveal.
That said, there are a few oddities worth pointing out. To begin, the "2.7 T" logo is out of line with Cadillac's latest badging nomenclature, which recently made the transition to a torque-based numbering system. For example, the Cadillac XT6 will rock a "400" badge, as its 3.6L V6 engine produces 373 Nm (276 pound-feet) of torque. In fact, Cadillac has never indicated the displacement via a rear-mounted badge on any prior V-Series vehicles.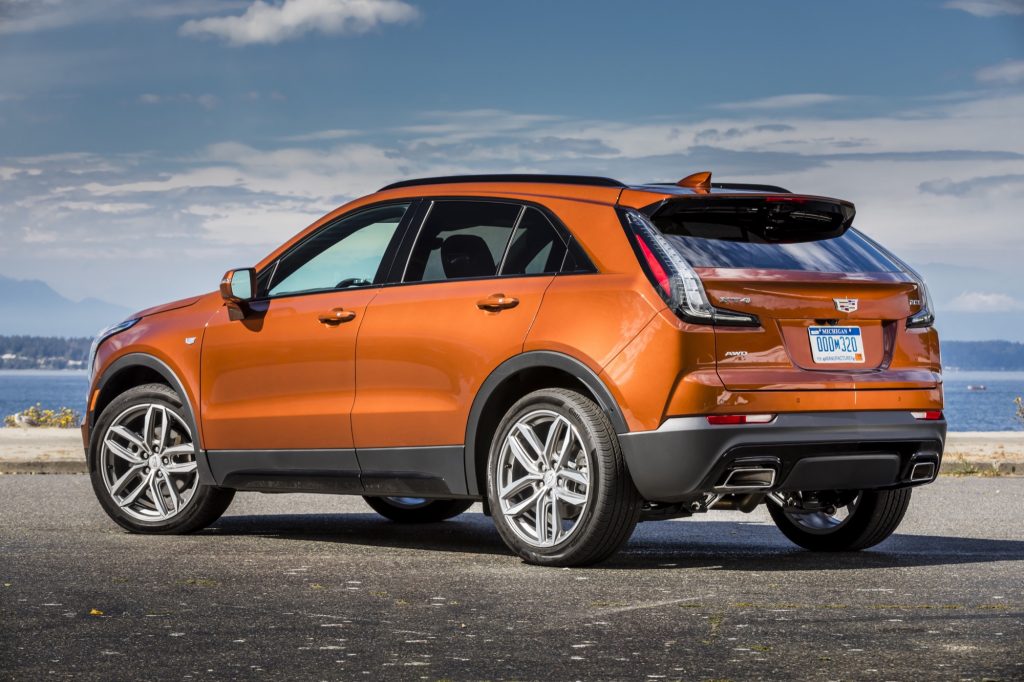 That makes us question the validity of these photos, at least a little bit. Nevertheless, a Cadillac XT4-V model still falls in line with everything we've been hearing about future Cadillac product strategy.
Stay tuned, as we updated you on where this story goes next. In the meantime, subscribe to Cadillac Society for more Cadillac XT4 news and around-the-clock Cadillac news coverage.