When the 2019 Cadillac XT4 launches this fall, it will introduce many new features and technologies that customers will notice the minute they enter the small crossover. And when it comes time to refuel, they'll see another one – a capless fuel filler system.
What It Is
It's highly likely that owners of modern Cadillac vehicles are familiar with the capless fuel fill feature, which makes refueling simpler and more convenient since it removes the traditional twist-off cap hidden behind a vehicle's fuel door.
Instead, one only needs to open the fuel door, insert the fuel nozzle, and begin fueling. When finished, simply reverse those steps, without having to fumble with the gas cap.
How It Works
Cadillac's capless fuel system has two "flaps" (or doors) inside the filler tube, designed to lock fuel in with a rubber seal around its edges and ensure that the system remains air-tight. When a nozzle is inserted in to the filler chamber, it pushes aside those two flaps.
And that is where Cadillac's capless system shines. Though capless fuel feature have been around for roughly a decade, not all are made equal.
While Cadillac's system has two flaps within the filler chamber, many capless systems from other automakers only have one such flap/door, making them vulnerable to fuel leaks. What's more, Cadillac's system also has no internal drain, something that can also lead to inadvertent dripping of fuel.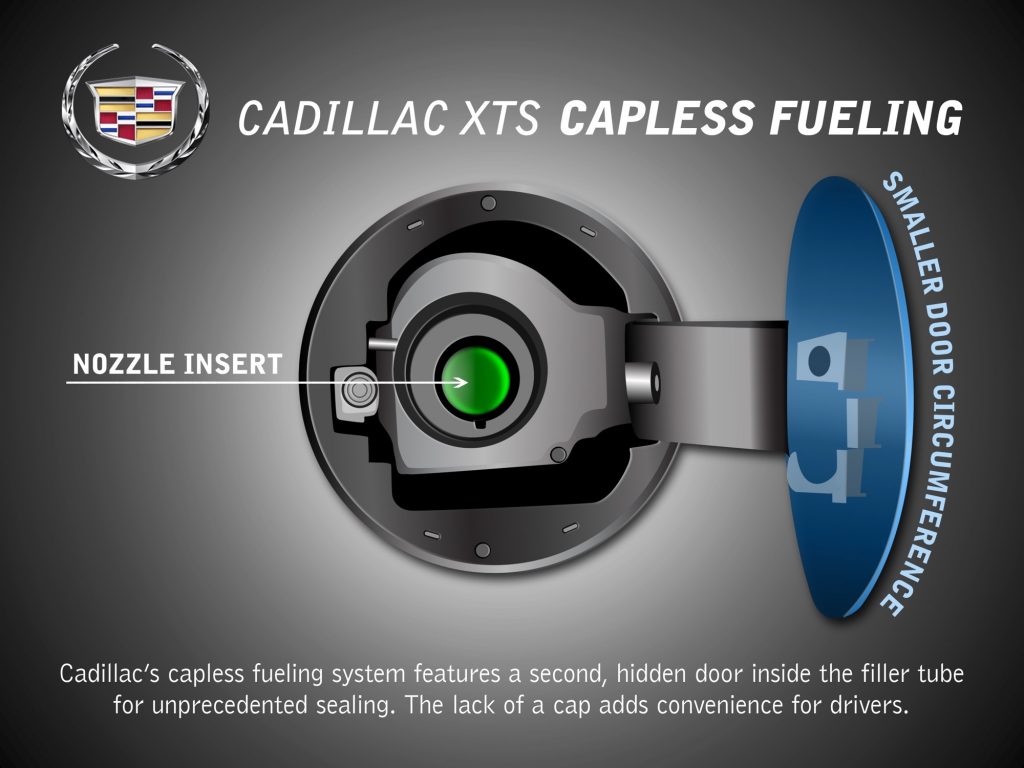 Owner Benefits
Besides the obvious benefit of greater convenience, capless fuel fill has a host of advantages for both the car and the driver.
Benefits for driver:
Keeps hands clean, free of dirt and fuel
Eliminates risk of leaving gas station with dangling gas gap
Benefits for car:
Keeps paint clean, free of fuel and scratches caused by swinging gas cap
Keeps engine running smoothly (see below)
Can enable a smaller fuel door, since the door no longer needs to accommodate a hand, thereby making it less noticeable
The notion that a capless fuel fill system can keep an engine running smoothly typically raises questions from some, so we thought we'd address it before you ask in the comments.
Simply put, fuel systems must be fully sealed, and a loose cap can trigger a "check engine" light, thereby leading to a service visit. A capless system eliminates the possibility of a loose gas cap.
Availability
All models and trim levels of the 2019 Cadillac XT4 will have capless fuel fill as standard, including the base XT4 Luxury as well as the up-level XT4 Premium Luxury and XT4 Sport.
Notably, the first Cadillac to feature capless fuel fill was the 2013 XTS Sedan. From there, the feature proliferated to all modern Cadillac models except for the ATS Sedan. With the discontinuation of the ATS Sedan after 2018, all 2019 model year Cadillac vehicles are equipped with capless fuel fill as standard.
2019 Cadillac XT4 Photo Gallery