Last month, Cadillac Society was the first in the world to exclusively report the starting price of the 2021 Cadillac Escalade. We followed that report to become the first to reveal that the Escalade will introduce optional monochromatic logos as part of the Onyx Package as well as to tell you how much it will tow compared to the outgoing model. And now, we're back to exclusively report on the price of the Super Cruise hands-free driver assistance system for Caddy's next-generation luxury SUV.
In all, Super Cruise will range from being a $6,150 to $2,500 option on the 2021 Escalade, depending on model. Here's how it all breaks down.
First and foremost, Super Cruise is not available on the base Luxury trim level. It's only available on the remaining four trims – Premium Luxury and Premium Luxury Platinum, as well as Sport and Sport Platinum.
On non-Platinum Premium Luxury and Sport models, opting for Super Cruise also requires the addition of the Driver Assist and Technology Package (production code ST1), which adds the following features:
Front and rear, soft-close/cinching doors
Automatic Seat Belt Tightening
Adaptive Cruise Control
Illuminating front sill plates
Enhanced Automatic Emergency Braking
Reverse Automatic Braking
Air Ride Adaptive suspension
That package will be priced at $3,650. Adding Super Cruise adds $2,500 on top of that, resulting in a total feature cost of $6,150.
Meanwhile, Premium Luxury Platinum and Sport Platinum models already include the Driver Assist and Technology Package. Opting for Super Cruise on those models is simply a $2,500 option.
2021 Cadillac Escalade SuperCruise Pricing

| | Luxury | Premium Luxury | Sport | Premium Luxury Platinum | Sport Platinum |
| --- | --- | --- | --- | --- | --- |
| Driver Assist and Technology Package (required for Super Cruise) | Not available | 3,650 | 3,650 | Included | Included |
| Super Cruise | Not available | $2,500 | $2,500 | $2,500 | $2,500 |
| Total Cost | Not available | $6,150 | $6,150 | $2,500 | 2,500 |
All figures apply to both – the regular-wheelbase Escalade as well as the extended-length Escalade ESV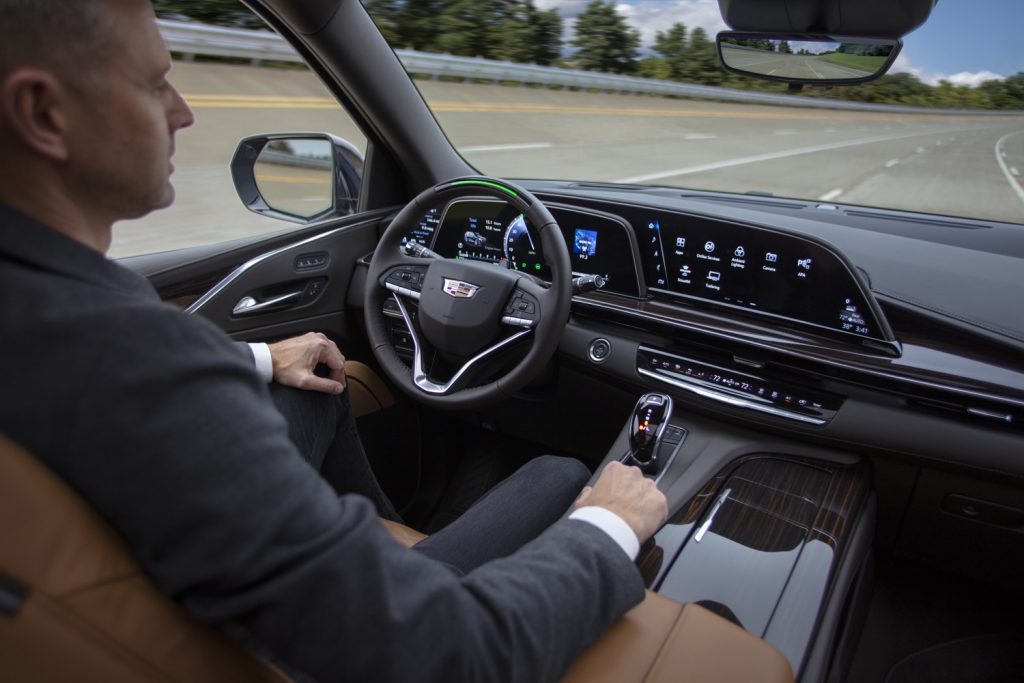 For those not intricately familiar, Cadillac Super Cruise is a hands-free driver assistance feature for use on limited access freeways, with the SAE classifying it as a Level 2 system. That means that, while it can control the vehicle on compatible highways with the driver's hands off the steering wheel, it still requires the driver to pay attention to the road while driving. A system of cameras located in front of the driver ensures this takes place. To function properly, Super Cruise requires an active OnStar plan, an active Wi-Fi Hotspot, a working electrical system, call reception and a GPS signal.
Super Cruise launched in 2017 on the CT6 large sedan. In 2019, the system was expanded to include over 200,000 total miles of compatible highways in the U.S. and Canada (up from about 130,000 miles). That improvement was followed by the addition of an automated lane change functionality, which allows the vehicle to change lanes on its own when requested by the driver. Super Cruise for the 2021 Cadillac Escalade will contains with all of these enhancements.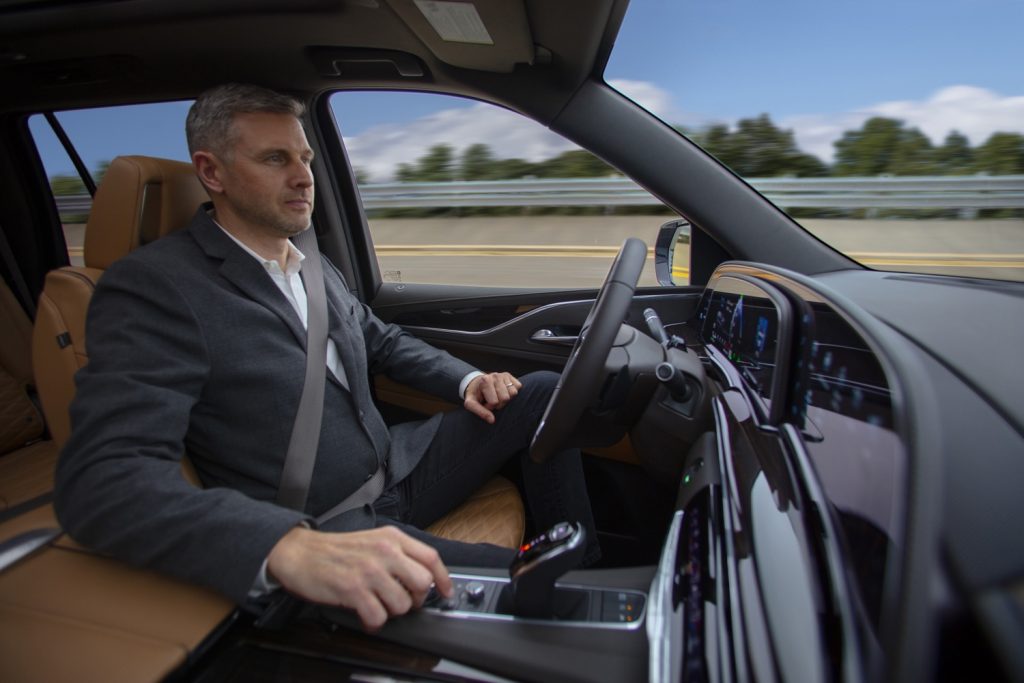 After rolling out on the 2021 Cadillac Escalade, Super Cruise will then become available on the Cadillac CT5 and CT4 sedans for the 2021 model year. According to intel obtained by Cadillac Society, the system will eventually make its way to the Cadillac XT6, though it's currently unclear whether the current generation of the XT4 and XT5 will see it during their respective lifecycles.
Recently, Cadillac revealed that 85 percent of Cadillac CT6 owners want Super Cruise in their next vehicle. The data point shows just how well-received and desired the hands-free driving system is the real world.
As for the Escalade, the all-new 2021 model was officially announced in February in Beverly Hills and will begin production in June at the Arlington plant in Texas. The all-new, 2021 model represents the fifth-generation of the best-selling nameplate, bringing a wide array of enhancements including an all-new platform with an independent rear suspension, significantly more interior room and cargo space, plus a wide array of high-tech features in the cabin, headlined by the industry's first curved OLED display measuring 38 inches. An optional, 3.0L six-cylinder turbo-diesel engine joins the standard 6.2L V8 gasoline engine in the powertrain lineup. Both engines are mated to Caddy's new 10-speed automatic transmission. We expect these two powerplants to be joined by a supercharged 6.2L engine in a high-performance model variant with around 650 horsepower, along with a battery electric model delivering roughly 400 miles of driving range.
We'll have more on Super Cruise and the all-new Escalade shortly, so be sure to subscribe to Cadillac Society for more Cadillac Super Cruise news, Cadillac Escalade news, and around-the-clock Cadillac news coverage.
2021 Cadillac Escalade Photos